Deacon Profile: Ben Weekley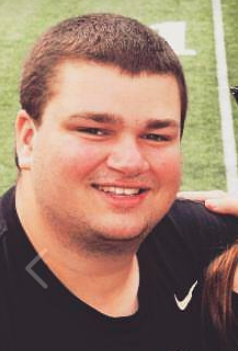 Senior Ben Weekley has made quite a name for himself on campus in his four years here. He is known for much more than his chemistry major, with a concentration in biochemistry and minor in biology. Around Wake Forest, Weekley is recognized for his great Demon Deacon pride and his involvement with organizations such as Wake 'N Shake, Traditions Council and Screamin' Deacons.
Before he graduates, the Old Gold & Black was able to talk with Weekley as he reflects on his love for Wake Forest, his collegiate experience and what his future holds. 
What made you want to come to Wake Forest?
My grandfather, Bill Starling, graduated from Wake Forest in 1957 and worked here as Director of Admissions from 1961-2001. I grew up around Wake Forest because of the obvious family ties and loved cheering for their sports teams. As I toured a number of schools, I fell in love with this university over every other option. Given the small class sizes, research opportunities, beautiful campus, atmosphere and of course the Division I sports, it was a no brainer in the end. I'm proud to say I've bled black and gold since birth.
How are you involved on campus? How do you work to make Wake Forest the best version of itself?
My three main involvements have been as Co-Chair of Wake 'N Shake, The Traditions Council and Screamin' Demons. In addition to those, I was a Deacon Camp leader for three years, part of Hydrating Humanitate sophomore year and part of the Technology Innovation Program the last two years to help bring a makerspace to Wake Forest. I just joined Student Government in March after a lot of seniors dropped out.
In my time at Wake Forest, I've strived to improve my favorite events to be the best they can be with the hope that others will also enjoy these awesome traditions (both old and new) and be encouraged to start their own or help in the planning and implementation of long-running events.
What is your favorite Wake Forest tradition? Do you have any personal traditions of your own here?
My favorite tradition has to be rolling the quad. There is no tradition that makes me feel more a part of this campus and community than rushing back to my dorm after a huge win, grabbing six or seven rolls of toilet paper and sprinting to the quad to meet up with the entire student body to celebrate. It's a tradition anyone can participate in, and one that I can continue to do by rolling a tree or two wherever I may be when Wake Forest wins big.
One cool personal tradition I have is sitting on the upper quad on Friday afternoons and relaxing. Typically I have lab meetings until 4:00 p.m. or 5:00 p.m., then go up there, call my parents and reflect on a long week. I've sat out there for anywhere between 30 minutes to two hours, reading the newest OGB, checking out the Wake Forest Magazine, planning for the next weeks, talking to friends and just enjoying the peace and serenity. Getting to hear the bells playing is an added bonus. Oh, and sending hype emails before big sporting events. I'm going to miss that.
How do you think students can best exhibit school spirit?
I think the best way to exhibit school spirit is by supporting and exhibiting pride of various events and accomplishments here at Wake Forest. This can be by going to sporting events and cheering loud and proud. This can be by attending various events around campus throughout the school year. This can be done by getting involved in the Winston-Salem community and showing people what it means to be a Wake Forest student. We should all be proud to attend Wake Forest and be proud of what awesome things our peers accomplish. By supporting them, you can show all kinds of school spirit.
What advice do you have for future Demon Deacons?
My advice would be to create your own path. Don't follow the exact same path as those who you look up to or your close friends, but create a unique experience for yourself during your time at Wake Forest. Major in what you love to learn about, take classes you're interested in, join some groups you enjoy being a part of. Start your own group or event, meet as many people as possible and don't waste your time. You only have four years, so make the most of it and bask in every moment.
What do you hope for the future of Wake Forest?
I have high hopes for Wake Forest. I think Wake Forest is one of the best universities in the world, but still has room to improve. My hope is that this campus will become even more of a diverse and inclusive community. There is somewhat of a divide between liberals and conservatives, Greeks and non-Greeks, athletes and non-athletes. I hope that the gaps between these groups continue to shrink and that Wake Forest students can have respect and admiration for each other, and work together to change the world. I hope that the university continues to grow academically, continues to be one of the best places to get an education, partake in groundbreaking research and learn and grow as a scholar. Also, I have to say I hope we win a ton of ACC and national championships in the coming years in all sports.
Can you describe your favorite memory/experience from your college career?
There are so many amazing experiences and days and little moments that will forever stick in my mind as what made my college career as amazing as it has been. I will never forget things like Arnold Palmer Day, the back-and-forth "Wake"—"Forest" chants at football games, wall jumps at Spry, learning fascinating subjects from world-class professors, meeting some of my best friends, snow days and just living in the moments.
I would have to say my absolute favorite experience has been being one of the Co-Chairs for Wake 'N Shake. The day of was such a surreal experience and being part of such a hardworking and dedicated group that helped create a special event for 1,400-plus students and making the impact we did with fundraising is something that will always live in my mind as the best memory.
Other than being known for your involvement and school pride, how would you like your legacy to be remembered?
I have always loved the saying, "There is time to be an Indian and time to be a chief." I think that as a senior at Wake Forest I have certainly grown into many leadership or "chief" positions, but I really want to be remembered as the loyal and hardworking "Indian." I hope that I am remembered as the type of person that wasn't afraid to roll up their sleeves or take on more menial tasks. It has been my great pleasure to lead, just as it has been a blessing to work under and alongside the many great leaders of this university.
Any last things you'd like to do in your final weeks before graduation?
I have a short bucket list which includes: posties, some of the senior week activities (including getting Kyle to let me up on top of the bar at LR), successfully defending my honors thesis in chemistry, getting on the roof of ZSR, hanging out in the bell tower, going to Foothills trivia with the chemistry faculty (apparently that's a tradition) and hanging out with as many friends as possible. I want to enjoy every moment and soak it all in.
What are your plans for after graduation? Will you continue to spread Demon Deacon pride?
I will be moving to Los Angeles at the end of July to start graduate school at the University of Southern California Keck School of Medicine in the PIBBS program. It's a five-year program which will result in a Ph.D. in the biomedical sciences. I will definitely be bringing the Demon Deacon spirit to Southern California and hope to get involved with the alumni network out there. I'll be cheering just as loud for the Deacs even from 3,000 miles away. I hope to represent Wake Forest to the best of my ability and those around me will realize what a great university it is.