Last week, photographs of current university administrators in front of Confederate flags in old editions of the Howler surfaced and circulated among the Wake Forest community. In response, many students, including the newly formed Wake Forest University Anti-Racism Coalition, have called for action rather than conversation.
During "Creating Inclusive Climates at Wake Forest University," a forum held last Thursday, Feb. 21, several students asked about a particular photograph from the 1982 edition of the Howler that featured current Dean of Admissions Martha Blevins Allman directly situated in front of a prominently displayed Confederate flag amid members of Kappa Alpha Order, including her husband, M. Joseph Allman, who is currently an adjunct professor at the School of Law. Allman was not present at the forum, a video of which can be found here. The photo quickly circulated among students.
On Saturday, images from the 1983 and 1984 editions of the Howler also showed Associate Dean of Admissions Kevin Pittard, a 1985 graduate, in Kappa Alpha photographs with the Confederate flag. As of Feb. 27, Pittard, who is married to Dean of the College Michele Gillespie, had not sent out a statement to the Wake Forest student body.
Story continues below advertisement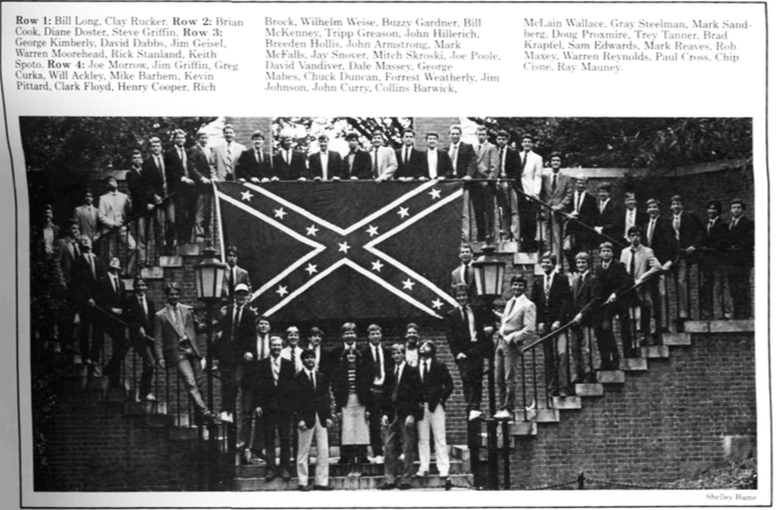 This story surrounding the photographs and subsequent apology has been covered by local media outlets, such as the Winston-Salem Journal and Triad City Beat, as well as national media outlets, such as Inside Higher Ed and The New York Times.
Students find administrators' apologies insufficient
Following the forum, and as news of the photo quickly made its way around the student body, an email was sent out to the entire university community on behalf of Allman to apologize for and to acknowledge the photograph she was featured in.
"That flag was a symbol of pain and racism then just as it is now, and I understand that much differently in 2019 than I did in 1982," Allman said in the email statement. "Thirty-seven years of life, experiences, relationships and education have made a difference in my way of understanding the world and my ability to empathize with those who are different from me."
She concluded her statement by maintaining her commitment to creating a more diverse and inclusive Wake Forest.
Allman has been appointed as Assistant Senior Provost and Dean of Integration, according to a statement from Provost Rogan Kersh released last fall. The position is set to take effect July 1 of this year. Allman, who earned both a BA in 1982 and an MBA in 1992 at Wake Forest, joined the admissions office after she earned her undergraduate degree. She was named dean of admissions in 2001.
Allman's husband is featured in the same photo as her, standing one row up and to the left of her. Mr. Allman, another 1982 alumnus of the university, earned his Juris Doctorate from Wake Forest in 1986 and is currently an adjunct law professor. Mr. Allman did not respond immediately to request for comment.
In an email to the Old Gold & Black, Allman declined the opportunity to answer questions, noting that all she can do right now is to "simply offer [her] sincerest apologies to the campus community for the pain that [she has] caused, especially to underrepresented students and colleagues."
"There are no words to right this, no excuses or explanations," she said. "I regret the mistake that I made as a college student and understand the justified anger, disappointment and distrust that has come in its wake. I am deeply sorry and remain committed to the hard work of community-building at Wake Forest."
Unlike Allman, Pittard did not broadcast an apology email to the student body, but he apologized for and acknowledged his actions in an email to the Old Gold & Black.
"I apologize and express my deep regret for taking part in those photos," he said. "I made a mistake that hurt and angered others, and I should have known better. I know that in my years in the admissions office, I have worked steadily to increase the diversity of our community and I will continue to do so."
He did not immediately respond to a request for further comment and clarification.
Given recent national events, including racist photos that surfaced in Virginia Governor Ralph Northam's yearbook from Eastern Virginia Medical School, colleges and universities across the country have audited their yearbooks for racist imagery. Subsequently, many institutions of higher learning, including Elon University, have discovered images similar to those in the Howler.
"These aren't necessarily surprising to those on this campus, because we live with these sentiments, images and practices on a daily basis," said junior Tariq Shanks.
President Nathan Hatch sent out an email expressing support for students and Allman Friday afternoon.
"Several students voiced their acute and ongoing hurt, frustration and fatigue surrounding the underrepresented student experience on campus and the slow pace of change in bringing racial equity to our community," Hatch said in his statement. "I want students at Wake Forest to know, at a deep and personal level, that you are valued here, even if it doesn't always feel that way."
Hatch wrote that he "accepted [Allman's] apology" and that he would be meeting with student leaders and university administrators in efforts to foster an inclusive environment.
Students later expressed discontent with Hatch's response in particular, calling it inadequate and inappropriate.
"With all due respect, I don't think it was President Hatch's place to accept her apology," said freshman Kate Pearson. "Her actions didn't affect him. It affected us very personally as minorities and black students on this campus."
Shanks echoed this sentiment and further noted that the concept of apologizing over email does not create a space for the productive, community-wide conversation that needs to be conducted if the university is going to interrogate its past.
"The fact that President Hatch and Dean Allman think it will just happen through an email apology is not sufficient," Shanks said. "There needs to be an in-person [forum] where everyone is called to come."
Student activists organize to address #WhiteForest
Students have taken to social media platforms, particularly Twitter, to express their feelings about the situation, often using the hashtag #WhiteForest. Collages of the blackface and Confederate flag photos have also been circulating among students and on social media. One of the collages includes the 1982 Kappa Alpha photo and singles out Allman and Pittard, calling for their resignation.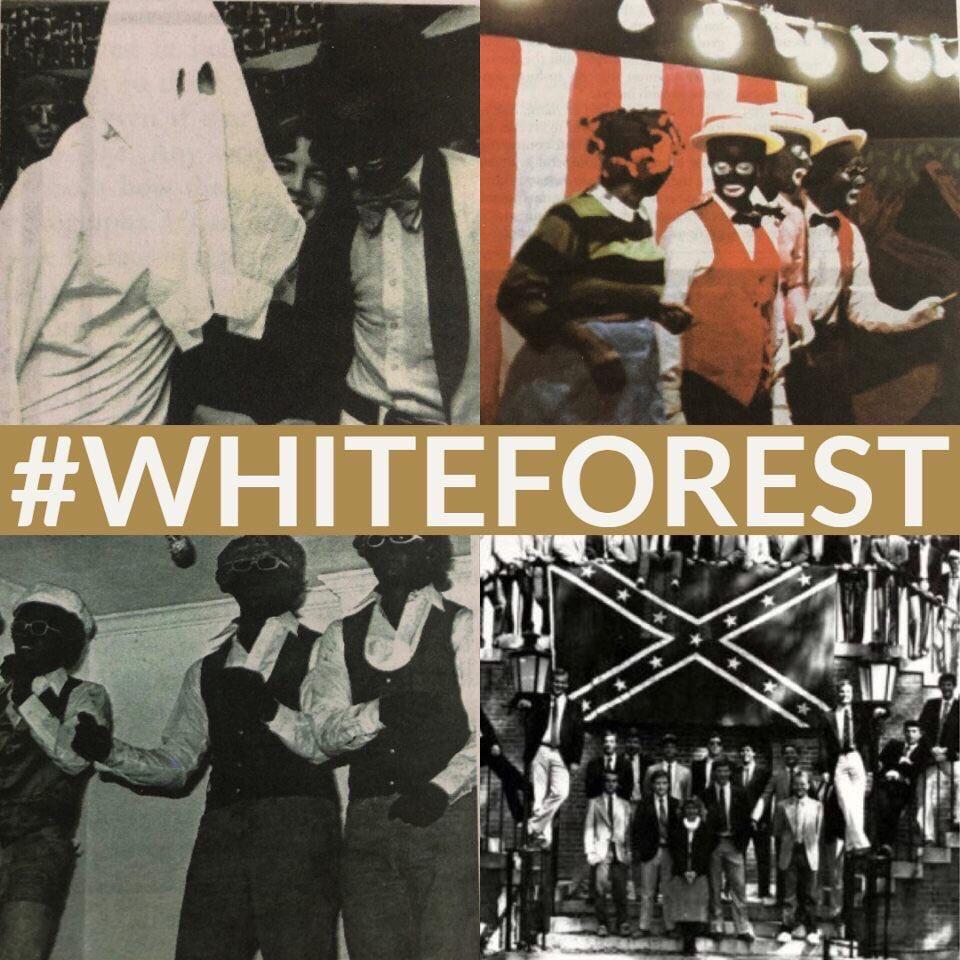 Alongside student's tweets and conversations, the Wake Forest University Anti-Racism Coalition released an official statement on Sunday night on social media and by email to select students, detailing nine demands of action from the university. The coalition has the ultimate goal of a zero-tolerance policy toward white supremacy, and the members of the coalition hope to foster a collaborative spirit through the absence of an internal hierarchy structure within their group.
Pearson said she believes that the adoption of a zero-tolerance policy toward white supremacy would be the best course of action so that the university is backing up what they preach with concrete action.
"If the university is really for humanity and Pro Humanitate is our motto, then [a zero-tolerance policy] should really be written into our code of conduct and our bylaws," she said.
In their statement, the Wake Forest University Anti-Racism Coalition also calls for a space explicitly for black students, transparency in the Bias Incident Report process and that anything named after Confederates, white supremacists or eugenists on campus be rededicated, among other demands.   
In addition to the statement, other students have also taken actions to bring awareness to the situation. Student activists interrupted the Dean's List Gala Friday night by throwing a flurry of fliers from the sixth floor of the library down into the atrium, where the gala was being held. The fliers displayed the collages, which called for the resignation of Allman and Pittard and had the hashtag #WhiteForest.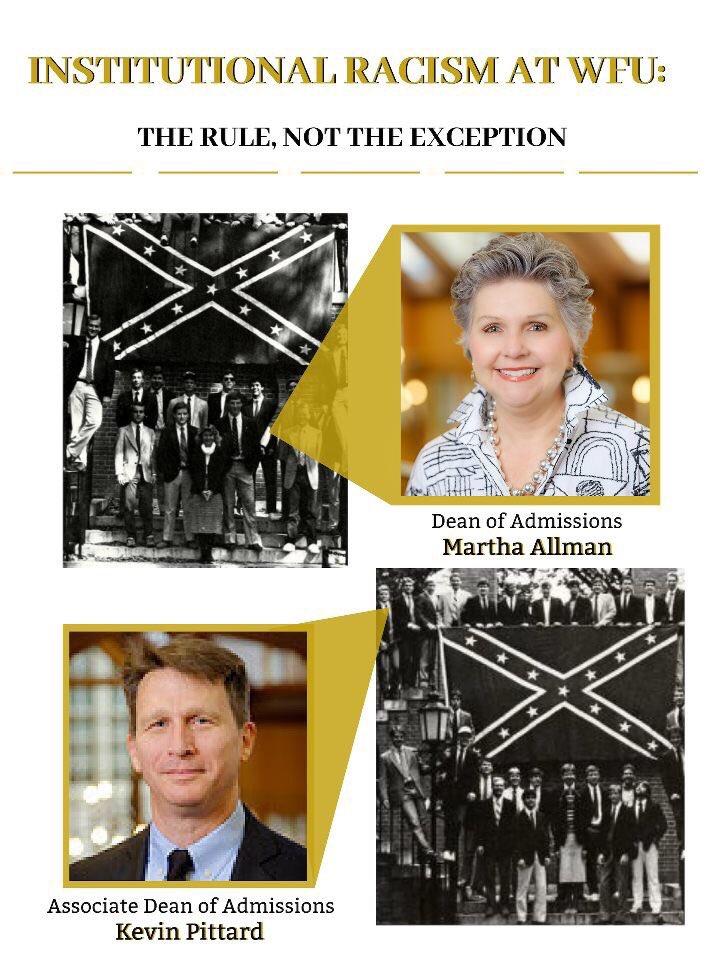 Some faculty in the department of English released a letter Wednesday supporting students who wish to promote racial equality and want to end institutional racism, calling on the university to devote adequate resources and to create concrete steps to move forward.
"The study of literature and language teaches us to listen to the perspectives of others, to look at the world through eyes not our own," read the statement. "We call upon the administration to listen to the experiences of black students and students of color, faculty, and staff as a preliminary step before instituting meaningful change."
A symptom, not the problem
Freshman Christopher Cates noted that several student communities on campus have responded with apathy, as the issue does not necessarily affect them directly.
"They're just like, 'okay, let me ignore that,'" Cates said. "If [a student activist is] claiming to be for something, now is the time we need you, and we need you to stand with us. It's a very polarized thing right now, and it should not be because it's not a political issue, it's a human rights issue."
Many have noted that the photographs of Allman and Pittard, in addition to photographs of blackface in the yearbook, is not the exact problem. Instead, it is representative of a larger issue.
"It's really important not to center [Allman] or any individual person, because it's not about her," Pearson said. "Somebody said she's not the problem, she's a symptom of the problem."