Men's basketball to improve in Manning's second season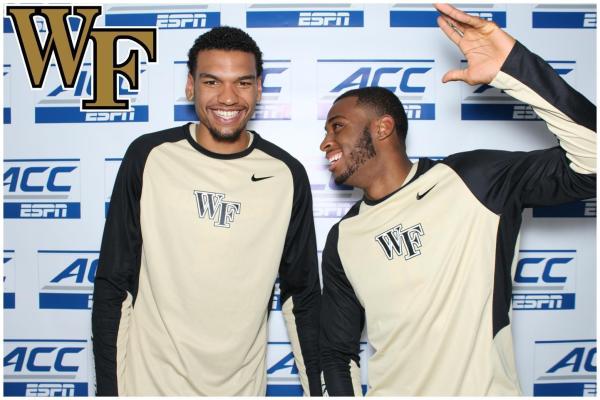 Wake Forest basketball is back. On Friday, Nov. 6, the Deacs will play an exhibition game against the University of North Carolina at Pembroke in an opportunity to showcase what a full offseason under coach Manning can look like for the 2015-2016.
The Deacs are more experienced, talented and deep than they were a year ago. Last year, they ended the season ranked 124th in the Ken Pomeroy rankings, but begin this season at 60th in the nation, the highest preseason ranking for the Deacs since 2010. Because this is the highest ranking since 2010, no player on the roster has been a member of a team predicted to play at a collective level as high as this one.
The success of two players in particular should be thought of as most important. Seniors Codi Miller-McIntyre and Devin Thomas are the leaders once again for the Deacs and have one last run at a post-season birth. While the road to an NCAA Tournament appearance or even an NIT invitation is improbable at this point, it is certainly possible.
McIntyre consistently tweets, "Patience…" from his Twitter account, implying the best is yet to come for the Deacs. Well, time is almost out for the talented guard who has started 92 out of 94 games in his Wake Forest career with one season remaining season in a Demon Deacon uniform.
Unfortunately for McIntyre, he will have to wait to begin his quest towards the postseason until he recovers from a foot injury that developed just three weeks ago.
While it was first reported that he would miss just a majority of the month of November, it is possible he may not see any action until ACC play. McIntyre told reporters it will be a waiting game once he gets his cast off in a few days to see how his injury recovers, but remains confident he will be "100 percent by January."
The other force of leadership comes from senior forward Devin Thomas. As one of the most productive players in the ACC last season, averaging 12 points and 8.8 rebounds per game, Thomas has the opportunity to pick off where he left off for the Deacs.
Expect the emergence of freshman center Doral Moore to bolster the dominance of Thomas as Moore, a 7'1″ center will disallow teams to double-team Thomas, making his presence in the paint commanding.
Next week we will preview the season in greater detail, provide predictions for both non-conference and conference games, identifying games the Deacs will win and must win to even be considered for an invitation to a national tournament.
In other news surrounding Wake Forest basketball, it is important to note an update in the recruitment of the nation's No. 1 overall recruit, Harry Giles.
It was reported last week that he would announce his college decision in Winston-Salem on Nov. 14.
However, plans have changed, as he will now make his selection public on Nov. 12 as ESPN visits Turner Gymnasium, Giles' high school gym.
Another notable update to Wake Forest basketball recruiting is that four-star shooting guard Kwe Parker has reopened his recruitment, decommitting from Rutgers. Parker is a teammate of 2016 commit Brandon Childress and an ex-teammate of Giles. It was once thought the three could be a package deal for the Deacs.
While it's unlikely the Deacs will end up signing Parker, it's interesting to speculate the renewed possibility of the package deal.
For now, the rumors will continue to spread and the speculation surrounding the 17-year-old will fail to cease as the big announcement is just one week away.