COVID-19 cases spike once again on campus
Wake Forest registered its three highest COVID-19 daily tallies this week
On Thursday, President Nathan Hatch announced that Wake Forest University is switching its campus activity operation status from Yellow to Orange after a recent spike in new COVID-19 cases saw the number of active cases rise to 70.
Under the Orange level, the university will temporarily adopt a set of preemptive guidelines over the next 10 days to "help reduce the spread of the virus within our community."
"The goal of moving to Orange Status is to pause activities that are most likely to allow further spread of COVID-19. This will permit us to evaluate the prevalence of the virus and slow the pace of its spread while we determine if further steps will be required to contain it," Hatch said.
Among the temporary changes, Wake Forest will now only provide take away dining options across its dining halls instead of previous dining options that allowed students to choose between eating on-site or taking their meals to go. Indoor sit-down eating is also discouraged by the university, with a limit of two people per table for any seating arrangement — President Hatch informed in a university-wide email.
Furthermore, the university will suspend large gathering events that were previously planned to occur under social distancing guidelines. Student attendance at football games will be temporarily suspended. In-person plans for Fall Fest are also suspended and all Homecoming events will be held virtually.
The university will also increase the number of asymptomatic tests performed weekly and minimize the flow of graduate, professional and undergraduate students between on and off-campus sites.
President Hatch described the measures and the switch to Orange status as precautionary, as the spread of the coronavirus can escalate quickly once cases start to rise.
"… We have seen a substantial increase in positive cases on campus and larger numbers of cases across the state. As we have seen at other institutions, if we do not get in front of the pace of new cases fast, it can quickly get out of control," Hatch said. "Taking steps now will hopefully deter the continued spread of the virus and allow us to continue to remain together on campus through Thanksgiving."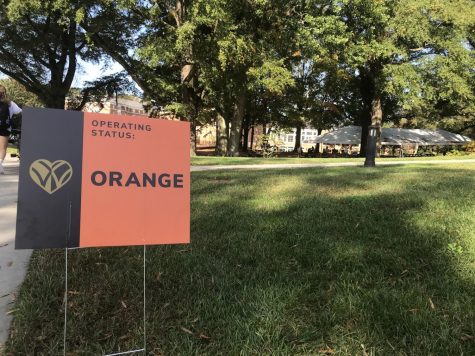 Despite successfully limiting the number of COVID-19 infections on campus for most of the semester, the Wake Forest community saw a sudden spike in COVID-19 cases once again with 15, 21 and 19 new positive cases registered respectively between Monday and Wednesday.
Tuesday's figure of 21 new cases marks the highest number of COVID-19 cases registered on campus in a single day since the start of the semester. Over the past three days, the university has registered the three highest daily COVID-19 tallies of the semester, eclipsing in all three instances the previous highest daily mark of 12 recorded on Sept. 12.
Yet, according to Vice President for Campus Life Penny Rue, the sudden spike in COVID-19 figures is not cause for alarm right now. Although the rise is concerning, she explains that the increase follows the same pattern observed in Forsyth County and North Carolina, both registering an increase in cases as of late.
Between Oct. 4 and 17, Forsyth County registered 607 new cases, 124 cases higher than the previous 14-day period between Sept. 27 and Oct. 10 and 240 cases above the tally registered between Sept. 20 and Oct. 3. Over the past 14 days, North Carolina has seen a 19% surge in COVID-19 cases. Rue believes that the increase in cases at Wake Forest is likely due to smaller events rather than superspreader occurrences seen earlier in the semester at other schools such as North Carolina Chapel Hill and North Carolina State.
"The likely cause of the uptick in cases is small gatherings among friends or family where food or drink is shared so masks are off. We have no reason to suspect a larger spreader event," Rue said. "[The administration] will be advising the campus [community] soon on precautionary measures we can all take."
The Old Gold & Black reached out to Student Health Service about the spike in COVID-19 cases, but no health officials were available to provide further information at the time.
Students have taken notice of the uptick in cases on campus and although they are warier about new infections on campus, the general feeling is of trust that the Wake Forest community will be able to weather another spike in COVID-19 cases on campus.
"Obviously, it is up to everyone how they want to handle the whole situation, but I think in general students have been pretty good about it considering that we are still here on campus. [At the start of the semester], I did not think we'd still be here by this time," said sophomore Ashlyn Odenwald.
For sophomore Megan Waterston, a huge factor in the recent spike in cases on campus is the natural tendency that students have to relax on COVID-19 measures as the semester goes on.
"I think naturally, as time goes on, people accidentally revert back to how we were used to life [as usual] without social distancing procedures and precautions," Waterston said. "I do think that originally people were taking it seriously, but I think the long duration of having to handle this new way of life people are maybe slacking a little bit."
Most students seem to agree that the measures taken by the university such as having a high number of asymptomatic tests performed each week, the mandatory use of masks and social distancing practices are effective in controlling the spread of the virus. Yet, with a large number of students on campus, these measures can only go so far.
"Since everyone is here, they want to make the most of their college experience and, unfortunately, that does mean hanging out with people may be infected with COVID-19," said freshman Kate Kistler. "There's really only so much you can do with all of us [students] on campus. Doing random testing and encouraging people to wear masks around campus, I think is the best that you can do right now."
Roughly a month since Wake Forest surpassed 100 COVID-19 in mid-September, the university has now eclipsed the 200-case mark with 227 confirmed cases as of Thursday, out of which 55 new cases were reported within the past three days — the highest total over a three-day period this semester.
Although students seem more optimistic about the university's ability to fend off the threat of the coronavirus once more, the past couple of days serve as a cautionary tale of how quickly the spread of the virus can regain steam on campus.