In Memoriam: Dr. Larry Hopkins
The pioneering football player and obstetrician passed away on Nov. 9 at age 70.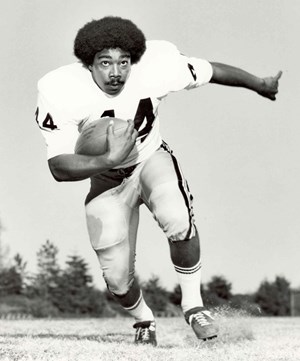 Former football standout and university trustee Dr. Larry Hopkins ('72, MD '77) passed away early Monday morning at Wake Forest Baptist Medical Center at the age of 70.
After spending two years at Lees-McRae College, Hopkins entered Wake Forest in the fall of 1970 on a football scholarship. "Hoppy," as he was affectionately called, was the Demon Deacons' starting running back in 1970 and 1971. In those two seasons, Hopkins totaled north of 2,200 rushing yards and 10 touchdowns. A rugged and fearless runner, Hopkins was a force to be reckoned with in Head Coach Cal Stoll's deceptive veer offense. His four-yard game-winning plunge against North Carolina in 1970 propelled the Demon Deacons to their first-ever ACC Championship.
In 1971, he led the ACC with 1,228 rushing yards, including 230 each in wins over Clemson and Tulsa.
At a time when few Black students attended Wake Forest, Hopkins excelled both on the field and in the classroom. He made the Dean's List all four semesters, and his teammates recall him as an incredibly dedicated student.
In 1972, Hopkins became the first African American at Wake Forest to graduate with a degree in chemistry. After declining a contract with the New England Patriots, Hopkins enrolled in the Wake Forest School of Medicine and graduated in 1977. Hopkins completed his residency at Virginia Commonwealth University before serving in the United States Air Force.
In 1983, Hopkins returned to Winston-Salem to practice obstetrics and gynecology. He delivered thousands of babies in his medical career, including NBA All-Star and Winston-Salem native Chris Paul. District Court Judge Denise Hartsfield (JD '91) notes that Hopkins' kind spirit and commitment to Pro Humanitate defined his professional life.
"He was one of the most humble and nice human beings that I have known. He was the ultimate ladies' man because he helped a lot of ladies through pregnancy," Hartsfield said in an interview with the Winston-Salem Journal.
Hopkins' dedication to improving the lives of those in Winston-Salem can be seen through his involvement with the Women's Health Center in Winston-Salem, which works to improve prenatal care and reduce infant mortality for disadvantaged mothers.
"For years and years, he saw women who may not have had the financial means to go to the hospital. He didn't boast or brag. He did what he did," Hartsfield said to the Winston-Salem Journal.
Hopkins' achievements have earned him many honors; in 1987, Hopkins received the Distinguished Alumni Award, in 1989 he was inducted into the Wake Forest University Sports Hall of Fame, and this February he was awarded the Medallion of Merit. He served on the Board of Visitors and the Alumni Council before coming back to Wake Forest as an assistant professor of obstetrics and gynecology at Wake Forest's School of Medicine and served seven terms on the Wake Forest Board of Trustees.
"Since the day he arrived at Wake Forest as a student 50 years ago, Larry Hopkins has been an inspiring and compassionate voice, a driving force for good and an outstanding example of what it means to live a life of purpose," said Gerald Roach, chair of the Board of Trustees.
Hopkins is survived by his wife Beth ('73) — Wake Forest's first Black Homecoming Queen — their two children, Michelle and David ('12, MA '15); and their two grandchildren.