2020 turnout numbers released
More Wake Forest students voted in 2020 than in any election in recent memory, report says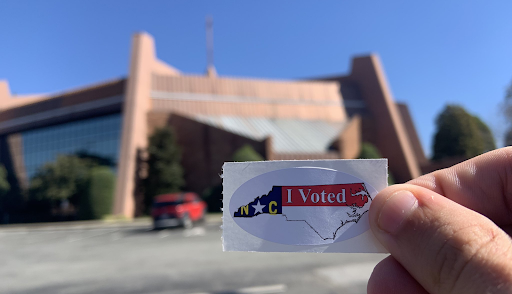 In 2020, Wake Forest University's voting rate for the undergraduate student population skyrocketed to 78.2% — an increase of 29.9% from the 2016 election — according to a National Study of Learning, Voting, and Engagement (NSLVE) report by the Institute for Democracy & Higher Education.
Wake Forest also saw a significant increase in the percentage of students who were registered to vote. According to the report, that rate was 91.5% of the student body, compared to 76.7% in the 2016 presidential election and 79.3% in the 2018 midterm election. Over 1,200 college campuses participated in the study, and according to the report, the 2020 voting rate for all institutions was 66%, compared to 53% in the 2016 election.
Throughout 2020, despite the challenges of the global pandemic, groups across campus worked to increase voter registration and voter turnout rate among students. Deacs Decide is a non-partisan student group that works on promoting campus-wide political engagement. The program, which works within the Office of Community and Civic Engagement (OCCE), aims to educate the campus and broader community, register Wake Forest community members, turn out voters and keep post-election engagement up.
"[I am] excited, energized, and hopeful to see student voting turnout numbers increase by such a significant margin," Deb Marke, co-director of Deacs Decide, said.
Marke noted that these challenging times did not hinder youth turnout from surging everywhere. When asked about the next election, Marke said she is hopeful that Wake Forest "keeps riding this wave of energy" moving forward.
The data also shows that there was a large increase in the number of students who voted early. It was reported that 1,580 students voted during the early vote period, an enormous increase from the 33 students who did so in 2016. This jump is likely due, in part, to the addition of the early voting site right across from campus at the Winston First Assembly of God church. This early voting site was well within walking distance for students, which led to many students marching to the polls together during university-sponsored events. This was very convenient, because people are eligible to vote at any early voting site in their county, unlike on Election Day, where they must vote at their assigned polling place.
In North Carolina, voters can do same-day registration, meaning citizens can register to vote and cast their ballot during the same trip to the polls. Same-day registration provides an option for those who have not updated their registration or need corrections to cast a ballot. Wake Forest students have to update their registration every time they move because the campus is split into two separate voting precincts.
The report found that second-year students voted at the highest turnout percentage at 73%. First-year students were close behind at 71%. In terms of gender, 76% of female-identifying students voted, compared to 65% of male-identifying students.
Junior Pilar Agudelo said that she is not shocked at the high voting turnout numbers given the "sense of desperation of wanting to see change at national and state levels in 2020." Additionally, she said that the money spent in the election cycle likely influenced turnout.
While Agudelo hopes that the high turnout rates continue, she believes that voter turnout varies "based on who the candidates are, as well as other factors."
Students will have another opportunity to vote in the upcoming Primary Election, which will take place on Tuesday, March 8, 2022. After that, they can vote in the 2022 General Election on Tuesday, Nov. 8. This election will decide one of the two U.S. Senate seats from North Carolina. In addition, the 2022 election will determine many down-ballot races.
Students will be eligible to cast ballots by mail in the next election as they did in 2020. They may also vote in person before or on Election Day 2022.