Candlelight and consumerism mark Valentine's Day
How the food of Valentine's Day creates a dent in your wallet and the economy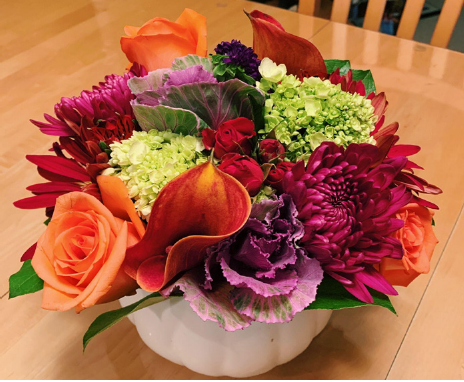 tied with a bow, you buy chocolates from the local store. From Trader Joe's, you buy fresh (yet inexpensive!) flowers that will likely sit in a random cup on your dorm room desk. Desserts are bought from bakeries for a "Galentine's Day" celebration. Reservations are made at whatever Winston-Salem joint that has space on Mondays. 
This is Valentine's Day, a day filled with love, gifts, spending and consumption for college students and adults alike. Let's see what it adds up to.
Valentine's Day isn't the only holiday with traditions that impact the economy: Easter, Christmas, and Hanukkah are also big events that promote consumerism. The candlelit dates and rush of chocolate concentrate around one specific day: Feb. 14. 
A "Signature Chocolate Gift Set" from Rocky Mountain Chocolate Factor on Silas Creek Pkwy in Winston-Salem rings up to $54.95, a price that makes quite an impact on a college student's budget. When aggregated, chocolate shops rack up an influx of sales during the Valentine's Day season. In Winston-Salem alone, there exists an abundance of chocolate manufacturers such as Black Mountain Chocolate, Brasstown Chocolate, and even beloved chains like North Carolina-based Dewey Chocolate and nationwide chains such as Kilwins. Each of these stores has specific Valentine's Day campaign and unique packages, as well as preorder and pickup systems to help alleviate the rush. Cha-ching: $55 on chocolates!
This year, Feb. 14th falls on a Monday, the day after Superbowl Sunday. These two food-heavy holidays will certainly be keeping restaurants busy with catering orders for home Superbowl parties as well as date-night Valentine's Day dinners. Places like Camel City BBQ Factory in Winston-Salem are likely to be packed with the Superbowl crowd. Both events pour money into food establishments and the economy.
Restaurants are aware that Valentine's Day is a prime money-making opportunity and are usually booked for the holiday. Even establishments such as Mozelle's Fresh Southern Bistro on 4th Street in Winston-Salem — which are typically closed on Mondays are open to capitalize on the date night. A romantic dinner for two at Mozelle's with appetizers (creamy edamame hummus and a decadent cheese plate), entrées (warming winter squash risotto and classic fried chicken with mac 'n cheese and peach chutney), dessert (luscious flourless chocolate torte with raspberry sauce), drinks and tip easily surpasses $100. 
Some restaurants do not offer a reservation option, such as The Porch Kitchen & Cantina in Winston-Salem, not far from the Wake Forest campus. If reservations haven't been made somewhere yet, you can still hedge your bet at places like this.
On a wider scope, the economy reaps the positive effects of each box of chocolate purchased and each meal shared by couples. In fact, a whopping 58 million pounds of chocolate are estimated to be purchased in the week leading up to Feb. 14.
Culturally, Valentine's Day is a day known for its celebration of love, either with friends or a significant other. In actuality, it has a large impact on the local and national economy, contributing to small businesses and chains alike. It's celebrated across the country by young and old couples alike. 
According to Statista, 53% of Americans are expected to celebrate the holiday this year. Additionally, in 2022, consumers are estimated to be spending $24 billion on Valentine's Day goods. When you're biting into your chocolate truffle or twirling your pasta at a candlelight dinner, just imagine the millions of people doing the same.