Spotlight: Stuart Fairchild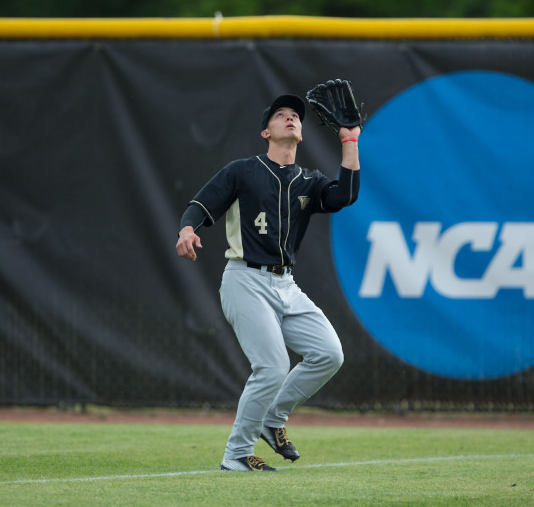 After being recognized as a freshman All-American and First Team All-ACC selection in 2015, sophomore Stuart Fairchild from Seattle, Washington is looking forward to playing center field for the baseball team in the 2016 season.
As a freshman wearing number four, he made no errors in the field and started a total of 51 games. Last season he had the second highest batting average on the team at .349 with five home runs, 41 RBIs and 14 doubles.
In the history of freshmen baseball players at Wake Forest, he is tied for fourth in hits (68) and stolen bases (12), ninth in doubles (14) and 10th in batting averages.
In Perfect Game's top 100 rankings for the class of 2017 MLB draft, he is slated as the No. 62 prospect.
When did you first start playing baseball?
I started playing when I was six years old. Ironically, I almost quit baseball altogether when I was 10 because I hated it.
I wasn't very good when I was younger, so I hated how difficult baseball was and all the failure that is involved. But my dad was the one who convinced me to keep playing — thank goodness.
Last year you posted one of the most successful freshman seasons in Wake Forest history. What are you looking forward to most this season?
I am looking forward to seeing all of our hard work in the off-season pay off.
We've spent countless hours on the field and in the weight room, and it will be fun to see what we can do this year.
We've got a lot of returning talent and a lot of new talent, so it will be interesting to see how that plays out and to see how far we can go into the postseason.
Do you have any personal goals for yourself this season?
My goal for myself this season is just to help the team win. I don't really have any specific goals for myself, but I just want to do what I can to help the team.
What is your favorite thing about being a part of the baseball team?
I think it's the fact that we all like each other. It's really fun when you're on a team that you are actually close with. I enjoy playing alongside some of my best friends and knowing that all these guys have each other's back is refreshing.
What game are you looking forward to most this season?
I am really looking forward to going to the University of Southern California. They're really good; they were ranked 12th in the 2016 D1 preseason rankings. It's the second weekend of the season, so it will be a good test for us early on. I am also looking forward to going to Virginia. They won the national title last year, so it will be fun to see where we are at and to compare ourselves against some really good teams.
Traditionally, the ACC is one of the conferences that hosts some of the strongest teams in college baseball. How do you prepare for games?
I like to study video of the pitcher who is throwing against us. I like to watch him in the bullpen to see what he's got and to pick up any little advantages I can to prepare myself to go against him.
How do you calm your nerves when you are up at the plate against these pitchers?
I just try to take time to myself to improve my mental game, which is probably what helps the most. Just trying not to over-think things when I'm up at the plate and controlling my breathing in order to try and stay relaxed and focused.
Do you have a favorite player you look up to in the MLB?
I think the Los Angeles Angels' Mike Trout is a lot of fun to watch just because he does everything well on the field. He plays hard and that's really admirable.