"They don't deserve to die:" The downtown naloxone vending machine and harm reduction in Winston-Salem
The machine is part of a larger plan to reduce the number of overdose deaths in Forsyth County
Amanda Clark walked into the Forsyth County Law Enforcement Detention Center just before 3 p.m. one Thursday afternoon wearing a shirt reading "support not stigma" and a pin reading "harm reduction saves lives," a clue to her mission. 
The next step in her mission was a dozen cases of naloxone nasal spray — an overdose-reversing agent — and the crisp sound of the boxes as she dutifully cut them open. The jail lobby was silent, and its mostly bare, semicircular walls allowed sound to travel far.
Clark, who leads the Forsyth Regional Opioid and Substance Abuse Team (FROST), is responsible for restocking a vending machine that dispenses the overdose-reversal agent free of cost. The naloxone in the machine is supplied by the Twin Cities Harm Reduction Collective (TCHRC), which serves Winston-Salem and Forsyth County. The machine was installed on Aug. 24, and similar devices have since been installed in five North Carolina counties, according to the Winston-Salem Journal. 
"Sometimes [when I go to refill the machine, it is] about halfway empty," Clark said. "This time, it was pretty much almost all the way empty."
The machine, which holds 150 two-dose packs of naloxone, is part of an ongoing fight against the opioid epidemic in Forsyth County. Between 2018-2020, Forsyth County had the third highest overdose death rate in the state, and overdoses claimed 52 lives between January and November of last 2021, according to WXII. Clark estimated that since the machine was installed, 250 boxes of naloxone have been distributed at the Forsyth County Jail location. 
Naloxone nasal spray, according to Clark, should be administered one dose at a time while the overdosing person is laid on their back.
Clark noted that the intent behind the vending machine is not to encourage drug use, but rather to break down the stigma around naloxone and substance use and save the lives of those who do choose to use substances illicitly.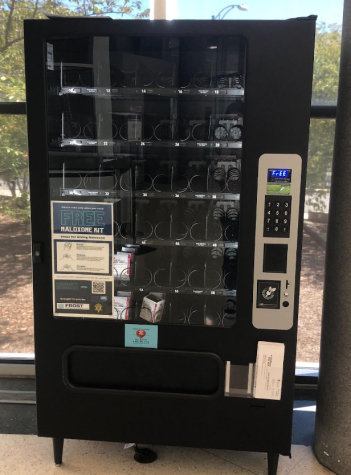 "Everybody in this world has made poor decisions at some point or another in life, and someone doesn't deserve to die because they made a poor decision," Clark said. 
However, not all Forsyth County residents share Clark's perspective. Shawn C. Scott, whose public profile indicates that he was a former sheriff's deputy in Forsyth County, left this comment on a Facebook post announcing the vending machine:
"Narcan is free for junkies who made a choice to use drugs, while Insulin is overpriced in the US for people who didn't choose Diabetes. Keep the junkies alive to buy more drugs."
The machine was installed in the jail because a longitudinal study done in North Carolina showed that those leaving jail are 40 times more likely  to have a fatal overdose than their peers.
"Just because they've been abstinent for a little while doesn't mean they're not going to leave and use, and they are at very high risk of a fatal overdose after that," said Rachel Thornley, executive director at Twin Cities.
Another initiative, which would have allowed those being released from the jail to ask for naloxone, fizzled. As Thornley explained, those incarcerated at the jail may be afraid to ask their corrections officers for the overdose-reversal agent. However, the vending machine in the jail lobby is one of the first things the people leaving jail will see. 
"It's right in their path. They don't have to ask anybody. It's totally free," Thornley said.
In the jail lobby, the free vending machine with naloxone, the opioid-reversal drug, was nearly empty by Sept. 21.
Due to the prevalence of the opioid epidemic, the amount of naloxone passed out per year is quite high. Twin Cities passed out 6,279 kits in the past year, though that figure includes kits given to local businesses such as Camino Bakery for emergency use. While the number of kits distributed tops 6,000, according to Clark, the number of reported overdoses in Forsyth County is just over 750.
However, Clark explained that sometimes, just one dose is not enough.
"Sometimes naloxone is administered more than one time per person, especially in the day and age of fentanyl," Clark said. "I've seen people need as many as six before to wake up."
When Clark stocked the vending machine on Sept. 21, 134 of the 150 slots were empty, which is the emptiest she has ever seen the machine. Because the machine has only been active for a month, the county substance abuse team is still working out how often the machine needs to be refilled. Currently, Clark relies on the staff who work at the jail's front desk to tell her when the machine is empty. 
Thornley noted that a national naloxone spray shortage has slightly delayed some shipments for the machine; however, the county and Twin Cities both have enough to wait out those delays. While there is more than enough injectable naloxone to go around, Thornley believes that it will likely not make its way to the machine, because it comes with a giant needle.
Those who need naloxone can visit the machine downtown, attend drop-in hours with Twin Cities on Monday, Wednesday and Saturday; or order delivery from Twin Cities.