Baseball: Craig returning at exactly the right time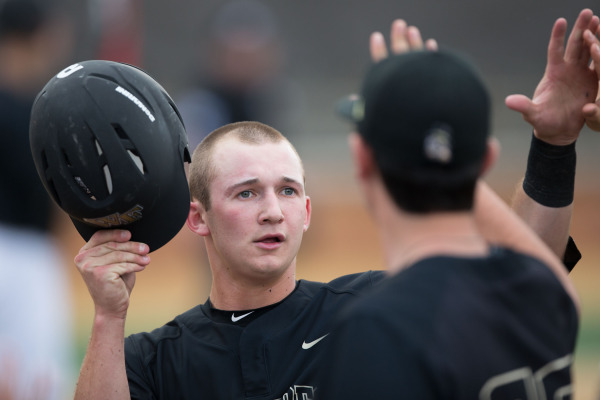 Since ACC play started and Wake Forest opened against Clemson, the team has won two of its last five games.
There have been days where the team has played eight great innings of baseball and then ended up taking a tough loss in the ninth inning.
The Deacs have seen both adversity and tough losses during the first 22 games of their 56-game season.
In the next coming weeks they will be tested as they play in a stretch of three-game series against Duke, Notre Dame and North Carolina State University. In baseball, it can take a single win to spur a hot streak — and Wake Forest has won their past two games in a row.
After the Clemson series, Wake Forest played against High Point and won 8-3. The game was led by an offensive explosion by sophomore Stuart Fairchild, who had four RBIs and a home run.
The next game was a 7-6 loss against the University of North Carolina — Charlotte. The Deacs lost 4-1 and 6-4 leads and were ultimately lost due to a walk-off home run in the bottom of the ninth. Fairchild again led Wake Forest offensively going 3-for-5, including a triple.
The Deacs then went on the road to play three-game series against the University of Virginia. They lost both games of a double header 4-0 and 6-4, lacking offensive production.
The return of junior Will Craig, who had missed the previous 4 games, fueled Wake Forest to win a nail-biter in their final game of the Virginia series, pulling out a 9-8 victory. A red-hot Fairchild continued his success with a 3-for-5 performance and batting in four. Craig went 2-for-4, scoring two runs. Donnie Sellers got the win, pitching 1.2 innings in relief after the Cavaliers tied it up in the eighth. Fairchild's bloop single in the 9th inning allowed Jake Mueller to coast in for the go-ahead and eventual winning run.
On Tuesday, March 22, the Deacs took on University of North Carolina—Charlotte at home in a battle to the last inning. The 49ers started the first inning with a two-run lead which left the Deacs playing catch-up for the rest of the game. After freshman Rayne Supple allowed two runners on base in the second inning, junior John McCarren replaced him and allowed only one of the two runners to score.
After trailing 3-0, sophomore Gavin Sheets and freshman Johnny Aiello hit doubles to bring the game back to 3-2.
After a two-run homer by Charlotte's Reece Hampton, the Deacs were trailing 5-2. Nate Mondou sent junior Jonathan Pryor home to narrow Charlotte's lead to 5-4. In the seventh inning, Keegan Maronpot hit a fly to allow Breazeale to score, tying the game at 5-5. Sellers closes the ninth inning in nine pitches and Maronpot once again knockws in a run, leading to a 6-5 win over the 49ers.
The baseball team had to deal with the absence of Craig, one of their star players, for six games due to him tweaking his oblique while pitching. Now with Craig back, the team hopes to build off of their recent win against the No. 10 Cavaliers.
Though some may be critical of an 8-1 Wake Forest lead lost, the Deacs always answered with big hit after big hit during the game.
An impressive attribute of this year's team is their ability to have successful two-out rallies. The losses haven't been because of lack of offensive production either.
The Deacs maintain one of the most explosive offenses in the entire nation.
What the team does need, however, is a little more production from their starting pitchers. Wake Forest has been too reliant on its bullpen, which has responded with great relief work.
If the team can hold opponents to fewer runs per game, and prevent teams from having big innings, they will be one of the top teams in the country. It already has four wins against ranked opponents this year — twice as many as it had all of last year.
The potential for this Demon Deacons team is high, and it has already proven that it can play with just about anyone.
The Deacs have faced a very difficult schedule so far in league play, and should find themselves facing easier opponents in the coming weeks. It is vital that the Deacs begin to win series if they are to have a strong chance of making the NCAA tournament.
That starts with beating Duke at home in this weekend's three-day series, which begins on Friday, March 25.