Diamond Deacs fail to take advantage of opportunities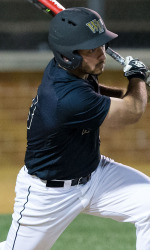 After winning a big Duke series, the Wake Forest baseball team looked to continue their success with a huge eight-game road trip.
Wake Forest opened up with a game against in-state rival, Elon, and won 4-3 as Nate Mondou, Will Craig and Kevin Conway had two hits a piece. The Deacs mustered together a couple unearned runs due to poor defense by Elon. Craig hit a go-ahead blast in the top of the eighth which proved to be the difference in the game.
Wake Forest then headed to South Bend to play ACC rivals Notre Dame. This series was one of the season's most frustrating for the players.
The Deacs dropped two of three in a display of some bad luck and shaky play. Notre Dame opened up their games with a rainy 6-5 win in a game that the Deacs definitely should have won.
It was 5-4 with two outs in the bottom of the nighth, when the umpire called a half hour rain delay.
After the rain delay, Notre Dame had men on second and third and a throw on a routine groundball to shortstop got away plating two and chalking up a disappointing loss.
Had the fields not been incredibly wet when play was resumed, the play most likely would have been made.
After some bad luck, Wake Forest bounced back with an offensive explosion beating Notre Dame 15-13 last Sunday. Craig went 5-for-6 with two doubles and  four RBIs. Gavin Sheets and Jake Mueller each had two hits apiece with the former earning three RBIs. A seven run top of the ninth seemingly sealed the game for the Deacs, until an impressive six run bottom of the ninth almost won Notre Dame the game.
In the third game, Wake Forest lost 10-2 in only six innings as play was shortened due to curfew, an ACC rule to ensure teams make their commercial flights home.
The Demon Deacons then played Davidson, one of the most impressive wins of the season for Wake Forest, and is exactly what the team needed before their three games against NC State this weekend. Davidson had a big eigth inning, but Wake Forest answered with the game tying and winning runs in the ninth.
Will Craig continued his hot streak, going 3-for-4 with five RBIs. Wake Forest had five two-out RBIs in the game, a sign of a very good baseball team.
Now if the team can build enough confidence to find a way to finish some games, they will be a dangerous team come late-May. 
Wake Forest plays N.C. State starting this Friday in Raleigh.
Taking at least two would be a tremendous way to end the road trip with a positive record.
After this game, Wake Forest comes back home for one of its toughest stints of the season, facing off against bitter rivals Florida State and North Carolina.
In order to reach the goals they set at the beginning of the season, and make the ACC tournament, the Deacs will really need to focus over the coming weeks.