Culturality hosts Black History Month event
Culturality, the Black Student Association and the African and Caribbean Student Association shine a spotlight on Black history
The newly chartered Wake Forest Culturality Club hosted a celebration of Black History Month on Monday, Feb. 20 in Greene Hall.
The celebration — which featured music, pizza, dance and posters about Black history at Wake Forest — was held in conjunction with the African and Caribbean Student Association (AfriCaSa) and the Black Student Alliance (BSA). 
Sophomore Culturality secretary Abby Caudill is one of the club's three founders, alongside freshman Juan Londono and sophomore Wendy Wei. Caudill discussed Culturality's inspiration for hosting a Black History Month celebration. 
"[Black history] is a very underrepresented part of campus," Caudill said. "It was important to highlight and celebrate Black culture specifically on the Wake Forest campus in order to bring more of the student body together." 
Junior Austin Torain, also known on campus as "Speaker Kid," DJ-ed the event at Caudill's request.
"I wanted to [feature] a couple of modern Black artists, but [I focused] heavily on the artists who don't make as much music anymore," Torain said of the playlist he curated for the event, emphasizing the idea of celebrating Black history as opposed to solely modern Black artists. 
Torain said that his favorite part of the event was the dance demonstration led by AfriCaSa member and Wake Forest junior Jolie Dumay. 
"The AfriCaSa dancing was a lot of fun," Torain said of Dumay's demonstration. 
Caudill echoed Torain's enthusiasm for the AfriCaSa dance.
 "I really loved the dance class…" she said. "I wasn't expecting to love it because I'm not a good dancer, but it was really cool."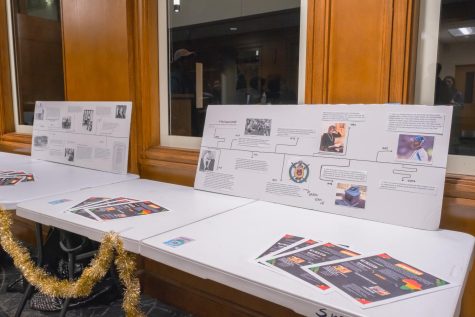 Educational posters about Wake Forest and Winston-Salem's Black history were on display around the lobby of Greene Hall. Caudill, Londono and Wei worked together to create both a timeline of important events related to Black history at Wake Forest and in the surrounding area, as well as separate posters celebrating Black members of the Wake Forest community. 
Among those highlighted were former students Ed Reynolds ('64), the first Black student to enroll at Wake Forest; Patricia Smith ('66), the first Black woman to graduate from Wake Forest; and Freddie Summers, the former Demon Deacon quarterback who made history when he became the first Black man to start at the position for a major southern football program in 1967.
In addition to alumni, former Wake Forest football coach Jim Caldwell, the first African American to serve as head football coach at an Atlantic Coast Conference (ACC) school, and Dr. Maya Angelou, the world-renowned poet and former Wake Forest English professor, were also featured. Posters also recounted Dr. Martin Luther King Jr.'s speech in Wait Chapel in October 1962. 
"We wanted to give Black history a platform, but we knew that there were identity groups on campus that could showcase Black history better than we could," Londono said. "We reached out to our friends in BSA, AfriCaSa and the African American Studies Department for help." 
While the Black History Month celebration was Culturality's first large event, Londono underscored that the event's aim aligns with the club's overarching mission. 
"The goal of every [Culturality] event is to educate people of different cultures and for people to have fun while learning," Londono said. 
Junior Rovina Mannah, who said she attended the event to support friends in BSA, appreciated the event's celebratory atmosphere. 
"It's good to see Black History Month being celebrated in general," Mannah said. 
While Black History Month concludes on Feb. 28, Caudill is enthusiastic about future Culturality events, stating that the club anticipates hosting events in honor of both Irish American heritage and women's history, both of which are celebrated annually in March. 
To learn more about Culturality, follow @wfuculturality on Instagram and join both the GroupMe and email list linked in the account's bio.