TedxWakeForestU thanks you for coming to its TED Talk
The annual event, which was canceled last year, returns with the theme of "covering all angles"
TEDxWakeForestU returned to Wait Chapel on Feb. 25 after it was canceled last year and held virtually the year before. And for this year's theme, it covered all the angles.
"'Covering all angles' built off the momentum of last year's canceled event, which was 'wavemakers,'" senior and TEDxWake Executive Director Ashley Thompson said. "It's really about delving into these big questions with a broad spirit of inquiry, not being afraid to tackle really difficult questions that people on our campus may deal with a lot but don't speak openly about."
Since its establishment in 2012, the student-organized event has brought influential speakers to the iconic red carpet circle to share their ideas with members of the community. This year's speaker lineup included seven figures — some of whom were re-invited from last year. Several speakers were also connected in some way or another to the Wake Forest and Winston-Salem communities.
As executive director of Envision Charlotte — an organization leading the city of Charlotte's transition to a circular economy — Amy Aussieker discussed recent and ongoing zero-waste initiatives and closed-loop systems that promote environmental sustainability. One such system involves glass.
"Glass is a huge problem for every community," Aussieker said, explaining how the consolidation of recycling facilities has led to most of Charlotte's recycled glass being sent to facilities in Atlanta. 
She continued: "It costs more to ship than it's worth. And if you think about the carbon footprint of hauling all that stuff down to Atlanta — we can go on and on, so we need to find a solution in our community."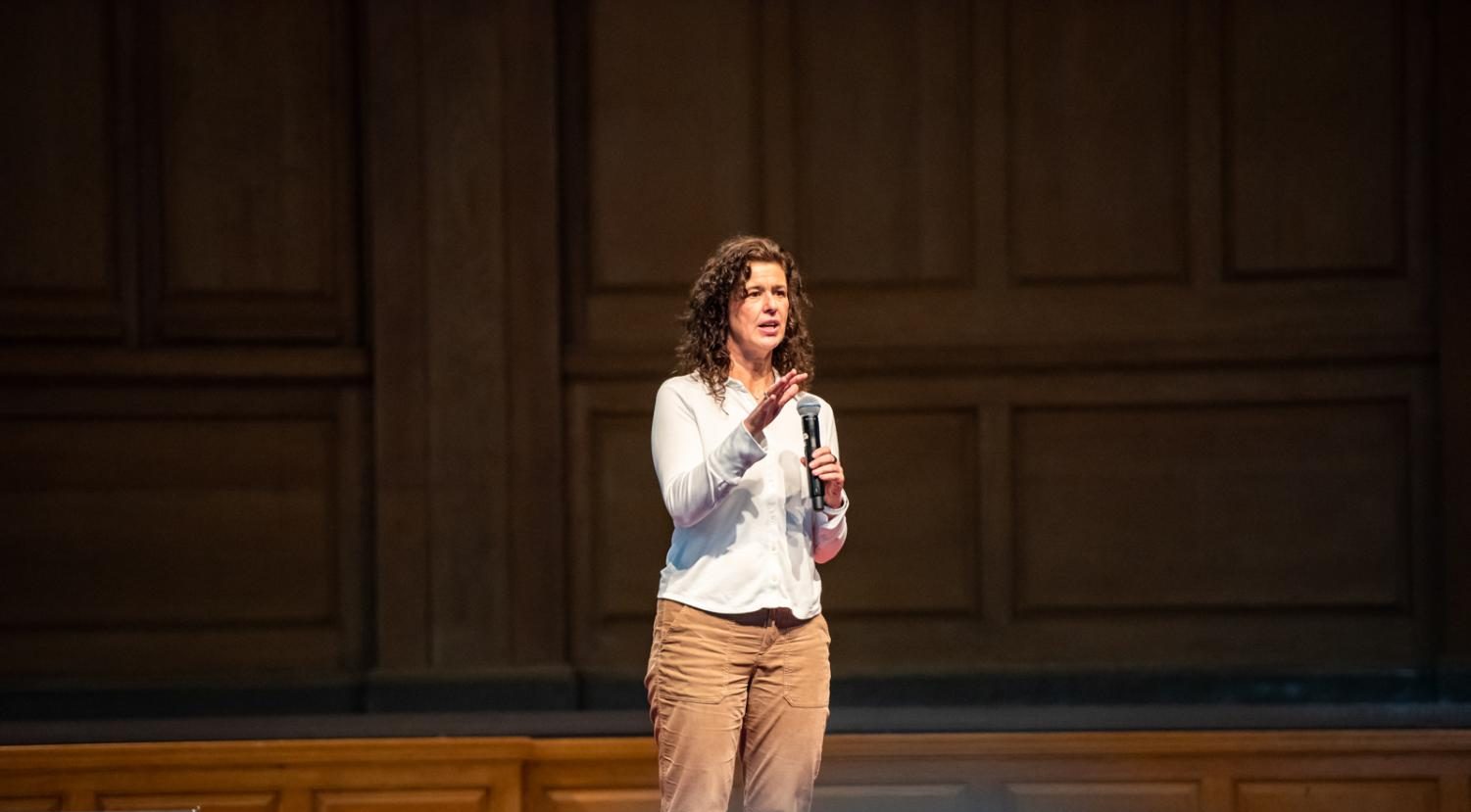 Envision Charlotte found a solution through its partnership with Atrium Health. Working with developer Wexford Science and Technology, it is creating concrete that is 50% glass for construction in Charlotte's new Innovation Corridor — the home of Wake Forest School of Medicine's new campus that broke ground on Jan. 17. 
"I really liked the talk about sustainability because I really think that we have some work to do at Wake Forest," freshman Clara Fallenius said. "I really hope that the people that came and listened can take that into account and start to think more about what we do with our trash." 
Dr. Daniel Eberli — who received a doctorate in molecular medicine from Wake Forest in 2007 — explored a narrower angle. As a scientific physician working in urologic tissue engineering at the University of Zurich, Eberli explained recent breakthroughs in treating incontinence, which could have a significant environmental impact by reducing the number of adult diapers used each year.

A much wider angle came from NASA astronaut and Wake Forest School of Medicine alumnus Dr. Thomas Marshburn ('89) — a veteran of three spaceflights to the International Space Station. As part of the 2021 SpaceX Crew-3, Marshburn became the record holder for the oldest person to perform a spacewalk.
"NASA does a really good job, I think, training humans how to live and work in space — but there's some things they never tell you," Marshburn said. He went on to describe things like the excitement of taking off, the silence of space and the fragility of the Earth.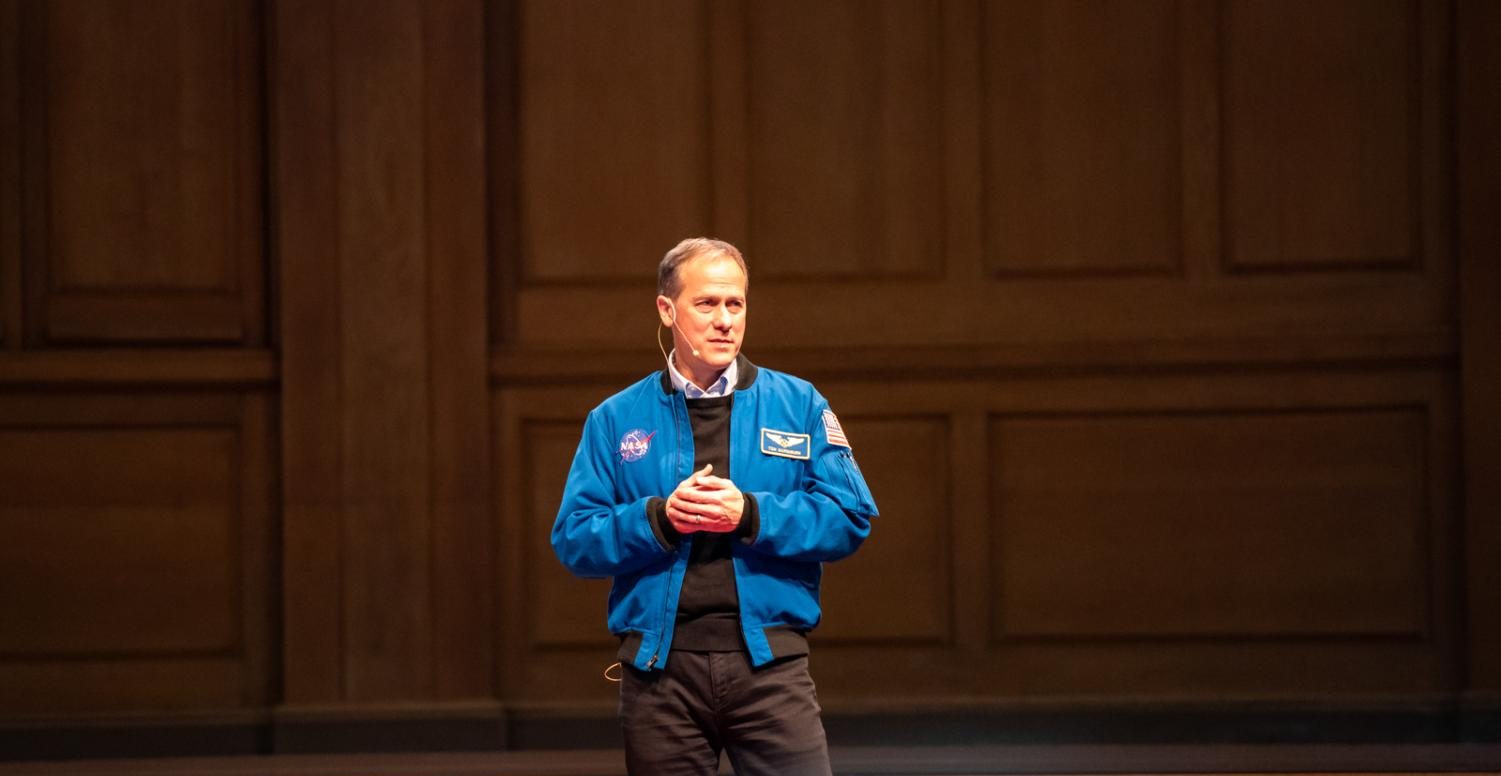 Marshburn continued: "Off in the vastness of space, the Earth seems fragile — but we seem more fragile still. So people would say well, doesn't that make you seem insignificant? … But my opinion is, we become that much more significant — and the earth itself so much more significant because it is so fragile and so rare and precious."
A more personal angle brought audience members into the story of sexual assault survivor and founder of Healing Justice, Jennifer Thompson. The chilling details of her attack and similar attacks on others were compounded by the later discovery that she had identified the wrong suspect. Ultimately, her experience led her to question the meaning of justice in the United States. 
"What is justice anyway?" Jennifer Thompson said. "The criminal justice system is predicated and attached to providing justice and closure for crime victims and survivors. They differ from that. But what is justice in a wrongful conviction?"
Freshman Abigail Richardson, who watched a documentary about Jennifer Thompson in high school, was especially struck by Jennifer Thompson's talk. 
"It's really cool actually seeing her in person," Richardson said. "She worked so hard to remember everything she could about who [assaulted] her. And then to find out you got it wrong — so not only have you been living with that person near you, but also you've put this innocent man through something traumatic as well …. She would have loved to get the actual person arrested and not him." 
Despite being a Winston-Salem resident, Jennifer Thompson hasn't shared much of her story in her own community.
"For a long time, people here didn't actually ask me to tell my story," Jennifer Thompson said in an interview after the event. "I might tell it in Madrid, I might tell it in Quebec, but people in Winston-Salem didn't want to hear the story. So it's important for me to come back home."
Yet another angle was covered by Jamaal Barber, an artist and printmaker raised in North Carolina whose work explores Black identity.
"[Barber's] perspective is one that we don't take enough, especially as a primarily white institution," junior Anabel Ford said, "Because instead of just idealizing or ideating diversity, we should be able to think about the individual perspectives that are brought and added to the group rather than just making it look like we are diverse."
Ashley Thompson has been a part of TEDxWakeForestU since her freshman year, when she joined as a volunteer. 
"Well, I promised I wouldn't say this, but I think I kind of have to: Thank you for coming to our TED talk," Ashley Thompson said. "This moment is kind of surreal for me. I've been on the TEDxWakeForest team since I was a freshman. We have overcome a global pandemic. We've overcome two inches of snow, and here we are today completing our event."