Men's basketball wins an ACC Tournament game, but season ends in Greensboro
The team misses out on the NCAA Tournament and the National Invitational Tournament
The Demon Deacons (19-14, 10-10) earned their first ACC Tournament win since 2017 with a 77-74 victory versus Syracuse (17-15, 10-10) this past Wednesday but couldn't stack wins in the quarterfinal match against No. 1-seed Miami (25-6, 15-4). In its first quarterfinal appearance since 2009, Wake Forest fell to the Hurricanes 74-72, a two-point deficit that extinguished NCAA Tournament hopes. 
Head Coach Steve Forbes' squad fought Syracuse with the intensity of a team that was a conference championship away from a March Madness bid. The Orange, neighbors with the Demon Deacons in ranking, brought the same energy to Greensboro. Across the two teams, seven players played for 34 or more minutes, a statistic signifying that either school knew the match could be their final stand.
The AP's ACC Player of the Year, graduate Tyree Appleby, was the sole player to play the full 40 minutes. His impact on the game justified his playing time, as the Demon Deacon racked up 17 points and 12 assists for an outstanding double-double.
Appleby led Wake Forest to its most crucial run in the second half when the Demon Deacons outscored Syracuse 17-1 to secure a 54-42 lead at the second media timeout of the final half. Having come out of the locker room with Wake Forest down two, Appleby orchestrated a frenzy of scoring by producing back-to-back 3-pointers with fellow graduate Daivien Williamson (17 PTS, 6 REB). Appleby then came down the court and launched an alley-oop for freshman Bobi Klintman to slam down two possessions later. 
Klintman (17 PTS, 11 REB) had beaten Appleby to the double-double mark in the first half, where he posted 10 points and 10 rebounds before getting into foul trouble. The freshman was instrumental in keeping Wake Forest afloat during the Orange's initial 22-10 run. With the athleticism and length of a player like Benny Williams (18 PTS, 11 REB), Syracuse presented versatility that only Klintman could match.
Despite cutting the disadvantage to just two points by halftime, Wake Forest knew it could do more to keep up on the offensive end.
"[The coaches] told us to drive a bit more," Klintman told the Old Gold & Black. "We were 3-point happy since everyone just wanted to shoot the ball. But to be able to beat their zone, we needed to drive in to get under the zone."
The drive-and-dish method of cutting for the Demon Deacons diced up Syracuse's 3-2 zone enough for Appleby to get his run started in the second half. Instead of passing along the perimeter, Wake Forest began bringing bigs like Klintman and junior Andrew Carr (10 PTS, 3 STL) up to the foul line to receive the ball and facilitate drives to the hoop.
Syracuse still managed to creep back from their 12-point deficit as exhaustion kicked in for Wake Forest. With 40 seconds left, Benny Williams knocked down one from deep to put his team up 74-72.
Exhaustion fails to affect sophomore Cameron Hildreth (15 PTS), however. The next possession, he hop-stepped into the lane, just below the free-throw line. Instead of dishing the ball out, the crafty guard spun 180 degrees in the air before swishing the midrange to tie the game.
"[Hildreth], that's a shot we work on every day, right?" Forbes asked with a grin postgame. "Wrong. But that's some English [stuff] that he does."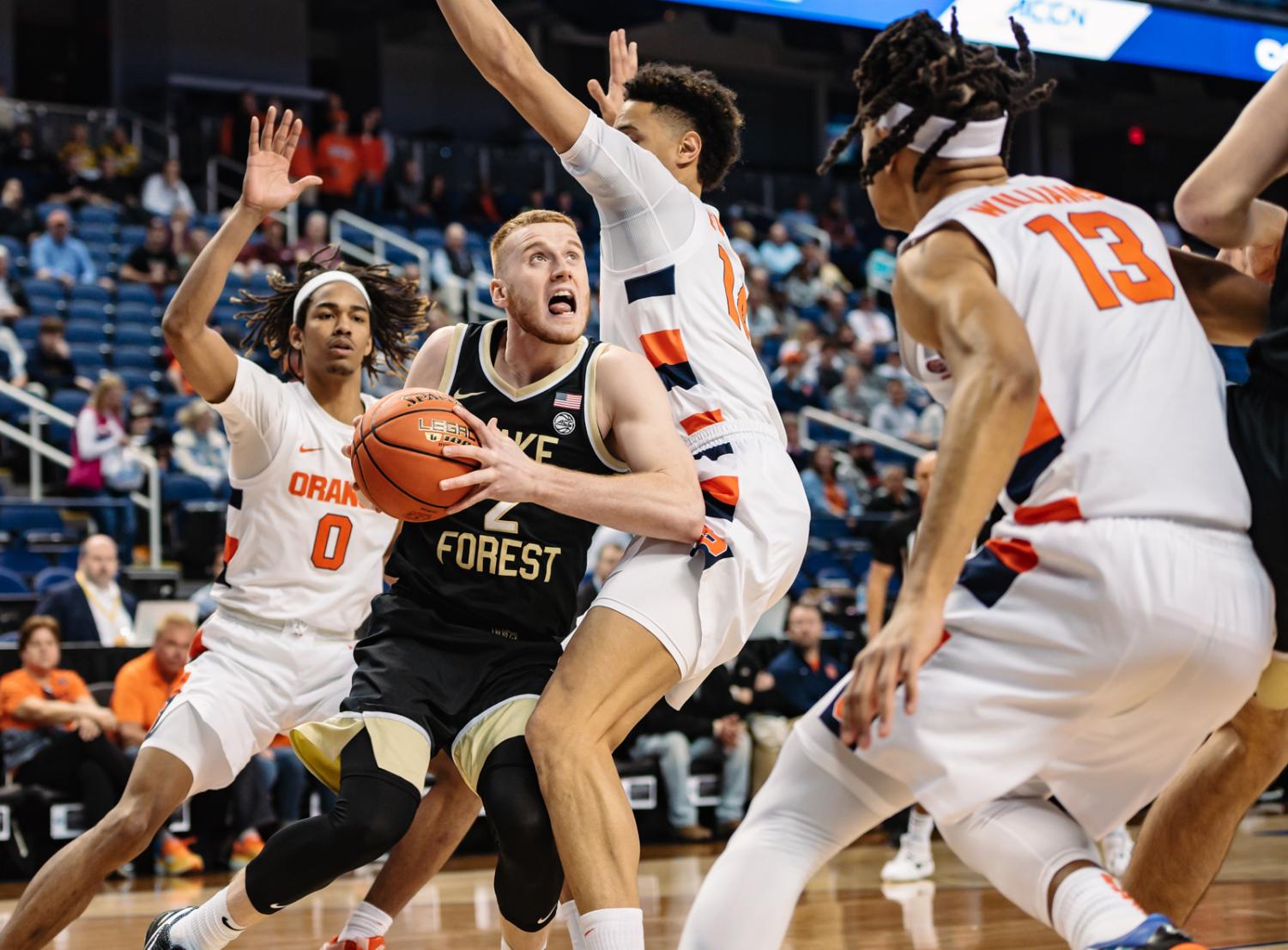 In their next possession, Syracuse went for the win from beyond the arc with just under 40 seconds left. However, Williamson stuck to the shooter like glue and forced a miss with his tough contest. The rebound bounced right back to the Winston-Salem native.
During his first season with Wake Forest, Williamson had been blocked on his team's last possession of the 2020-2021 ACC tournament. Against Syracuse, he had six seconds to come up with a different ending. 
"Once I got the rebound, I immediately looked for [Appleby]," Williamson said. "I passed it to him, and I just heard him telling me to run, so I kept running and running, and I got in the right spot."
Bending around a hard screen from Carr, Appleby dished it to Williamson with three seconds on the clock. He found nothing but net on a 3-pointer that left 0.2 seconds on the clock and moved Wake Forest onto the quarterfinals versus Miami.
The Demon Deacons brought the same fire the next day, but Miami managed to smother it to advance to the semifinals. The top-seeded squad did so through efficient shooting (52.5 FG%) and converting every forced turnover into points on the other end. Wake Forest gave up the ball a modest 10 times, but Miami made sure each of those self-inflicted wounds bled as they scored 18 points off turnovers. 
Hildreth had been the one to pull Wake Forest out of their first-half shooting slump (1-10 FG). After the second media timeout, he followed up a streaking dunk with a crafty hook shot over a 7-foot defender to crunch the Hurricanes' lead to single digits.
While the Demon Deacons suffered another slow start to the second half, Miami found its stride. Isaiah Wong (17 PTS) and Norchad Omier (14 PTS, 10 REB) played flawlessly off one another, taking turns each possession to score at will. They built a 17-point lead through a devastating 19-5 run.
"I kept telling them that if we get it under 10 we got a shot," Forbes said of the second-half comeback. "We just need to get there by the last media [timeout]."
The Demon Deacons did just that, refusing to let their early stumble lead to them falling before the final buzzer. Once defensive stops began piling up — much thanks to Klintman's four blocks — the comeback gained considerable steam.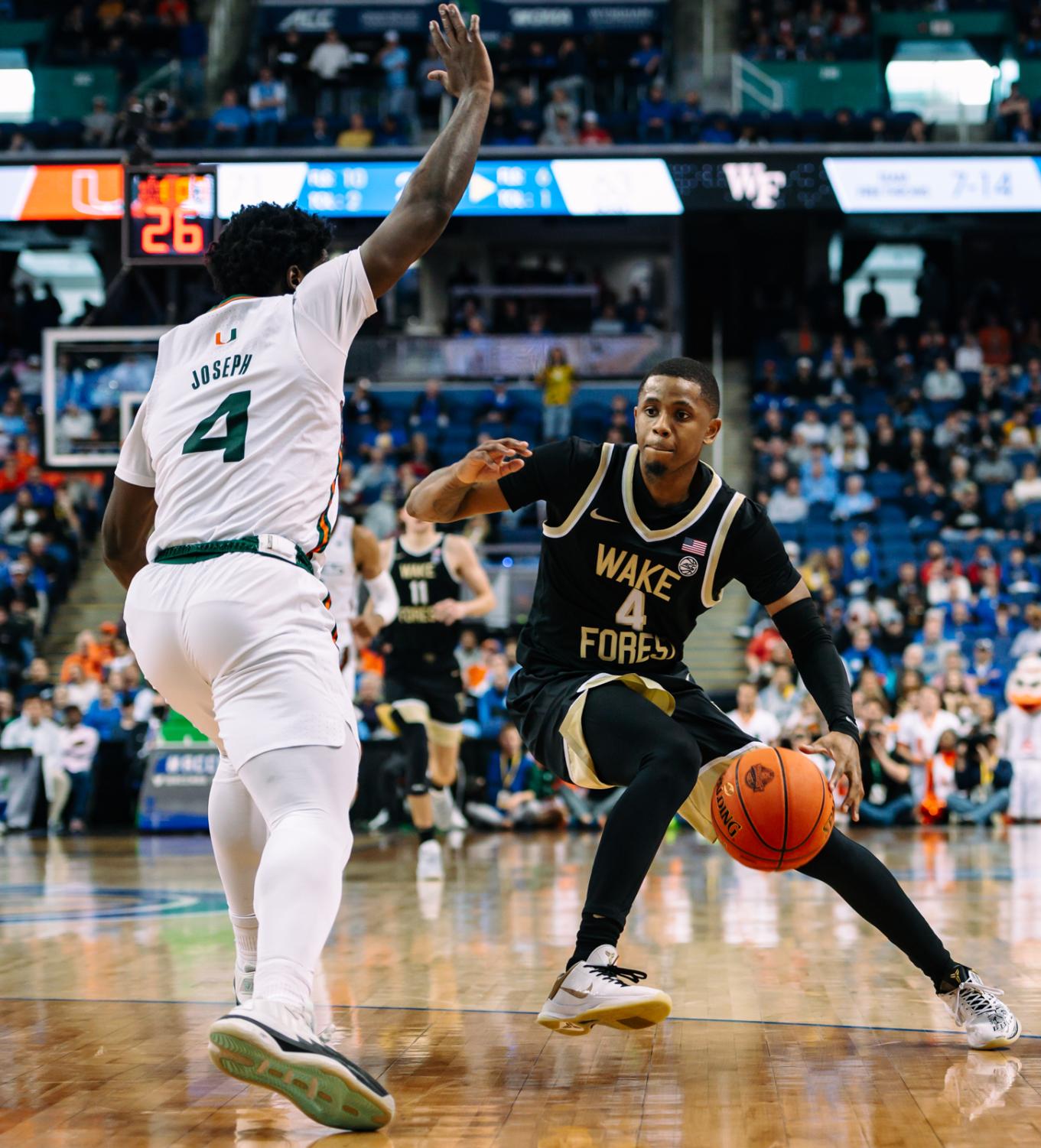 With six minutes left, Hildreth and Klintman went for back-to-back makes from three. Down 67-61, Klintman cleaned the glass three possessions to set up another clutch Hildreth sniping from deep. After a Hurricane basket on the other end, Appleby hit a circus-shot three to keep the comeback alive with just eight seconds remaining. After Miami missed the back end of a one-and-one, Williamson was given another chance to hit the game-winner, except it would need to be from halfcourt within two seconds. Hitting rim but no net, the shot failed to fall, and Wake Forest's ACC Tournament run had met its end.
Despite the run consisting of just two games, the Demon Deacons made it a memorable two, leaving everything on the floor. During the postgame conference, Appleby and Williamson expressed their gratitude to Wake Forest for their time spent playing. 
"With the support of the community, coaches, staff, players and even workers on campus, it's just all been outstanding and amazing," Appleby said. "I couldn't be more appreciative."
"At ETSU with Coach Forbes, I grew not only as a basketball player but as a person," Williamson said. "So when Coach Forbes got the job here, it was a dream come true. To finish my career not only in the ACC but under guys that I know I can trust that I know actually love me not only as a basketball player but as a person is amazing."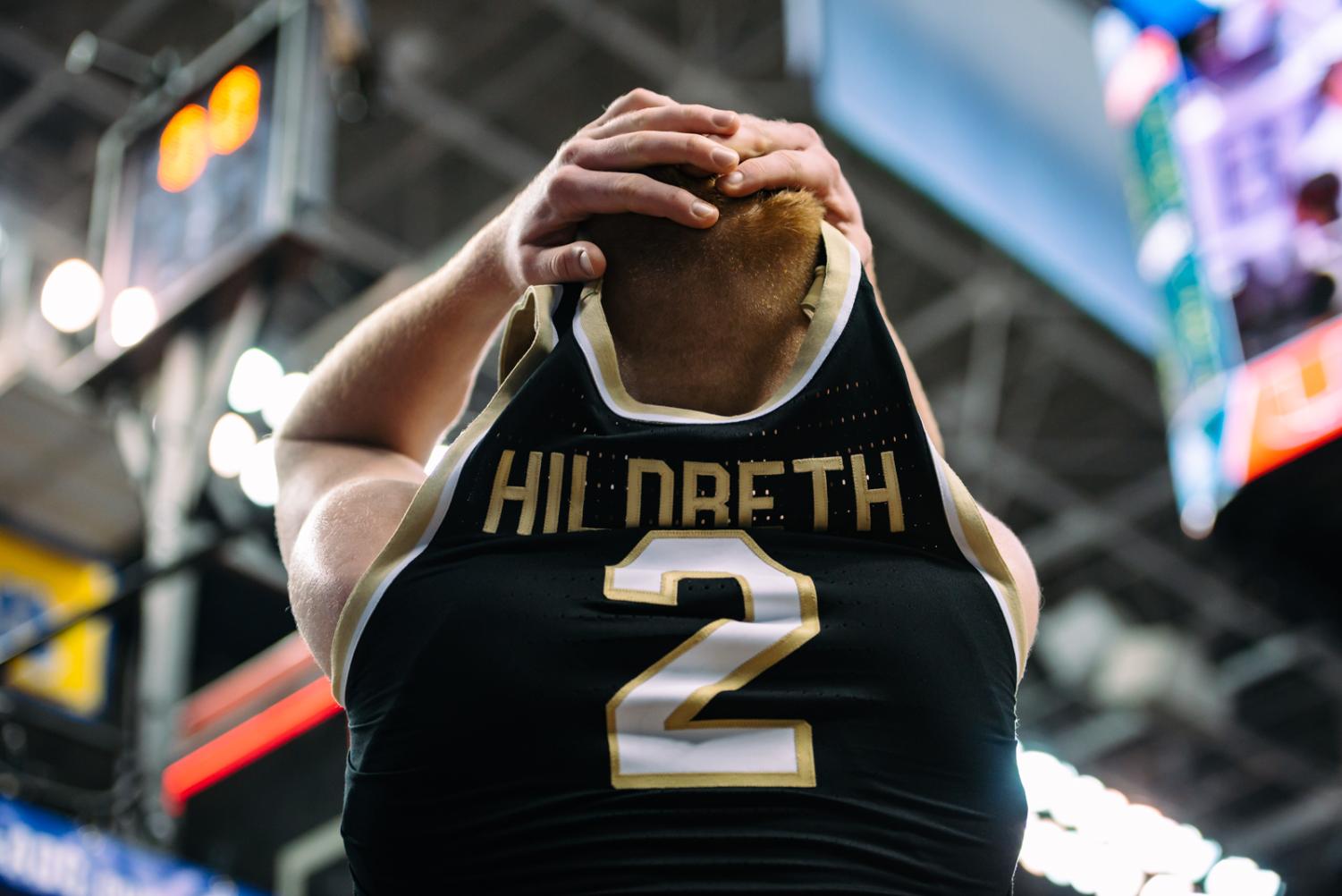 Photography Editor Evan Harris contributed reporting. 
Correction March 14, 2023: An earlier version of this story incorrectly named a Wake Forest basketball player in a photo caption. That error has been corrected, and the player's name, Davien Williamson, is now in the caption. 
Correction March 15, 2023: An earlier version of this headline was misspelled. It is now correct.