Wake 'N Shake raises nearly a quarter million dollars
The annual dance marathon raises money for the Brian Piccolo Cancer Research Fund
The air in the Sutton Center was thick with energy and anticipation as students, faculty and staff flocked to the venue for the long-awaited annual Wake 'N Shake event on March 25.
As the clock struck midnight, the executive board stepped forward and unveiled the grand total raised for cancer research — $248,234. The crowd erupted into a chorus of cheers and applause, honoring the dedication and hard work of all those involved.
The 12-hour dance marathon is the largest student-led philanthropic event on campus, put on in honor of Wake Forest football legend Brian Piccolo, who lost his battle with embryonal carcinoma in 1970. Since then, Wake 'N Shake has been dedicated to supporting millions of cancer patients and their families and friends.
"Wake 'N Shake is one of those examples of what Pro Humanitate means when it is put into action," Vice President for Campus Life Shea Kidd Brown said.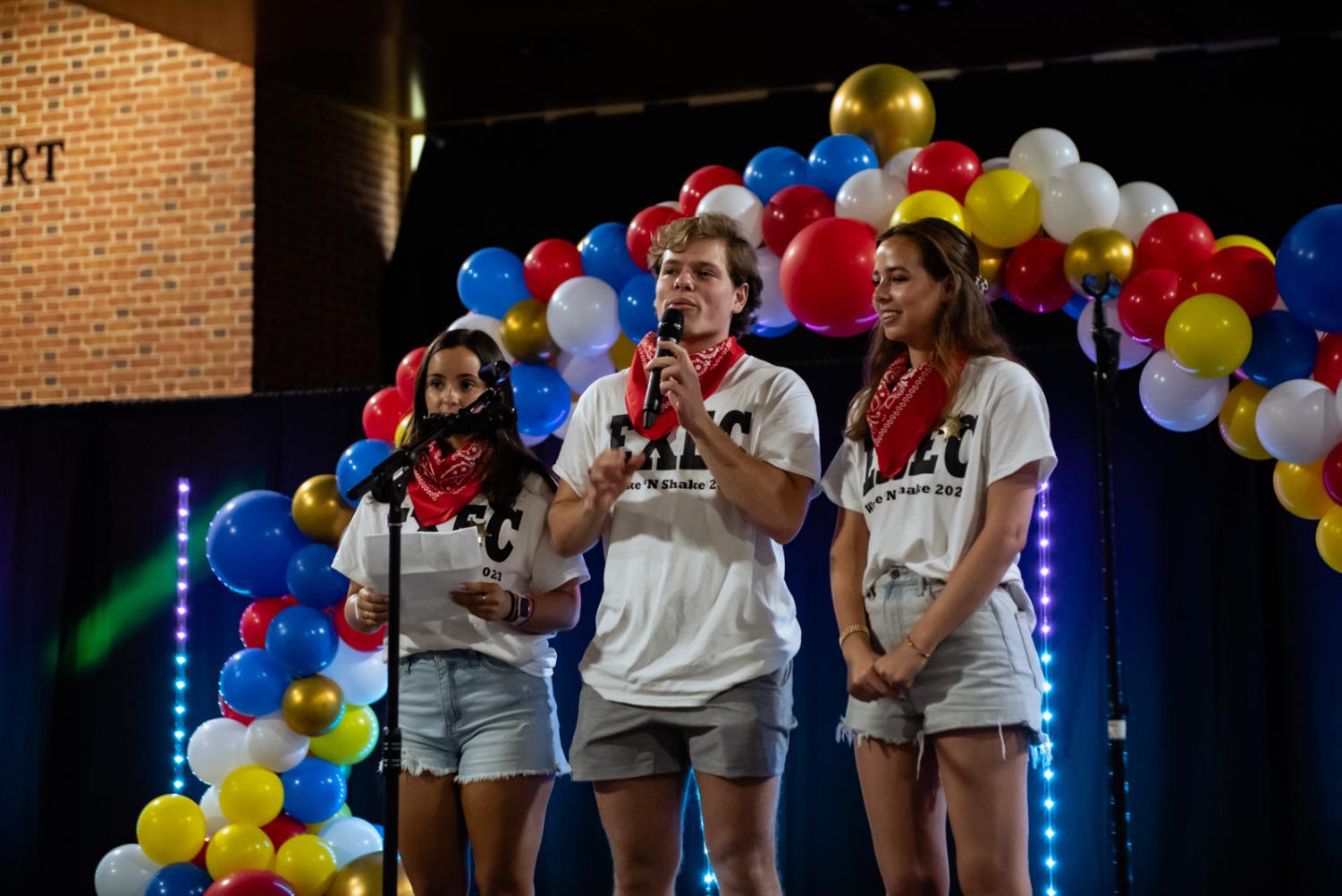 Many student participants have been touched by cancer in some way — whether through a loved one's struggle or their own battle. For them, dancing was not just a fun way to raise funds but a way to honor those who have been affected by cancer.
"I lost a close friend to cancer," junior Brooks Mauldin said. "I feel like I owe it to them because they helped me become the man I am today. So, I'm giving as much as I can."
When the event began at noon, Reynolds Gymnasium echoed with the enthusiasm of the participants, who were clothed in vibrant orange, green and white T-shirts bearing catchy quotes such as "give cancer the boot." As the dance marathon teams made their way up the stairs, they were greeted with a round of applause.
Executive Director of the Atrium Health Wake Forest Baptist Comprehensive Cancer Center Ruben A. Mesa opened the event by reminding attendees of the cruel, indiscriminate nature of cancer — and the hope that events like Wake 'N Shake provide. 
"Cancer is a thief that steals from patients' both their length of life and quality life," Mesa said. "Defeating cancer is a team sport, and today you all are part of that team." 
Mesa explained that every dollar raised could help fund groundbreaking research and bring us one step closer to a cure.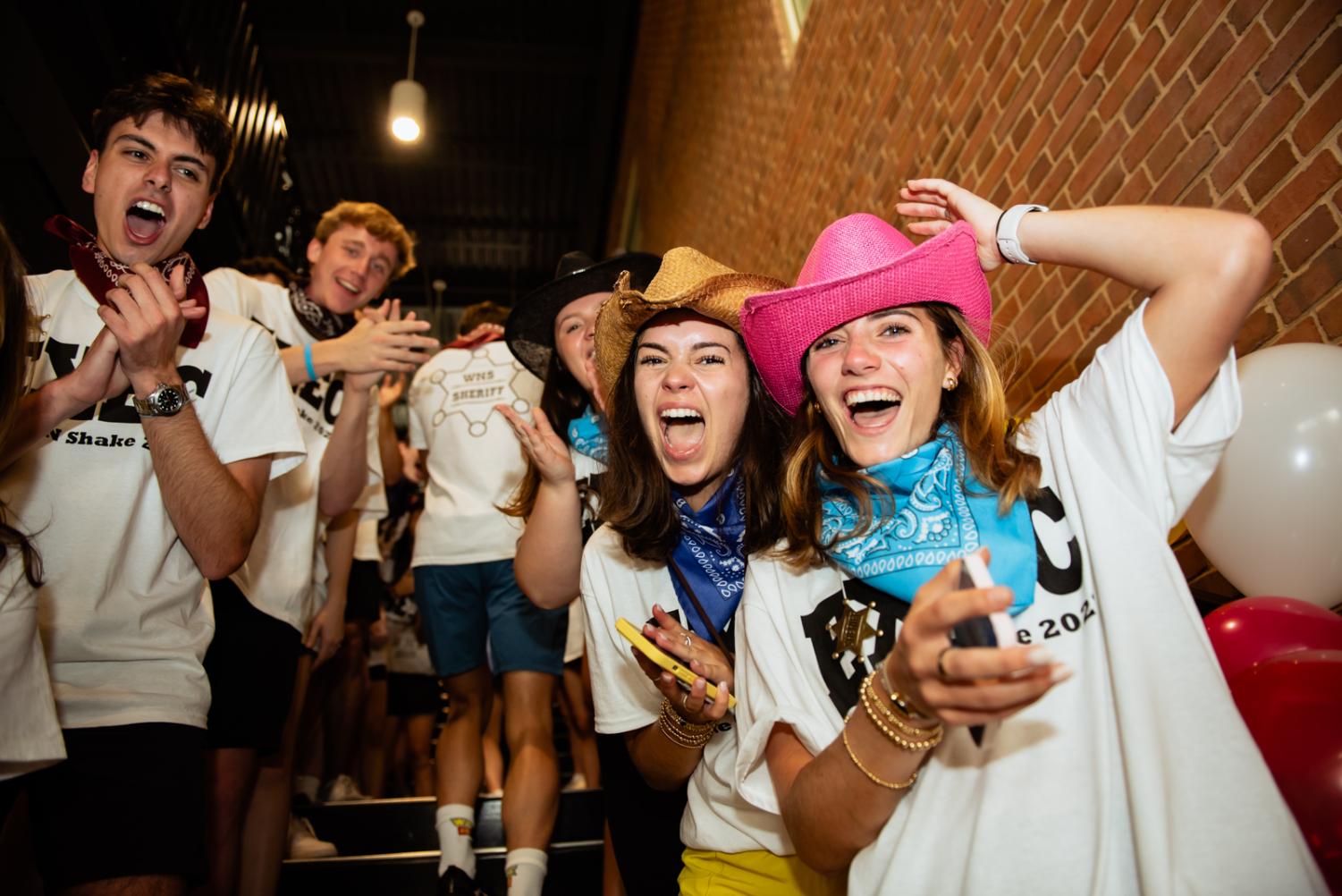 As the crowd swayed and bounced to the beats of "Lil Bit" and "Fake I.D.," Wake 'N Shake's executive team fanned out through the sea of dancers to take care of their duties. From the stage, the three directors, Caitlyn Dwyer, Jamie Wander and Matt Witterholt, led the way in teaching the dance moves while the morale team kept spirits high. Behind the scenes, the rest of the executive team managed the crowds and ensured that the refreshments were flowing.
According to Witterholt, the preparation for this 12-hour dance marathon started as early as August 2022. The team of 48 executive members worked to secure speakers, organize dance training sessions and plan for tech, hospitality and entertainment teams. 
"I've been doing it since freshman year, and this is my first year as a student director," Witterholt said. "This has always been something that I am passionate about, so I am really happy that I can get as many people as possible to participate."
An integral aspect of the event was the seven "champion" speakers who shared their experience with cancer with the dancers.
June Booth — one of this year's champions — told the story of her son Neal Chastain ('86), who was diagnosed with acute myelogenous leukemia while attending Wake Forest, and Booth established the Neal Monroe Chastain Scholarship in his honor in 1987. 
"Somehow, I think that Neil [Monroe Chastain] was trying to say to us, 'I may be gone, but I am still with you,'"  Booth said.
More than 200 students made it possible for Wake 'N Shake participants to enjoy a day filled with activities in addition to the dances, including performances from Melodeac — a co-ed a cappella group — and Momentum Crew, a hip-hop and urban dance troupe. When in need of a break from dancing, participants played board games and mini-golf or posed in a photo booth.
Brian Piccolo's daughter Traci Piccolo reflected on the impact of the event and the research fund in her father's name.
"I never dreamed it would still be going strong after all these years," Traci Piccolo said. "My dad has been gone for 52 years, and the fact that this event not only continues but gets stronger and better every year is such a testament to his lasting legacy. I am so proud to be a Deac."
Update March 29, 2023: This article's headline has been updated to reflect that the event raised nearly a quarter of a million dollars.