Analytics team rattles its sabermetrics
How statistics drive the No. 2 team in college baseball
The David F. Couch Ballpark has hosted 18 glorious wins for No. 2 Wake Forest (23-3, 7-2 ACC) this season, and this past weekend the Demon Deacons swept Miami for three of the latest victories.
The Demon Deacons' brilliant pitching rotation and thunderous bats soak up a lot of attention. However, there is another aspect of this Wake Forest squad that deserves the spotlight, despite the only hint of it being a piece of paper that the coaches study in the dugout.
The Wake Forest baseball analytics team works with the current No. 2 program in the country from off–season to postseason. The Old Gold & Black spoke with the analytics team's directors and two students involved in the program to learn more about their experiences. 
Playing the game of numbers
"I played baseball in high school. So without it when I got here my freshman year, there was a little bit of a void," graduate student Chris Lewis said. "I missed being around the game and wanted to solve that my sophomore year. I thought it would be through club baseball, but it ended up being through this, and it's been above and beyond what I could've wanted to or what I would've expected to have happen."
Senior Nihar Maskara did not play baseball, but he did watch it, and he had experience working with numbers.
"I always knew I was good at math and stats," Maskara said. "I always enjoyed watching baseball. When I was in high school, those more advanced numbers [in baseball] started to come out. As a curious person, I was reading all those websites, figuring out what those numbers mean. The start of my sophomore year was the first year that I worked for the baseball team."
Though Lewis and Maskara took different paths in finding the analytics team, once they joined the two became ingrained in a culture that has attracted more and more eager minds.
"
We pride ourselves in being a developmental program because we know we're never going to get all the five and four star recruits like those schools. We strive to take a player and basically enhance their strengths.
— Nihar Maskara ('23), director of baseball analytics team
"The team has grown exponentially each year," Lewis said. "I mean, we went from four to eight to 16, and now we're at 20. It's been really awesome."
As the small group evolved into a full-fledged force over the course of four years, its integration into the rest of the baseball team grew, as well. The coaching staff has also undergone changes during that period, which meant that the analytics team needed to maintain a foundation in their collaboration with the new personnel. 
"[Last year], they brought in a new pitching staff, so building relationships with the coaches was super important to actually making this work meaningful and useful," Lewis said. "This year I think I have been able to be more of a leader and help our people grow into their own roles."
After laying the groundwork with the new staff last year, the analytics team came into the 2023 offseason ready to hit the ground running. This involved training new members, collecting bullpen data and tracking player development during scrimmages. Now, 26 games into a promising campaign, Wake Forest baseball relies on their analytics squad to be there for them step-by-step. 
When you're competing in a conference like the ACC, easy matchups are hard to come by. The scouting reports are on some of the best players in the country. 
"We're the smallest institution in the power five, and UNC, Duke and NC State are considered powerhouses in baseball," Maskara said. "We pride ourselves in being a developmental program because we know we're never going to get all the five and four star recruits like those schools. We strive to take a player and basically enhance their strengths."
Pitch perfect
That work begins in the pitching lab, the glory of the analytics team and a major factor in sharpening one of the best pitching rotations in the country. 
"In our pitching lab, there is motion capture [technology] that creates a skeletal system of the players using a kinematic sequence that shows us the angle of any joint we want at any time," Maskara explained. "That's probably one of the biggest frontiers, making biomechanical information as useful as possible."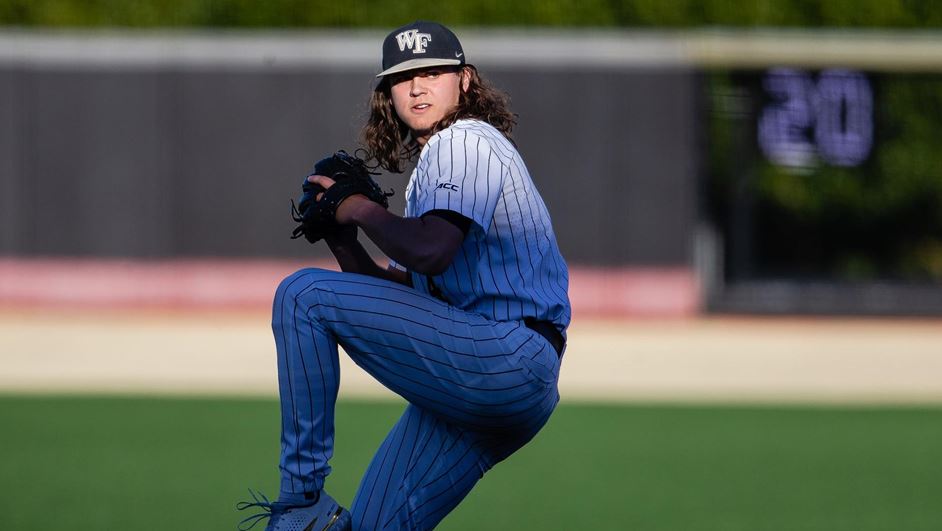 Maskara continued: "Like if one player has a 45-degree angle between joints, that may be performing really optimal. It doesn't mean that another player would also want that angle. Every player is unique."
The pitching lab is all about preparation, which lends to the players' performances the next time they take the diamond. The analytics team's duties continue there as well.
"We have a group of us who are in the press box running some of the technology that we have, like TrackMan," Lewis said. "We also have a group that'll be in the stands behind home plate, doing some timing and looking at key performance indicators."
The Demon Deacons have relied on exceptional pitching so far this season, especially cooling off a hot Miami team this past weekend, allowing only two runs in 26 innings. Wake Forest boasts the best team ERA in the ACC at 2.09, and the pitching rotation includes the conference's top three strikeout leaders — Sean Sullivan (58), Josh Hartle (56) and Rhett Lowder (48). In part, that happens with preparation.
"Part of what we do is create advanced scouting reports," Maskara said. "We'll see how the opposing team's batters perform on certain pitches, areas of the plate and so on, all using metrics that we've created."
He continued: "The pitching coach has those reports in the dugout every game, and we'll try to give him everything he wants to see in those scouting reports."
When everyone buys in
Another part of the Demon Deacons' success this year is continuity. After an overhaul of pitching coaches last year, the analytics team had the data they needed — they just needed to communicate it to the new coaches.
"We've tried to really focus on what our coaches want, what our players want, what will help us win and what's going to help us get better," Lewis said.
With that being said, shared trust between the coaches, players and analytics team have been incredibly influential on the success of the Demon Deacons this season.
"We are really fortunate to have the players and coaches who are open and buy into what we do as an analytics team," Maskara said. "We have a great communication stream between us where we can have trust in one another."
"Credit goes to Corey Muscara, our pitching coach, and Mike McFerren, our pitching lab coordinator," Lewis said. "When they came in last year, they were really interested in our analytics team. They saw a lot of value and potential in us. They've been really, really great."
As for Maskara's favorite part of working with the team, it's the ability to get to know everyone involved with Wake Forest baseball.
"It's awesome to get to know the players and coaches on a better level," he said. "If you told me sophomore year that I'd become friends with these players, I wouldn't have believed you."