Candidates make their cases at Student Government debate
The April 2 event features candidates for student body president, speaker of the house, treasurer and secretary
In preparation for the upcoming student government elections, the Elections Commission hosted a candidate debate on April 2 in the Z. Smith Reynolds Library. 
Moderated by Vice-Chair of the Elections Commission Claire Hopkins, candidates running for executive positions — treasurer, speaker of the house, secretary and president — were given the opportunity to present their platform and answer questions about their policies.
After allowing each candidate time to present their opening remarks, Hopkins asked each candidate three prepared questions — how they would define the position for which they are running, what their goals are for the position and how they would engage with student organizations and university departments. Audience members were then given the opportunity to ask the candidates questions, and Student Body President Pilar Agudelo presented questions gathered on the Student Government Instagram account. Finally, each candidate delivered closing remarks. 
The majority of the debate was spent with the presidential candidates — juniors Hasan Pyarali and Jackson Buttler. 
"For so long, we've heard the same excuses from our leaders: we can't, we didn't have time or we forgot," Pyarali said. "None of these excuses are true. The truth is, they don't care. It's time we have someone who does." 
Buttler focused on the five pillars of his platform — prioritizing student voices, cultivating truth and transparency, fostering equity and inclusivity, addressing campus safety and accessibility and improving campus and community engagement. He explained that his experience in Student Government has equipped him with the knowledge and relationships to fill the presidential role. 
"It's really important to me that we have continuity in student leadership," Buttler said. "It's not easy to walk into a room full of administrators and tell them what students need, how they need it and how to get that done. I've done that time and time again as Speaker of the House. I've done that in my role as the sexual assault prevention support accountability co-chair, and I've done that as campus life co-chair."
After each candidate answered the Elections Commission's prepared questions, numerous audience members asked questions directed at one or both candidates — highlighting issues such as the university's academic environment, sustainability, mental health and sexual misconduct. 
Buttler and Pyarali closed the debate by thanking the audience for their attendance and their consideration of the candidates' platforms. Pyarali called for a change in Student Government and explained that he has taken actions he has taken toward cultivating a student-centered environment at Wake Forest in areas such as diversity and inclusion and parking and transportation. 
"It's time for a fresh start," Pyarali said. "It's time for us to realize that when we come together and stand up for each other, we can make a real difference."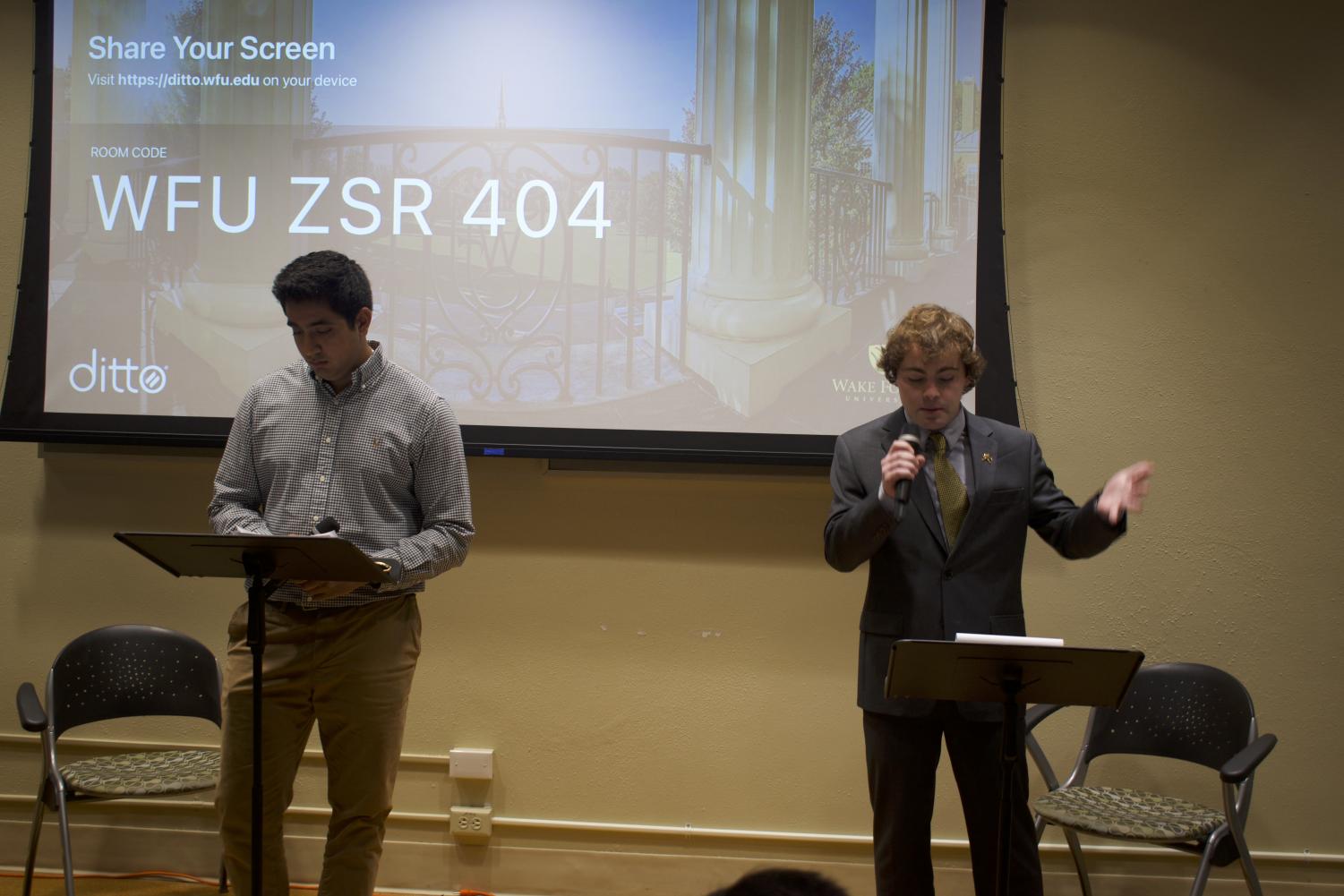 Before the presidential candidates engaged in debate, candidates for treasurer, speaker of the house and secretary presented their platforms and answered the Elections Commission's prepared questions. 
Junior Tim Erday — the sole candidate for Treasurer — opened the debate. He discussed the importance of balancing the treasurer's responsibilities to maintain the Student Government budget and work with the Student Budget Advisory Committee (SBAC). 
"I think the treasurer has a really unique position, and there's kind of a double-faceted role that you have to take on," Erday said. 
Erday explained that updating funding policies and improving communication with student organizations are among his top priorities for next year. 
"One of the biggest challenges facing a lot of groups on campus is that, if you're a first-time treasurer or first-time president, you may not understand the funding process," Erday said. "Doing everything that we can to really connect them and meeting people where they are is the key because that's where we're going to be able to cultivate those relationships and help people most." 
The sole candidate for speaker of the house, junior Michael Walsh emphasized the importance of diversity and inclusion on campus. 
"As students, it's impossible for us to make this campus more diverse," Walsh said. "But what we can do is bring awareness to the diversity that is on campus. We have so many different religious affiliations, races, sexual orientations, genders and political ideologies. In student government next year, I plan on supporting initiatives that are going to highlight the diversity already on campus." 
During her opening remarks, the sole secretary candidate, Marta Zach, expressed that although she has never been the loudest person in the room, her leadership qualities can help her give a voice to students who feel like they cannot speak about campus issues. She aims to foster unity among students at Wake Forest.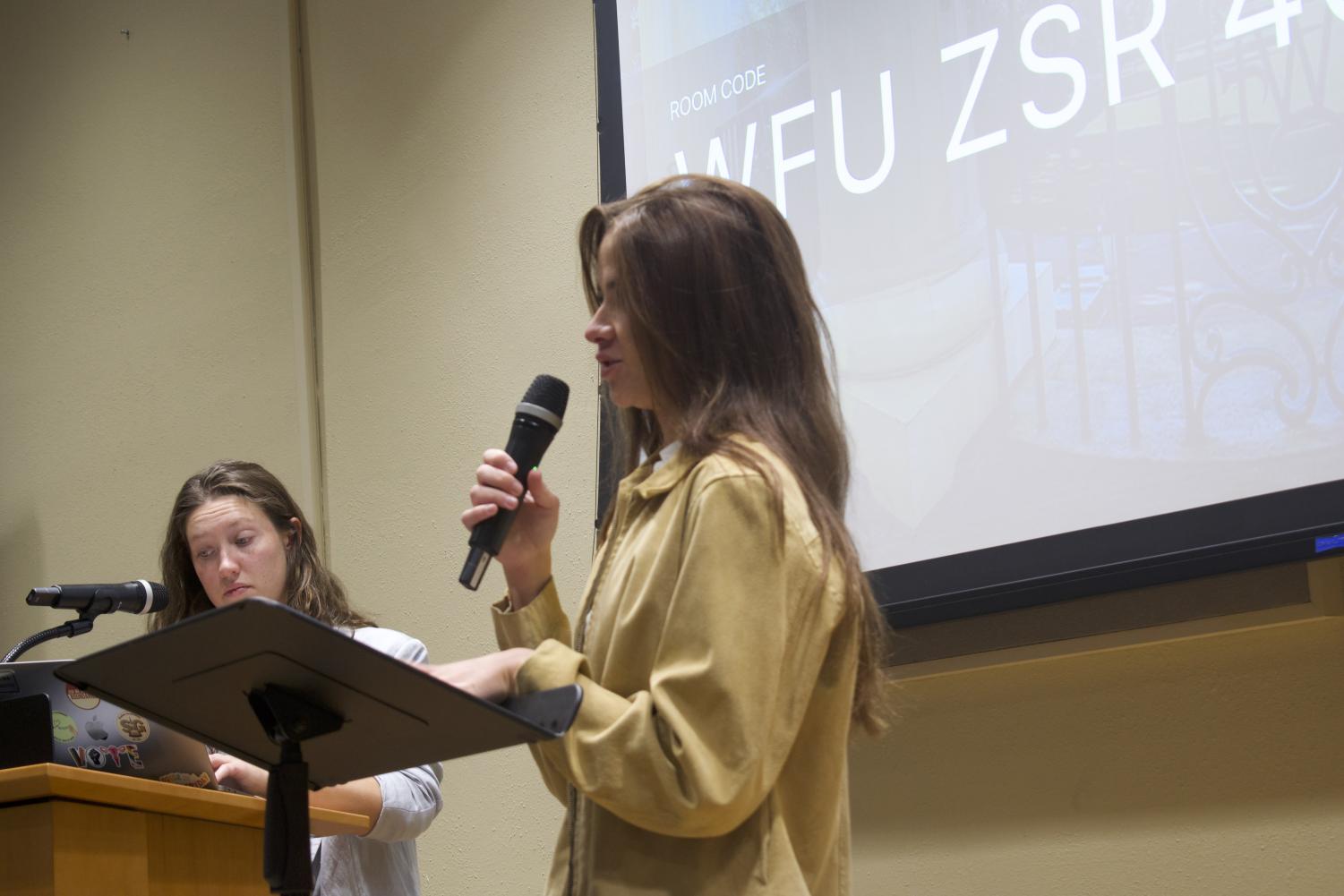 "There can be a lot of dividedness on campus," Zach said. "I want to use my platform to encourage us as students — even though politics can be hyperbolized — to promote engagement with everyone and be a campus leader who can bridge the gap." 
After the debate concluded, sophomore Georgia Kathryn Duncan explained that she attended the event to discover how each candidate would present their platform in an in-person setting. As a member of organizations such as Kappa Delta, the Honor and Ethics Council, Outdoor Pursuits and club sailing, Duncan was curious about how the candidates would support student organizations. 
"I wanted to have a clear perception of each of the different candidates' platforms not based on just what I've seen on social media," Duncan said. "I wanted to see if they would carry their platform through today's debate. Also, as a member of a bunch of different student organizations, I wanted to see where my needs would fit in each of their platforms." 
Duncan expressed that she left the debate with a better understanding of each candidate's platforms and goals for the 2023-2024 academic year. In her opinion, the debate made the presidential candidates seem more approachable.
"It's important to be able to know who you can reach out to, and both candidates seem like they're very interested in hearing what the students have to say," Duncan said. "Knowing that and not just seeing them on a screen has really had a good impact on me — just knowing that no matter what happens in the election, I feel comfortable talking to either of them."