Waiting for Gunderson
Playwright Lauren Gunderson attends Wake Forest's acclaimed production of her work, 'Silent Sky'
Wake Forest Department of Theatre welcomed a highly-anticipated attendee on Saturday, April 8. Lauren Gundrson, the playwright of "Silent Sky" — the latest and final play of the Wake Forest Theatre's Spring 2023 season — was seated in the audience. 
Following the April 8 show, the play's director, Cindy Gendrich, hosted a free talk-back session open to the public with Gunderson alongside associate orofessor of design & production Rob Eastman-Mullins. 
Named "the most produced playwright in America" by American Theater Magazine, Gunderson's attendance meant that excitement was high. Associate professor Kevin Frazier enthusiastically told Gunderson that her work was frequently used for lighting design assignments. Gunderson explained that she was working on a new show which incorporated lots of different lighting techniques to emulate the paintings of Artemisia Gentileschi.
 "Will there be a published edition by August?" Frazier asked, jokingly. 
One of the many strengths of "Silent Sky," as articulated by many audience members that night, is its cast of well-written leading women.
"Thank you for writing so many great female characters, because they're outstanding," one attendee told Gunderson. 
The play follows the real-life story of  20th century astronomer Henrietta Leavitt as she departs her quiet home life for a position in Harvard's astronomy department. Helping her map the stars were two other pioneering astronomers, Annie Cannon and Williamina Fleming — all important names in the discipline.
Gunderson explained that nearly any of the three principal female characters could have been the show's focus — yet Gunderson zeroed in on Henrietta Leavitt's life. To Gunderson, Leavitt's story is as theatrical as they come. 
"There was something specifically about [Leavitt]'s discovery, which as the play articulates, has this tonality and this musicality to it, a way of understanding this physical phenomenon, but you can use music as the metaphor to understand it…there's theater in that," Gunderson said. 
Leavitt's discovery, according to Encyclopedia Britannica, was a new way of measuring the distance to stars. This method was used in 1924 to measure the distance from Earth to the Andromeda Galaxy for the first time, and her method is still in use today.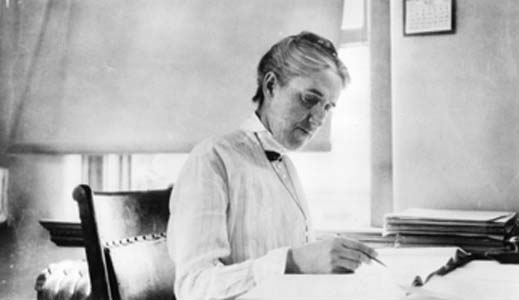 Director Cindy Gendrich noted that Gunderson's plays almost always have a connection to science — an intersection in the arts not commonly tackled. 
"Well, it makes great theater," Gunderson responded. "There is something about science in and of itself…because it is contained in the human form." 
To Gunderson, science and mathematics are an essential part of her writing. 
"The idea of writing is chasing the bigger ideas that seem bigger than themselves," Gunderson said. "The biggest thing I knew how to tackle was this." 
She continued: "I hope it makes science beautiful, funny and human. I think it's easy for science to feel cold and too technical." 
At this point, the entire cast emerged from the wings having changed out of their costumes to gather around Gunderson and their director. They were met with thunderous applause, but as they sat down, it was clear they were now taking on the role of eager student — attentively attuned to Gunderson. 
Given the play's historical setting, this conversation led her to reflect on the role of the playwright as a historian.
"Historical stuff is interesting and fungible as long as it's treated with respect," Gunderson said. "So in the true story about [Leavitt] — and if I had written this now it may have been a different version of her story — her mom was actually with her until she died." 
But Gunderson outlines that this minor change was necessary to further emphasize the themes of sisterhood and to create parallels between the domestic versus career choice struggle that is  central to Leavitt's character. As a playwright, Gunderson draws inspiration from the "corners, back rooms and intimate spaces" of history that aren't written about. She argues, "That's what theater is for." 
"
It was a gorgeous performance. The set was absolutely stunning, remarkable and so amazing to make this a universal, global project.
Audience members faithful to her work asked her about upcoming projects. She detailed "The Time Traveler's Wife" musical adaptation opening this summer in London's West End and a Jane Austen homage play that she suspected would stir some conversation — or at the very least "withering glances." 
Unlike Godot (or Guffman, depending on who you ask) Gunderson did show up. In fact, Gunderson expressed a particular appreciation for Wake Forest's production — noting that her father, who was in attendance, is a Wake Forest alumnus. In closing, Gunderson delivered her biggest compliments of the night to the cast.
"It was a gorgeous performance," Gunderson said. "The set was absolutely stunning, remarkable and so amazing to make this a universal, global project."