Troy Bolton was right, the boys ARE back
Boygenius finds its voice on "the record"
Like many other queer people, I don't remember exactly the first time I heard a boygenius song — I think it may have been "Me & My Dog." I initially fell down the Phoebe Bridgers pipeline a couple of years ago after (big surprise) I was introduced to her by an ex; the other two boys, Lucy Dacus and Julien Baker — fellow Indie rock heartbreakers in their own right — entered my musical lexicon not too long after.
Prior to just a few months ago, hopes for a comeback were small. "The boys," as they call themselves, hadn't produced music together aside from backing vocals on one another's solo albums since the release of their debut EP "boygenius" in 2018. And, on the back of a global pandemic and the skyrocketing popularity of each artist's solo works, Bridgers' in particular, it seemed that the stars may never align for a musical reunion of the internet's favorite all-queer women's trio. 
It was this hopeful reticence that led me to eagerly send a screenshot of a Twitter announcement, accompanied by caps-locked key smashes, to all of my fellow lovers of "the boys" when the band announced in mid-January that their debut album "the record" would be out March 31, 2023. This and the simultaneous release of singles "$20," "Emily I'm Sorry" and "True Blue" were a revelation. 
The subsequent release of the startlingly self-deprecating "Not Strong Enough" and its accompanying music video depicting Bridgers, Baker and Dacus enjoying a day together in sunny California, though, was when I became truly confident that "the record" would be formative. 
In true boygenius fashion, "the record" kicks off with a marvelously sentimental tearjerker. "Without You Without Them" features the three members harmonizing softly in an a capella ode to finding family in friendship. "Speak to me/Until your history's no mystery to me," they sing, hinting at the profound nature of intimacy, connection and collective growth. While the song is brief — clocking in at only 1 minute and 21 seconds — it packs a psychological punch strong enough to make you reminisce on you and your best friend jumping together at the trampoline park as kids. 
Following "Without You Without Them" come the three initial singles, which also happen to be the only songs written solo by each of "the boys." The first of the singles is Baker's whiplash-inducing, scream-worthy, nonsensical lyric-filled "$20," followed somberly by Bridgers' "Emily I'm Sorry," an apologetic reflection on codependency and Dacus' raw, "Home Video" adjacent "True Blue." 
In the next song,  I can't help but feel that the boys have had access to my own personal Notes app. "Cool About It" details the attempted nonchalance that accompanies one when confronted with an ex-lover. "I came prepared for absolution if you'd only ask/So I take some offense when you say 'no regrets'" is perhaps the devastating lyric to me personally, but each verse is uniquely soul-crushing. The sentiment of being prepared to offer the so-called "gift of forgiveness," but instead being met with confident righteousness makes me think of "Cool About It" as the antithetical cousin of Taylor Swift's "happiness." 
"
'the record' is illuminating for me not only in its musical accomplishments but also in its personal resonance.
Where "Cool About It" is about searching for an apology when one feels wronged, the album's fourth single, "Not Strong Enough," is about offering an apology of one's own when feeling insufficient for someone. After talking with a couple of friends, it seems like this is a fan favorite. Self-deprecation coupled with a music video that celebrates the value of friendship amidst a tumultuous romantic life is, evidently, the recipe for success. 
"Revolution 0" sounds like if "Punisher" and "Sidelines" had a child that grew up and fell in love. In other words, it's a stripped-down, Bridgers-heavy ballad. This song isn't my favorite off the record, but its lyricism is raw and cathartic, with Bridgers quoted as saying that it's "about falling in love online" in a January "Rolling Stone" article. 
Following the self-reflective musing of "Revolution 0" comes Dacus' terse, yet sweetly meek, "Leonard Cohen." Once again about love, this is a more traditional love song. It's an ode to a person who, as "Leonard Cohen once said," exemplifies the notion that "There's a crack in everything, that's how the light gets in." In other words, a lover's mere presence is a gift so unbelievably beautiful it makes one think "I never thought you'd happen to me." As a hopeless romantic myself, I can only aspire to a romance as whole as that which compelled "the boys" to write this song. 
"Satanist," another Baker-heavyweight, starts off in a manner similar to "$20." High tempo, angsty shouts, drums and electric guitar grace the first three minutes of "Satanist" as all three members join together to sing about the joys of leaving behind the sexual repression of evangelical Christianity and instead choosing to embrace the "satanic" joys of queerness and the unknown. The song ends, from my perspective, solemnly, as it considers what remains of one's identity after leaving behind everything in search of authenticity. 
"We're In Love" is, in my opinion, the sappiest song on the album. The song begins with the lyrics "You could absolutely break my heart/That's how I know we're in love" and feels like the next step in the relationship whose early stages Dacus cradles so closely in "Leonard Cohen." What's more, the mellow ballad even includes lyrics from Taylor Swift's "This Love" in the outro — an addition not surprising given Swift's own prior adoration for Bridgers and recent endorsement of "the record" on her Instagram story.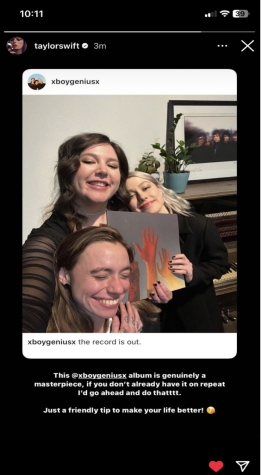 "Anti-Curse" contemplates childhood and religion amid the backdrop of a beach trip. It has all the notes of a classic Baker-heavy religious trauma-induced, boygenius-perfected rock banger. To me, it beckons memories of 2018's "Salt In The Wound" with the lyrics "salt in my lungs," as well as Baker's belting of the lyrics "I'm swimming down" in a manner reminiscent of "I'm gnashing my teeth" from the song featured on the 2018 EP. 
"Letter to An Old Poet" marks an ending to the underestimation, self-doubt and inferiority that plague the narrator throughout the album. Bridgers acknowledges the lifelessness of a relationship in which "You make me feel like an equal/But I'm better than you/And you should know that by now," thus capturing the essence of the confidence accrued when one realizes a partner's shortcomings after a relationship ends. Yet, the album doesn't end somberly; instead, "the boys" come full circle when they flip 2018's "Me & My Dog" on its head by altering the original's "I wanna be emaciated/I wanna hear one song without thinking about you" to "I wanna be happy/I'm ready to walk into my room without thinking of you." 
As "the record" concludes, I can't help but feel as though my own life has followed a trajectory parallel to my experience with the band itself. Beginning with "Me & My Dog" and ending — for now — with "Letter to An Old Poet," the music I love has grown with me over the past two years of heartbreak, depression and healing. Thus, "the record" is illuminating for me not only in its musical accomplishments but also in its personal resonance.