Kristin Chenoweth shines at 'popular' Face to Face event
Acclaimed actress wraps up the speaker series' 2022-2023 season
Kristin Chenoweth has decided to make Wake Forest students her new project.
The actress, singer and comedian came to Wake Forest on April 12 as part of the Face to Face speaker forum — other speakers this season were former President George W. Bush, New York Times columnist Thomas Friedman and movement lawyer Bryan Stevenson. Chenoweth spoke at two events, a student-moderated discussion in Wait Chapel at 5 p.m. and a discussion with NPR movie reviewer Bob Mondello at the Lawrence Joel Veterans Memorial Coliseum at 7 p.m.
Chenoweth is most known for originating the role of Glinda in "Wicked." However, her career has spanned many genres and media, playing characters in hit shows like "Glee" and "The West Wing," and starring in numerous films, including "RV" and "The Boy Next Door." 
At the 5 p.m. event, seniors Ian Davis-Huie and Josh Knight spoke with Chenoweth on a wide breadth of topics — ranging from faith, success, the COVID-19 pandemic and, of course, acting.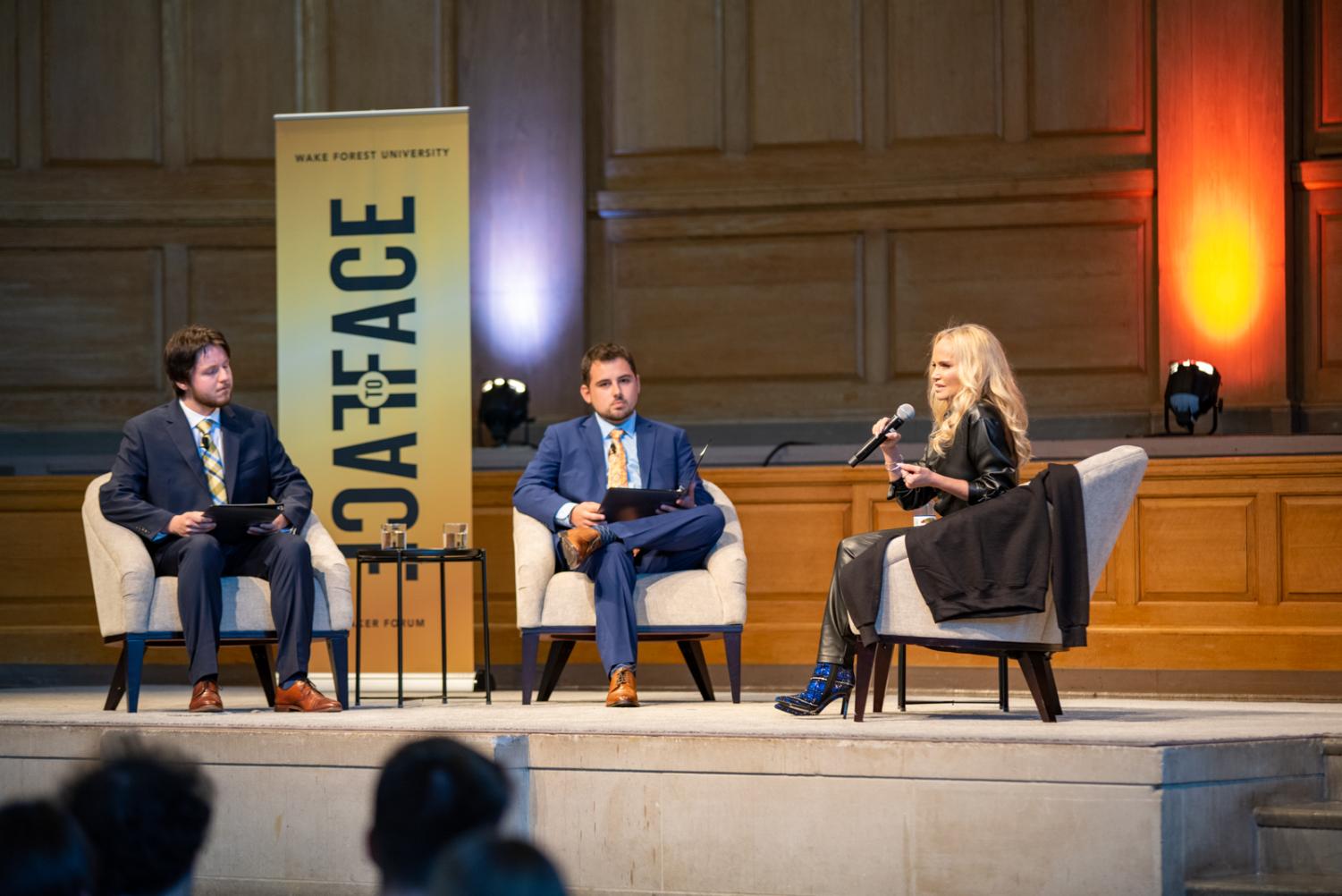 Chenoweth, whose well known song "Popular" features her character giving Elphaba the Wicked Witch advice, had some tips for Wake Forest students, too. She spoke at length about the importance of preparation in acting and in life.
"Forget being an actor, being prepared in life helps you be prepared for life," Chenoweth said. "So I try to get all my crap done before I go into a rehearsal process, so the rehearsal process becomes play time — a place where I can fail easily and not be totally embarrassed or a place where I can find [my character.]"
Chenoweth also emphasized the value of giving reassurance to others. 
"One of the things … that I learned in college is that when someone else is having a crappy day, smile and bring yourself out of yourself to just give them a little love," Chenoweth said. "Because in life, you'll be surprised by how much that will bless you, too."
Preparation and reassurance were important to sophomore Ellie Howell, who got to sing "For Good" — one of the most famous duets from "Wicked" — with Chenoweth during the 7 p.m. event. Howell, who found out she would be singing with Chenoweth on Monday, prepared for two days and said that when she got on stage, Chenoweth was very reassuring.
"She was such a welcoming person," Howell said. "Like you look at her and you just feel comfortable."
Howell continued: "It helped that she got to start singing before me because then while she's singing, I was [saying to myself,] 'Okay, you can do this, you can do this — she sounds beautiful, oh my God — no, you can do this.'"
It seems that Howell was not the only student to share Chenoweth's values. The star's advice seemed to resonate with the audience at the student event. At one point, attendees cheered when Chenoweth said that her advice to college students was to work hard and play hard.
"I think she … gave some really great advice, not just [about] show business or the arts," junior Elizabeth Hollensbe said. "I think it was just really good advice to hear as a college student, especially … looking into the future and not being sure what you're doing."
Chenoweth also empathized with students and explained that graduating from college into a world of unknowns terrified her. However, she implored students to not let that terror distract from chasing one's dreams and trusting one's instincts.
"Listen to your gut," Chenoweth said. "Whatever god is for you, listen to it."
Sitting just a few feet from the pulpit of Wait Chapel, Chenoweth spoke often about her Christian faith and how it has guided her throughout her life.
"I have battled depression, and I have battled anxiety," Chenoweth said, "But when I look up, and I keep my eye on the prize — which is the Holy Spirit and God — it's all good."
Chenoweth said that she believes it is her duty as a Christian to share God's love, even with those who may not believe in Him and to make the world a better place. That message resonated with Callise Young, a freshman who is interested in theater.
"I can relate to what she talked about with her faith, and I thought it was very emotional and personally relatable," Young said.
"
Listen to your gut. Whatever god is for you, listen to it.
— Kristen Chenoweth
The evening was not all serious, though. At multiple points, Chenoweth drew on her skills as a comedian and made the audience roar with laughter. 
"She was hilarious," Hollensbe said.
Between questions, she took the opportunity to show off her shoes, which she bought already bedazzled from Macy's for $200. At another point, she took time to thank the moderators for their questions and tell them that their parents did great jobs raising them — what Chenoweth did not know was that some of those parents were in the audience. Then, she shared a humorous anecdote about how getting her tonsils removed allowed her to hit F6, which is the F note two octaves above Middle C.
"[My voice teacher] went and met the anesthesiologist, and she made them tape on my forehead [the word] 'singer,'" Chenoweth said, sparking laughter from the audience. "I was so embarrassed, but I suddenly realized when I got to singing again about a month later that my voice had gone up."
Attendees got to hear Chenoweth's voice multiple times during the 5 p.m. event. When describing Julie Andrews as a role model, the actress burst out into "The Hills are Alive" from "The Sound of Music." At the end of the event, she sang The Beatles' "Till There Was You."
When she finished singing, the audience rose from their seats in a wave to applaud. Chenoweth, to even louder cheers, put on a Wake Forest sweatshirt and then, fittingly, led the moderators in a bow.