BiMoo addresses One-Child Policy in 'Unborn'
Wake Forest's Chinese drama club presented the play in the Ring Theatre from April 10-11
The Chinese drama club, BiMoo, presented its fourth play — titled "Unborn" — at the Ring Theater in Scales last week April 10-11. The allegorical play reflected on China's notorious one-child Policy and historical gender discrimination. 
Directed by Nicole Liu ('23), the play was put together in three months by a five-person cast and a production team of a dozen people. 
The 45-minute show depicts the life of June, a young girl in the netherworld — also called Sakura, the city of infants — after her mother's forced abortion that killed them both. The rule of the netherworld prevented her reincarnation without knowing her true cause of death, so she waited tirelessly for her parents to tell her how she had died. 
"I was looking for a story that would represent Chinese culture and part of Chinese history," Liu said. "There may be similar shows on university campuses in China, but none could be carried out the way we did."
"
I was looking for a story that would represent Chinese culture and part of Chinese history.
— Nicole Liu ('23), Director
"Unborn" was inspired by China's "one child" policy, which was implemented nationwide in the late 1970s and lasted until 2016. To limit population growth, the government restricted child birth per household to a single child. This has caused more than 330 million children to be aborted between 1980 to 2013 and created an uneven balance between the number of males and females.
Since 2016, China has revised the one-child policy to a two-child policy, and eventually a three-child policy. Despite this, there is still a staggering 30-million person difference between the male and female population.
Some members of the production team wrestled with the idea that the show's title "Unborn" could be received as a statement on the debate between anti-abortion and pro-choice advocates. 
"One-child policy involved a lot of forced abortion" said Sheryl Zhang ('25), lighting designer of the play, "And that sounds very similar to what the conservatives in this country are condemning. But it is a very different issue."
"Every story needs to be put into the context where it was written and understood accordingly," Liu said. "This show was not originally written to reflect American society. Using the American perspective on political binary issues would be a mismatch to an argument presented by a Chinese drama and certainly to a Chinese problem."
While the play followed June and her interactions with her brother October, it was interspersed with October's memory before death and other characters' trials in the netherworld. Every character played a significant part to shape a world where having multiple children — especially girls — is illegal. 
Liu has personal experience with the one-child policy. On a pamphlet handed to all the audience before the play, Liu expressed gratitude for the fortune coming to this world, while mourning the fact that many girls in China were not as lucky.
"Many girls would never get to see what I see," Liu said. "My mom was lucky that she had a myoma instead of a tumor. My father complained that he wanted a son."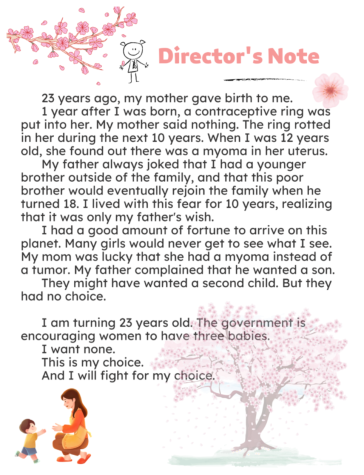 Liu also faced the challenge of acquiring copyright to perform "Unborn." 
"I contacted the scriptwriter of the play, who is a professor at Shanghai Theater Academy (one of the most renown theater schools in China)," Liu said. "I had to convince him through lengthy conversation to acquire the copyright to perform. He doubted if a group of college students not in China could deliver the meaning of 'Unborn.'"
After acquiring the copyright to produce, the production team realized that the script was flawed because it failed to address gender issues in China. 
"After all, 'Unborn' is about a socio-political issue faced primarily by women," said Zhang. "It was women's birth rights taken away, and female babies aborted. But the original screenwrite seemed to blur this inequality."
"It was originally a [three-person] play, but we ended up including more actors and reshaping the story given our limited maneuverability," Ray Gao ('23) —- the actor who played June's brother — said. 
"Unborn" gathered a talented, like-minded group of artists. One of these individuals is Bella Wang ('24), who portrayed June and two minor characters. She shared how BiMoo's previous performances led to her involvement in theater. 
"I was attracted to theater when I saw BiMoo's first performance 'Kinderszenen.'" Wang said. "Our director is professional, and the whole experience was absolutely astonishing."
Michelle Ye ('25), who played Mr. Seven — a judge and deacon of the netherworld — explained the value he found in collaboration. 
"We've got such a great team," Ye said. "Everyone gets a say in the play no matter if you are an actor or a designer."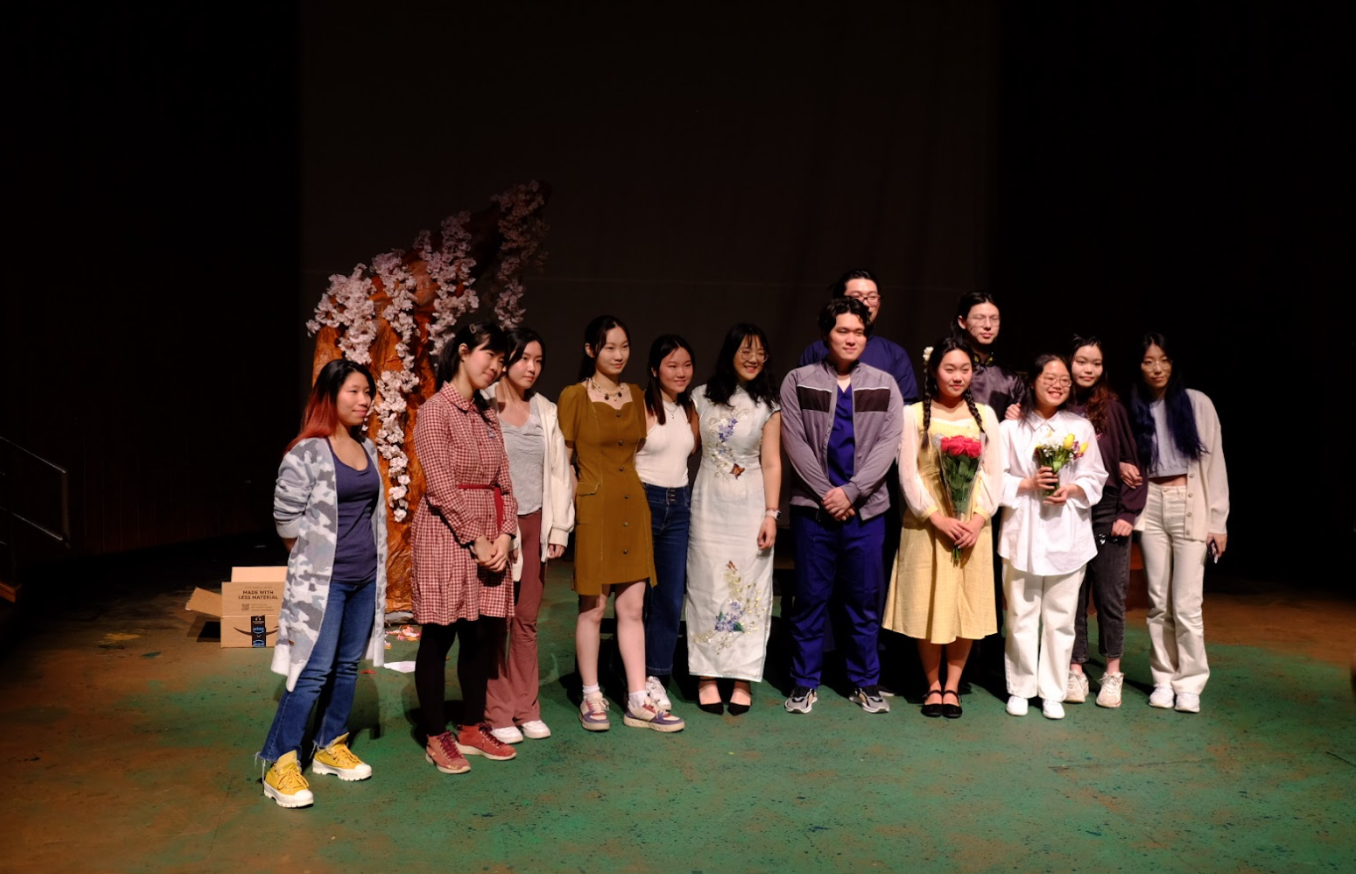 Liu echoed Ye: "Hopefully, this show will allow people to realize that theater is not only about acting or directing. It is a group collaboration."
Jing Chen, a sophomore and the sound designer of "Unborn," is filming a documentary about this play and the bigger social issue of controlled childbirth. She was inspired by the experience at BiMoo and wanted to explore the issue further.
"I am not filming to decide and advocate for what's right or what's wrong," Chen said. "I am filming for people to remember what had happened."
When asked to describe the play, Wang said:
"I have nothing more to offer as an actor. Everything I wanted to say was already said in the play, as June."
Then she said:
"I wanted to live for once."