UPDATE April 22, 3:00 PM:
Murczek resigns from Wake Forest volleyball
 WINSTON-SALEM, N.C.  – Wake Forest volleyball coach Ken Murczek has resigned.  Wake Forest Athletic Director Ron Wellman made the announcement this afternoon.
"I accepted Coach Murczek's resignation earlier today," said Wellman.  "Our goal will be to build a winning program and one that can consistently compete for the Atlantic Coast Conference championship."
Story continues below advertisement
"I am grateful for the opportunity I was given to be the head volleyball coach at Wake Forest University," said Murczek.  "I feel the program has a solid foundation for future success.  I love coaching.  I care deeply about the student-athletes currently in the gym.  They have worked incredibly hard and I believe they will be rewarded in the fall.
"My family and I wish to thank all of the members of the Wake Forest and Winston-Salem community who have supported us during our time here," added Murczek.
Assistant coach Lindsay Allman will serve as the interim head coach.
The search for a new volleyball coach will begin immediately.
April 22, 2:41 PM:
Sources within the Athletic Department are reporting the head coach of the women's volleyball team, Ken Murczek, has resigned.
The OGB has learned the coach informed players in a closed-door meeting early this afternoon.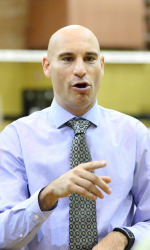 The news comes following a two month investigation by the OGB into the coach's practices on and off the court. Many current and former players claimed Murczek was verbally and psychologically abusive to the team.
When asked for comment, Mary Pugel with the Office of the President said a press release will be available this afternoon.
The university's Title IX Office cleared Murczek of charges in 2014, but recommended that he attend sexual harassment and anger management training.
President Hatch released a statement Wednesday saying he would conduct another internal investigation of the team. Coach Murczek resigned.