Seth Keener, Justin Johnson lead baseball over George Mason
Wake Forest advances to the winner's bracket to play Maryland
Seth Keener plays quickly.
The pace at which he pitches is what MLB Commissioner Rob Manfred wished his ballplayers could do. Batters barely have enough time to readjust their stance in between pitches, let alone get a chance to catch their breath as Keener's slider whizzes right by them. Sometimes, it gets the right-handed pitcher himself a little out of breath, but it's for a reason.
"Whenever I'm in rhythm, I like to keep that rhythm," Keener said. "I like to keep flowing, and I like to suffocate the hitters. I want to suffocate and be aggressive. I think it keeps them off balance and keeps me ahead."
Keener's speed kept at least 13 of Friday night's batters off balance. His baker's dozen strikeouts over seven scoreless innings helped lead the No. 1 team in the nation to a commanding 12-0 victory over No. 4-seeded George Mason University in Wake Forest's first game of the 2023 Winston-Salem Regional.
Keener took control of the game early, striking out the side in the first two innings. By the fifth, Keener reached double-digit strikeouts and added three more to the total before his evening was over. The junior notched career highs in strikeouts and in innings pitched all while giving up only three hits (all singles). 
Afterward, the winning pitcher gave a lot of credit to catcher Bennett Lee and pitching coach Corey Muscara for making the right pitch calls during certain counts, saying that they were the ones with the masterplan — all he had to do was execute. Keener also attributed the hot start to manager Tom Walter.
"
I wanted to show what I can do and what everybody thinks I can do.
— Seth Keener
"Even though I struggled in my last two outings, [Walter] still had all that unbreakable trust in me," Keener said. "That was a really big confidence booster for sure. I wanted to show what I can do and what everybody thinks I can do."
After allowing a hit during the top of the seventh and struggling to get ahead in the counts, Walter made a quick trip to his starter. Fans roared after Walter walked away and Keener stayed on the mound. Fans roared even louder as Keener forced a ground out to end the inning, leaving the Patriots runner stranded. Walter was glad he didn't have to reach far into the bullpen after Keener's performance.
"Fortunately, we were able to spread it out late, so we can save some bullpen arms," Walter said. "We didn't have to throw in [Camden] Minacci or [Michael] Massey or [Sean] Sullivan tonight. That's huge for the rest of the weekend."
If the crowd seemed rowdy at the top of the seventh, they became rambunctious by the bottom of the seventh as the Demon Deacons scored four runs off three extra-base hits to crank their lead up to 8-0.
In the bottom of the eighth, Wake Forest added four more to the scoreboard with a Justin Johnson grand slam to left field — his second home run of the game. The homer was the second baseman's second of the night and 15th on the season. Designated hitter Adam Cecere also hit a dinger, a two-run homer in the second.
"The home run felt pretty good, as it's no secret that I have not been playing well since I got injured," said Cecere, who tweaked his hamstring back in March. "But it was a step in the right direction, and we are feeling very confident now."
Confidence will come in handy for the Demon Deacons' next match-up Saturday evening against the University of Maryland. Earlier on Friday, the Terrapins beat Northeastern 7-2 to advance to the winner's bracket of the double-elimination tournament. A loss to Maryland sent the Demon Deacons home packing from last year's NCAA tournament.
"We're not worried about what happened last year," Walter said. "We have tomorrow in front of us. We've got to get a good start out of Rhett Lowder. Momentum is the next day's starting pitcher. Hopefully he gives us a good top of the first like Seth did tonight and gives us some momentum."
The two-time ACC pitcher of the year will go up against right-hander Nick Dean. Since Wake Forest is ranked higher, they will be considered the home team. The first pitch is scheduled for 6 p.m.
Leave a Comment
About the Writer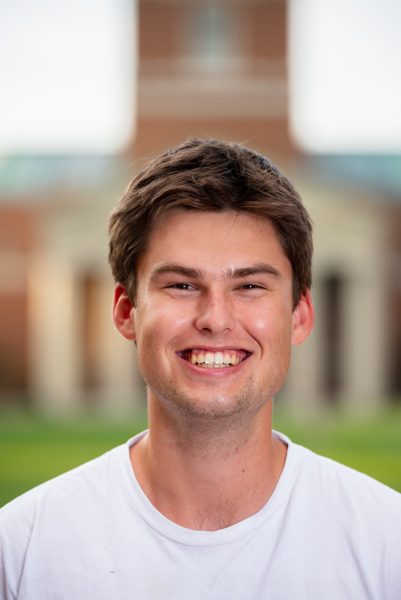 Cooper Sullivan, Sports Editor









Cooper Sullivan is a senior from Winston-Salem majoring in Communication with double minors in Journalism and Art History. He enjoys...