Demon Deacons mash nine home runs en route to Omaha
After squeaking by the Crimson Tide yesterday on a controversial, game-changing call, Wake Forest made no doubt of today's 22-5 win to punch their ticket to the College World Series.
"It's a big day for us," manager Tom Walter said. "We're going to celebrate this one for 36 hours, and then we are going to get back to work. We have bigger goals, to check another box."
As was projected onto the team, from both inside and outside the program, a postseason trip to Omaha, Neb. was always the standard. But now that it will finally happen, and Walter's team wants to win the whole thing. 
"We have had high expectations all year," Walter said. "Number two-ranked, number one-ranked, and the higher the expectations raised, the more these guys showed up."
Third baseman Brock Wilken and first baseman Nick Kurtz were having an uncharacteristically uneventful postseason. The duo, who combined for 50 home runs during the regular season, hit none during the Winston-Salem Regional last weekend. The slump continued yesterday as the All-Americans went a combined 0 for 8.
But those bats woke up today. Quickly, too. 
"
We have had high expectations all year. Number two-ranked, number one-ranked, and the higher the expectations raised, the more these guys showed up.
— Head Coach Tom Walter
Wake Forest, the designated visiting team of the day, got the scorekeeper to start his job immediately. Kurtz slammed one over the scoreboard to bring Tommy Hawke in from second base. Wilken soon followed suit, sending a solo shot out of left field to give the Demon Deacons a three-run lead. This was the second time this postseason that Wake Forest had gone deep in back-to-back at-bats, an accomplishment that would happen during the Demon Deacons' five-run, three-homer third inning. 
Of Wake Forest's 22 runs scored on the day, 18 of them came from hits sent out of David F. Couch Ballpark. The Demon Deacons' nine home runs tied an NCAA tournament single game record. Wilken accounted for three blasts on the day, breaking the ACC career home run record with 70. The Demon Deacons also set an NCAA record for best combined run differential in regional and super-regional play with +59.
The Crimson Tide got their piece of the action too, with all their runs coming off homers, but it was just no match for the number one team in the country.
"I think Josh [Hartle] was a little nervous, let's call it what it is," said Walter of his pitcher allowing Alabama to tie the game up in the second inning. "Again, you're out there for the first time in a Super Regional, everything's kind of on your shoulders, the ball is flying out of the yard, it looked like it was going to be another one of those back and forths. But [Hartle] came in after the third inning, and he was like, 'We're good boys. I found my cutter.'"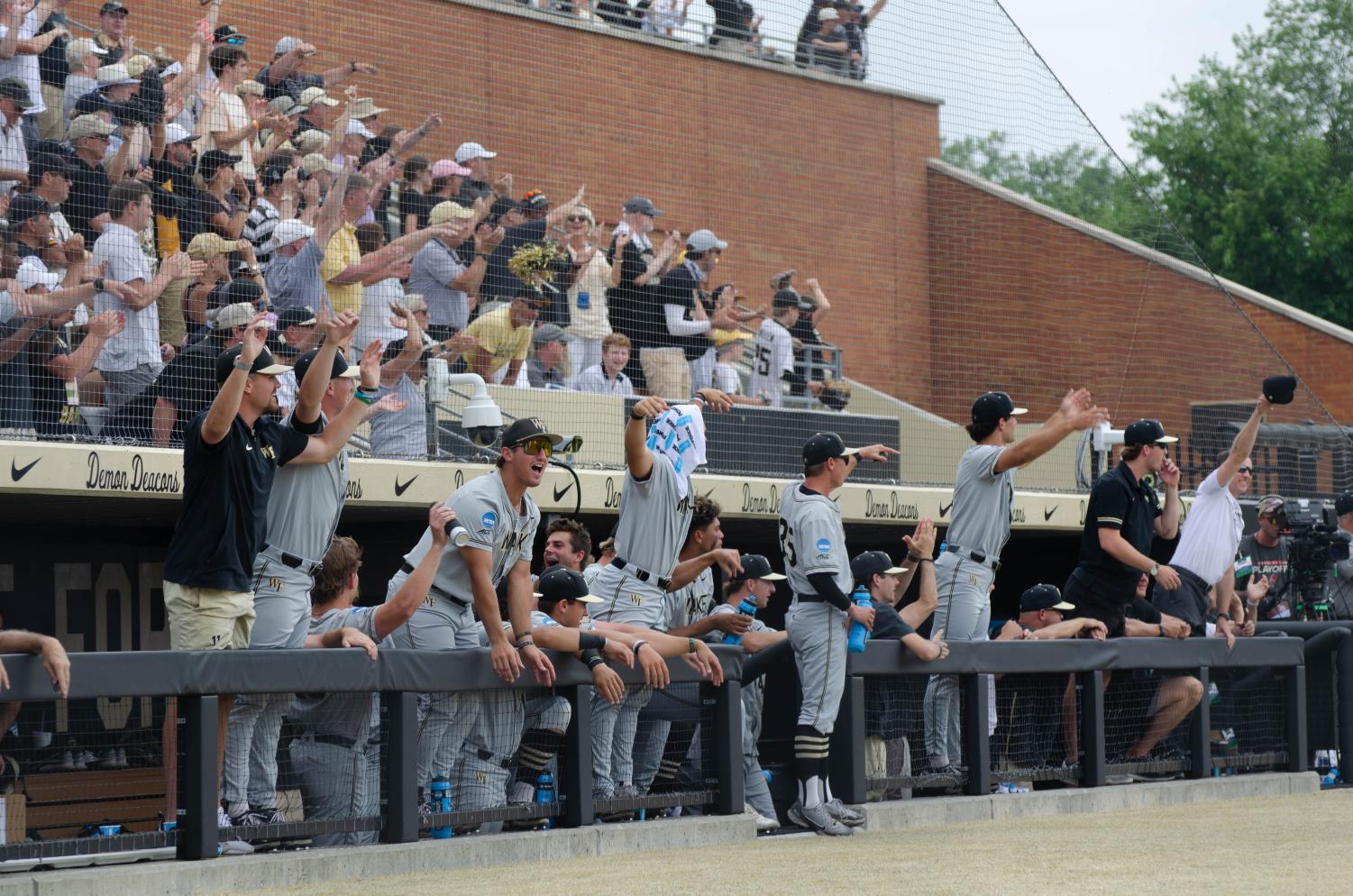 After giving up the second home run and having a quick discussion on the mound with pitching coach Corey Muscara, Hartle retired 13 of his next 16 batters. The sophomore would finish the day with six innings, 11 strikeouts and one walk. 
Alabama tacked two more runs on the board in the sixth and seventh innings, but Wake Forest still led by 10. The Demon Deacons were able to bat a couple of runners in to build the cushion, but it still wasn't enough for Kurtz and Walter to believe a trip to Omaha was happening. 
A grand slam from freshman shortstop Marek Houston to put the game to 18-5, only affirming what everyone in the stadium was thinking. Just for good measure, both Wilken and designated hitter Danny Corona hit two more home runs in the top of the ninth to finalize the box score.
"Anything happens in baseball," Wilken said. "But going out in the bottom of the ninth with [Camden] Minacci on the mound, I knew it was game over right then and there." 
A full-count, empty base dribbler to second baseman Justin Johnson ended up being the final out. Kurtz stood at first base with both his arms above his head, smiling from ear to ear. The pitchers raced out of the dugout trying to be the first ones to tackle Minacci and catcher Bennett Lee in celebration. The sold out crowd erupted into cheers as the dogpile grew and grew. That moment was the culmination of a lot of hard work, and as Walter would like to add, plenty of talent. For the first time since Wake Forest was actually in Wake Forest, N.C., the baseball team was headed back to Omaha. 
Wilken continued to carry an Omaha sign postgame around the field, into the locker room and even into the pressroom. Kurtz was still smiling as big as he did when he recorded the final out. This moment had meant a lot to the both of them.
"When I decided to come here, this is what I envisioned," Kurtz said. "This kind of year, these people around me and it's just awesome to see it come to fruition."
"That dogpile was surreal," Wilken said. "Obviously, not a lot of people get to do that and being able to do that with my best friends, that meant the world to me."
"This one guy," Kurtz added, "after the game, walked on the field and he goes 'I don't know you, and you don't know me, but I'm so proud of you.' That was pretty special."
Many Diamond Deacons, including Wilken who some have projected to be a first-round MLB draft pick, played their last home game ever on Sunday afternoon, but by no means are they done with this 2023 season yet. There's still plenty of baseball left to be played.