Twelve years ago, Indian directors Zoya Akhtar and Reema Kagti took India by storm with their film that lives to be one of the best productions of Bollywood even today — "Zindagi Na Milegi Dobara." 
This movie has always had a special place in my life, as I have seemingly watched it during every stage of my life. Every year, "Zindagi Na Milegi Dobara" makes just a little more sense to me. Now, as a somewhat adult — a 19-year-old trying to maneuver through friendships in what I know as my adult, independent life — this movie is more special than ever.
"Zindagi Na Milegi Dobara" is a cult favorite even today for a multitude of reasons. It encompasses the amazing ensemble of Hrithik Roshan who plays Arjun, Abhay Deol as Kabir, Farhan Akhtar as Imran, Katrina Kaif as Laila and Kalki Koechlin as Natasha. The killer soundtrack and music, the scenic locations of Spain where the movie is shot and — at its core — the journey about friendship, growth and life that leaves a lasting impression all come together to craft an unforgettable piece of art.
It has a directorial trope that a lot of audiences treasure: men written by a woman. This particular niche in entertainment and writing has always been my favorite. These men are sensitive, understanding and defy the stereotypical norms of masculinity.
Story continues below advertisement
The contemporary setting, modern-day problems and juxtaposition of characters are still relatable to a young, modern-day audience 12 years later. The film finds its niche audience in young adults who are looking for that comfort and sense of familiarity to help them maneuver through young friendships. The characters are all flawed, and so are the relationships they share. They bring a unique sense of vulnerability that usually isn't seen in films — especially those that are led by three males.
"Zindagi Na Milegi Dobara" also explores the ideas of expectations versus truth. 
The movie has all the makings of a wild bachelor trip. After all, it is the reunion of three school friends that was years in the making. The three friends — Kabir, Imran and Arjun — all choose an adventure sport on their trip to Spain. Each one keeps the activity a secret until the last minute and surprises the rest (the movie was so popular, it resulted in a massive increase in tourism from India to Spain). The much-awaited, adventure-packed trip begins as an opportunity for the three friends to show off their masculinity before the wedding.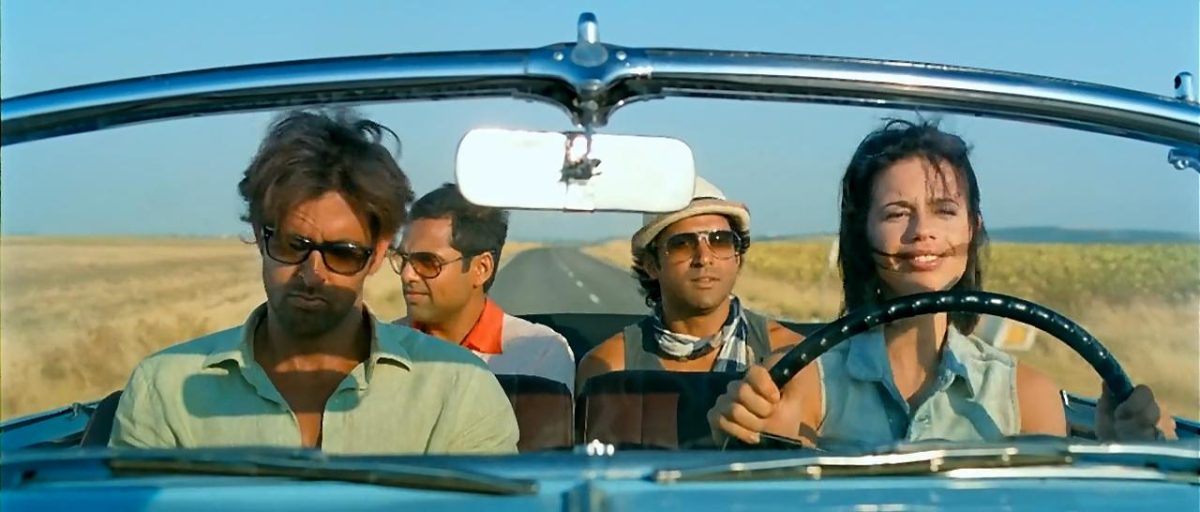 There are many scenes throughout the movie where they have childish displays and pull pranks. This emphasizes the ties of their childhood friendship and the fact that, underneath the complex problems of their adulthood, they are all just the young and playful kids they once were. If you look outwardly, the trio appears to be fulfilling the traditional concepts of masculinity. 
Kabir's defining characteristic throughout the film is his fiancè and his upcoming marriage. London-based Arjun continues to brag about earning money through his business and not caring about his personal life. Even on a long-awaited trip with his best friends, he can't bear to leave his computer and spend time with his friends. Finally, Imran will flirt with anyone of the opposite gender or burst into dance at any given point — he is my favorite. He barely takes anything seriously, but this is just a cover for the hardship he experiences from difficult familial relationships.
All of these adventurous and thrill-seeking activities aren't so much a display of how masculine these characters are, but a vehicle through which these men can understand themselves a little better and rediscover their friendships.
For years, "Zindagi Na Milegi Dobara" has been the epitome of the statement "You only live once" — or the perfect ad for a bachelor's trip to Spain with scenic views and a great soundtrack to accompany — but it is so much more than that. This film still stands strong in the way it portrays gender expectations. In Bollywood, it is a rare depiction of healthy male friendships that steers clear of stereotypical masculinity.
One scene that stands out to me is when Arjun and Laila are on a romantic walk, and she tells him, "Seize the day, my friend," as she persuades Arjun to let go of his uptight mindset that constantly revolves around his professional life. This is what this movie is about to me. It's about living in the moment, letting go of the adult responsibilities and worries that we often let be the definitive parts of our day and reminding ourselves what our purpose is in life. 
We were all put on the face of this earth to live, chase our dreams, make memories that make us smile and remind ourselves that we are here to live, not just exist. The character arc of Arjun goes from someone who is unable to have a good time or relax to someone who learns to enjoy the small gifts that life has to offer. I aspire to be like Arjun at the end of this movie. 
The soundtrack is something that I often return to in order to find solace. "Khaabon Ke Parinday" is my tried and tested song that I listen to every time I am anxious — the piece of music that will never fail to calm my nerves. "Sooraj Ki Baahon Mein" is my go-to hype song. No milestone in my life is complete without its upbeat tune. It reminds me that no matter what, there will always be light and joy worth celebrating. 
Lastly, I play "Dil Dhadakne Do" every time I am scared to try something new that is outside of my comfort zone. It reminds me that life is too short to not try all that you desire and that everything is worth a shot. I love the tropes surrounding friendship that this movie offers, but more than that, this movie is about discovering the person you are and the joys of life.
Update Sept. 21, 2023: A typo in the headline of this article was fixed.