Palmer was a true gentleman of the game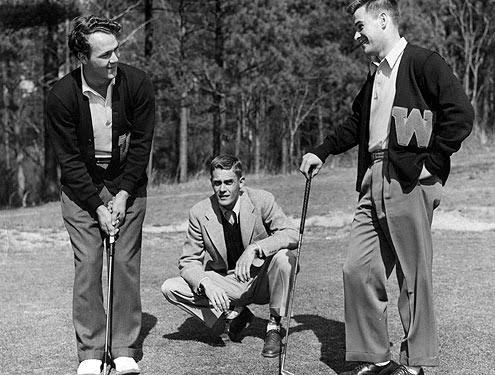 This week, the golf community mourns the loss of one of the greatest players of all time.
Arnold Palmer died at age 87 at the UPMC Presbyterian Hospital of Pittsburgh, Pennsylvania, where he had gone for a cardiac exam. It was first announced by the United States Golfers' Association (USGA) with the following post on Twitter: "We are deeply saddened by the death of Arnold Palmer, golf's greatest ambassador, at age 87."
Born in 1929 in Latrobe, Pennsylvania, Palmer, also fondly known as "The King," dominated the green from the 1950s to the 1960s. During his professional career, which began in 1950, he won 62 titles, including seven Major championships. More specifically, he was a four-time Masters winner (1958, 1960, 1962, 1964), a one-time U.S. Open winner (1960) and two-time British Open winner (1961 and 1962). He was golf's greatest ambassador and inducted into the World Golf Hall of Fame in 1974.
The passing of Arnold Palmer, world golf icon, symbolizes the exit of one of the last original legends of the sport. Palmer was the man that, with his countless victories and charisma that earned him his nickname, transformed a sport considered for the elite, into one accessible to the masses. In fact, it was his victories that created such enthusiasm among spectators and inspired the 26 million golfers in the U.S. alone. His spectacular shots and aura were also a factor in getting golf events aired on television. How can we forget the thousands of supporters, soon dubbed "Arnie's Army," who followed their idol everywhere he played?
"Arnold was a great friend. He was a great friend to the game of golf, a great friend to the sporting world," said Jack Nicklaus, commonly known along with Gary Player and Palmer as the big three, in a recent interview with CNN. "He liked to do the things the right way. He was sort of the one who popularized the game of golf from a fan standpoint, on television."
Arnold Palmer simply transcended the game of golf. He was "The King" of the game and he will be forever. Gary Player adds via Twitter: "Of course, like anybody, we had our differences but these never stood in the way of our relationship and I will miss him terribly."
We cannot forget the immense generosity of his soul and the contributions around the world. Since he was an avid flyer and often flew his own Cessna to golf tournaments, the airport of his birth city was named after him. More importantly though, the whole pediatric ward — he was the primary benefactor — of Latrobe carries his name.
He also created a treatment center for women and girls in Orlando, Florida, which he dedicated to his beloved Winnie, who was his first wife. She passed in 1999, and he remarried Kathleen Gawthrop in 2005.
Arnold Palmer was a precursor in creating Pro Humanitate projects, and this can be seen with his involvement on campus.
In fact, a legacy for Wake Forest, golf stars have followed his footsteps: Jay Haas, Curtis Strange, Bill Haas, Billy Andrade, Webb Simpson, Jerry Haas and Darren Clark are all a result of the profound impact that Arnold Palmer had on the program both as a collegiate student and later in life.
The pain in our hearts is great, and it is hard to put into words. However, the memories of Arnie that we will hold in our hearts are all joyful.