University offers gender neutral housing option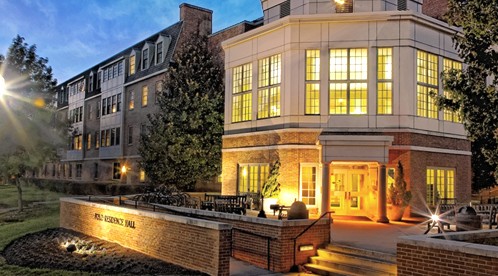 While many students are aware of the new gender neutral bathrooms spread throughout campus, few seem to know that Wake Forest now offers gender neutral housing as well.  This is the first semester that students have had the opportunity to register for housing without regard to the gender of their roommates.
"It allows for me to pursue a living environment that I would prefer," said sophomore Julius Goble. "Because at the end of the day, who you're living with is all about who you're comfortable with. It just makes sense."
Goble is one of 12 students taking part in the gender neutral housing program this year.  He lives with three of his friends in a suite in Magnolia, one of the many locations across campus where gender neutral housing is available. 
"There were some concerns raised by members of the LGBTQ community that they wouldn't want to be targeted for living in a specific area that is designated as gender neutral housing," said Adam Bernot, the Assistant Director of Housing Assignments at Wake Forest. "We decided not to advertise specific spaces as being gender neutral and rather allow people to be placed more or less anywhere the facilities would support it."
While students who apply to live in gender neutral housing are placed into specific residence halls prior to the normal housing registration process, they are not placed in residence halls that would otherwise be unattainable for their class year. 
For example, sophomore students would not be placed in Polo or North Campus Apartment, because those options would not be available by the time that sophomores would typically register for housing.  This serves to keep the housing registration process fair for all students.
Because the freshmen housing process is different than that of upperclassmen-freshmen cannot choose their living location or roommates-this program is only available to sophomores, juniors and seniors. 
The university chose to run a small, pilot version of the gender neutral housing program this year before discussing whether to expand the program to freshmen in the future.
As it currently stands, the process for upperclassmen to apply for gender neutral housing is fairly simple.  The gender neutral housing application will become available online starting in March. Whether or not an individual has specific suite mates in mind does not matter — they can still complete the application.
The main question on the application just asks students to explain why they want to live in gender neutral housing.
"It was open-ended in the sense that you could go wherever you wanted with it," Goble said.  "It was just an interest form in my opinion."
Following the application, students meet with members of Residence Life and Housing and the LGBTQ Center to discuss living options and ask questions or voice concerns they may have.
Although the application was available to students for the first time last spring, the gender neutral housing program has actually been in the making since President Hatch convened the President's Commission on LGBTQ Affairs two years ago. 
The commission, composed of administrators, cabinet members, faculty and students, conducted a year-long study into the state of the LGBTQ climate and resources on campus that resulted in a list of issues the university planned to address.
"Support for our transgender and gender non-conforming students was pretty high on that list," said Angela Mazaris, the director and founder of the LGBTQ Center. "So gender neutral housing really rose to become one of our lead priorities as a result of the President's Commission."
Although it is only the beginning of the semester, it appears as though the program is functioning well and individuals living in gender neutral spaces seem content with their living situations so far.
"It's a really good opportunity to have the experience of living with your friends," Goble said.