Caroline Wooten finds her passion as a senior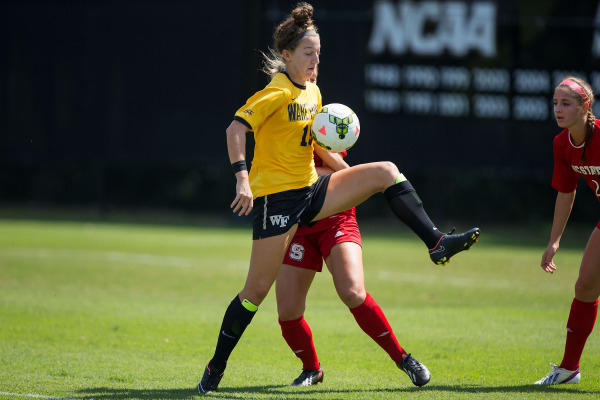 First, Caroline Wootten's confidence disappeared. Next, she began to play in fear. Then, she had mononucleosis. Eventually, she lost the love she once had for the game she has always treasured.
Some would label Wootten's four-year journey at Wake Forest as a member of the women's soccer team a grueling marathon. Yet, in spite of a rollercoaster-ride of a career marked by plenty of trials and tribulations, she finds herself full of joy and contentment for one final push as she enters her senior season.
At first, college soccer came naturally to the Atlanta, Georgia, native. Wootten made 10 starts and saw action in 21 games as a forward and scored three goals while adding three assists in a breakout freshman season where the Demon Deacons went 12-7-2 and made it to the third round of the NCAA Tournament.
"Obviously it was a huge leap in terms of skill, speed of play and fitness, but I had trained super hard over the summer and was ready to go and excited about playing," Wootten said of the transition from high school to college. "I really just had a joy in playing at that time."
However, this joy would be short-lived as Wootten managed only 11 appearances and two starts across her next two seasons as Wake Forest also struggled, going 10-21-5 in that same stretch.
She missed a large chunk of time in her sophomore season when she contracted mononucleosis.
In truth, problems began well before illness kept her sidelined.
"I think I lost a lot of joy in playing," Wootten said. "Starting my freshman spring, I lost a lot of confidence and start playing out of fear — playing to not make mistakes. I was in my head all the time. That was the ride I was riding for the next two years. I couldn't get out of it.
"It was a total mental game for me at that point. My soccer ability — strengths and weaknesses — didn't matter because it was a total mental game."
This kind of mentality, which sports psychologist Robert Price of Elite Minds LLC labels "R3 thinking," paralyzes the collegiate or professional athlete on the field. According to Price, "R3 thinking" is random, reactive and restrictive thinking. These modes of thought limit the athlete by promoting an "I can't" attitude and allow errors to influence confidence and self-talk.
Mentally painful and taxing sophomore and junior seasons led Wootten to decide enough was enough heading into her final spring season at Wake Forest.
She began to believe in herself again, but she had to start from the bottom up, and that meant beginning with finding confidence in herself and rediscovering a love for the game.
"I took it upon myself to build my confidence back up," Wootten said. "I realized it was something I was looking for from other people, my teammates, my coaches or the game in general."
When preseason camp opened in August, head coach Tony da Luz noticed a palpable shift in Wootten's mentality and recognized traits he saw years before in a once dangerously quick and aggressive freshman.
"From day one in preseason, she just had an attacking mentality," da Luz said. "In the seasons before, she was tentative and didn't use her speed. Now she has more of a free mentality about taking players on and using her speed."
Wootten attributes her new mentality to the Charlotte Eagles, a Christian team that she spent the summer with.
"The Charlotte Eagles are an awesome organization that have such a heart for college students and college soccer," Wootten said. "I learned a lot from them, especially how to play with freedom. I think I really let playing out of fear go over the summer."
Heather Wiley, a senior field hockey player and Wootten's roommate, confirmed da Luz and the coaching staff's observations.
"There's just a freedom about her this year," Wiley said. "She can just go out there and play. It doesn't matter how she does, because she's just so secure in who she is."
Now playing with more freedom and passion than ever before, Wootten has played a big role on a much-improved Wake Forest team. Through the first 14 games of the 2016 season, Wootten has started every game and has tallied one goal and chipped in three assists as the Demon Deacons stand at 8-6 (0-6 ACC)
"At the end of the day, I can safely say that what I am doing is so much greater than a win or a loss," Wootten said.