Wake Forest baseball begins new season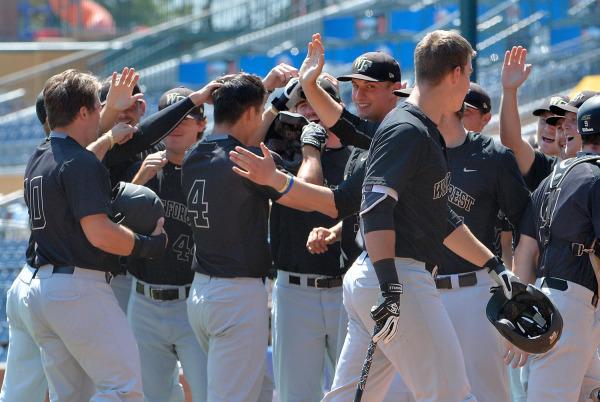 The Demon Deacons are looking to make the ACC and NCAA tournaments for the second straight year under Head Coach Tom Walter.
Another highlight of this Wake Forest Baseball season is the opening of their brand new clubhouse featuring a locker room, equipment room, training room and players lounge. The facility is arguably the best in the country.
The Demon Deacons will feature a well-balanced team this year. The pitching staff has improved while the hitting and defense will continue to be one of the nation's best. The pitching staff features experienced veterans and some impact rookies.
Parker Dunshee, Connor Johnstone, and Donnie Sellers will lead the starting rotation. Swingmen Drew Loepprich and John McCarren will add valuable innings as starting and bullpen pitchers. Griffin Roberts, Rayne Supple, and Chris Farish will anchor the back end of the bullpen.
The addition of the freshmen class and emergence of sophomores will add more depth and versatility than previous years. Offensively, Gavin Sheets and Stuart Fairchild will lead the Deacs in the middle of the lineup. Jake Mueller, Jonathan Pryor, John Aiello, Ben Breazeale, Keegan Maronpot, Bruce Steele and Logan Harvey will round out the lineup that produces power, high intensity, and speed. The freshmen class will provide back up off the bench behind the impressive lineup.
"The balance of this year's team has been the best since I've been here," said John McCarren, senior pitcher. "I'm looking forward to continuing our success in this year's ACC and national tournaments. We have all the components to make serious runs in both tournaments and restore Wake Forest's baseball dominance nation wide."
The Deacs open up on the road this Friday in Houston, Texas against the University of Houston and Nicholls State University. They will be playing both teams twice before heading back for their home opener on Tuesday, Feb. 21 against UNC Greensboro at 4 p.m.