Wake Forest Breaks Seven-Game Losing Streak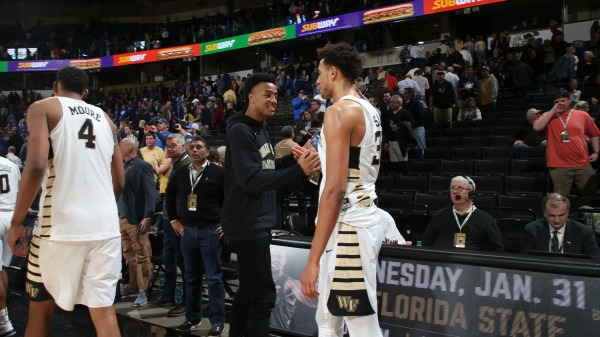 Florida State traveled to Winston-Salem on Wednesday, Jan. 31 to face a Wake Forest team that had dropped each of its last seven contests.
Leonard Hamilton, head coach of the Seminoles, believed that despite their record, facing the Deacs would be no easy task.
"They play stretches where they play at a high level, it concerns you that they'll be able to sustain that for 40 minutes," Hamilton said ahead of Wednesday's game.
To Hamilton's credit, he was right. The Deacs have demonstrated instances this season where they can compete against anyone — with moments against top caliber programs such as Virginia, Duke and North Carolina coming to mind. 
But Hamilton's worry about Wake Forest stringing together 40 minutes of sustained success proved unnecessary as the Deacs played far from a perfect game in their 76-72 victory Wednesday night.
In the first half, Wake Forest allowed Florida State to attempt 14 shots from beyond the arc, with six ultimately falling through the cylinder. The Deacs also committed eight first-half turnovers, on par with their most recent outings against Duke and Louisville.
Wake Forest did not sustain 40 minutes of perfect basketball, but for the Deacs to go home with their first win since Jan. 3, it was enough, attributed in large part to a strong second half.   
The Deacs boasted one of the more balanced scoring performances of the season with Bryant Crawford (19), Chaundee Brown (15), Keyshawn Woods (15) and Brandon Childress (14) each reaching double figures.
While head coach Danny Manning was pleased with the team's joint effort, he was particularly impressed with the play of his junior center Doral Moore.
"I thought this was one of Doral's better games. Manning said. "He rebounded the ball well for us, blocked three shots and got three steals for us." Moore battled his former high school teammate and fellow seven-footer Christ Koumadje under the basket all evening.
Hamilton, who spent time recruiting Koumadje at Montverde Academy, was familiar with Moore during his high school career and has been impressed with his growth as a Demon Deacon, claiming that Moore has made as much progress as any college player in the U. S.
Moore failed to record a double-double in this one, finishing with eight points and 12 rebounds, but his three points in the game's final minute sealed the deal for the Deacs, giving them a bit of momentum to kick off the second half of the ACC schedule.
With 29 seconds to play, Moore grabbed a rebound off a Florida State missed free throw, passed the ball to Woods who got it to Crawford before getting it back only to immediately find Childress at midcourt. 
As Childress caught the ball at the Demon Deacon logo, he looked up and found Moore flashing to the basket for the easy dunk that would extend the lead to three.
Down three with 19 seconds remaining the Seminoles had one possession to tie the game. Florida State's MJ Walker pulled up from beyond the arc, missed, and none other than Moore was there to grab the rebound, getting fouled in the process.
With two seconds remaining and lead of three, Moore ultimately sealed the deal, converting on his second free throw attempt to lift Wake Forest out of its seven-game losing streak.
After Wake Forest's loss to Louisville on Saturday, Jan. 27, Moore told reporters the team was still together and that he and his teammates would figure it out.
On Wednesday evening, the Deacs stuck together and figured it out — only time will tell if they can keep the momentum going as No. 20 Clemson visits the Joel on Saturday afternoon.