Men's Tennis Wins the ITA National Title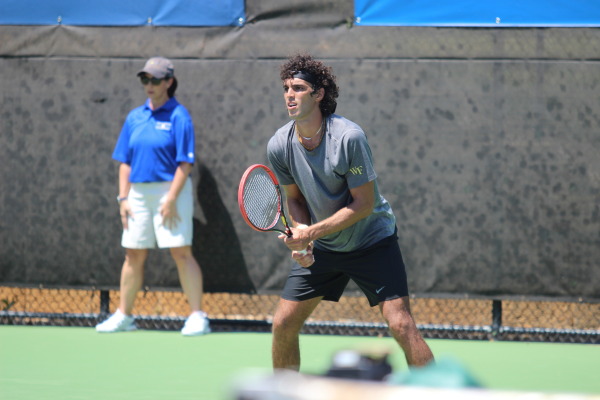 The Wake Forest Men's Tennis team won its first ever national championship Tuesday, Feb. 20 in Seattle, WA, with a victory over the UCLA Bruins to win the 2018 ITA National Team Indoor Championship. This championship victory completes the tennis team's indoor season with an impressive 9-0 record, including wins over many of the nation's top teams such as Washington, No. 8 USC (Southern California), No. 5 Stanford and No. 7 UCLA.
The No. 1 overall-ranked Wake Forest team cruised through its side of the bracket to meet No. 4 UCLA in the ITA indoor championship game. The Demon Deacons fell behind early on Tuesday, dropping two of its first three matches to the Bruins during the doubles portion of the championship.
The duos of Ryan Dempster and Christian Seraphim as well as Borna Gojo and Skander Mansouri each dropped heartbreaking matches that came down to the wire. The team of junior Petros Chrysochos and freshman Bar Botzer earned a much-needed win to close the overall score to 2-1.
On the singles side, however, the Deacons dominated the match. Aside from a match involving freshman Rrezart Cungu who fell in two sets, Wake Forest won all of its singles matches.
Julian Zlobinsky capped off his awesome week at the championship winning his match in straight sets, 6-3, 6-0. Chrysochos, the No. 6-ranked player nationally, won his match easily: 6-3, 6-4. Freshman Bar Botzer earned an impressive 6-4, 6-4 victory over UCLA's Logan Staggs. Before No. 100 Borna Gojo could complete his comeback victory over UCLA's No. 1 overall ranked Martin Redlicki, No. 22 Skander Mansouri of the Deacons closed out his match over Keegan Smith to clinch the first-ever national championship in tennis for Wake Forest.
The Demon Deacons will enter the 2018 regular season, which starts next month, as the No. 1 overallranked team hoping to defend their indoor championship title with an outdoor national championship. Chrysochos and Mansouri are projected to be two of the nation's top individual performers.
Meanwhile, Zlobinsky, who transferred to Wake Forest from Texas, and Botzer, a freshman from Tel Aviv, Israel, hope to follow up on their excellent indoor seasons with continued strong play in ACC and regular season play. Wake Forest opens up formal ACC play against Virginia Tech in Blacksburg, VA on Mar. 16. The team will look to build upon its successes of the 2017 and 2018 indoor seasons by continuing to dominate both the ACC and NCAA.