Wake Forest Named in Top 25 Peace Corps Schools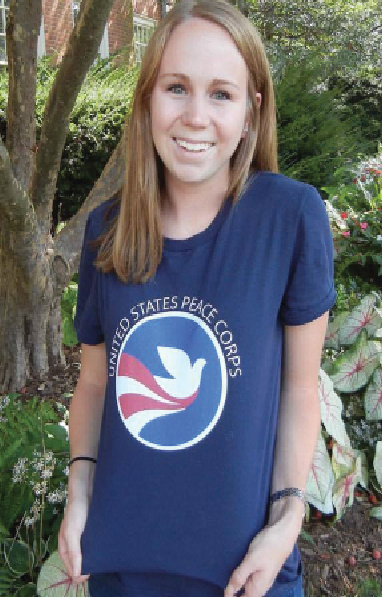 Wake Forest has been ranked 16 out of 25 in the Top 25 Peace Corps Producing Colleges and Universities in the small colleges and universities category. Wake Forest has placed in the top 25 for four years. Currently, there are 11 Wake Forest alumni serving in the Peace Corps, in addition to 226 alumni who have in the past.
Alumni are currently serving in Costa Rica, the Dominican Republic, Ukraine, Ghana, Tanzania and more.
"As Peace Corps volunteers, recent college and university graduates foster capacity and self reliance at the grassroots level, making an impact in communities around the world," acting Peace Corps Director Shelia Crowley said in a press release from the Office of Communications and External Relations.
This rang true for senior Sofia Howson, who will be serving in Togo (West Africa) for 27 months. Howson will depart the U.S. just 10 days after graduating this May.
"I really started considering applying for the Peace Corps during my sophomore year of college," Howson said. Outside of classes, I have always spent a lot of my time engaging in social service, but I have yet to find the time and space to truly immerse myself and engage with others long-term, and Peace Corps offers me that opportunity. Not only is service long-term, but the Peace Corps allows me to become a member of a community and culture that I work with."
Howson added that while Wake Forest did not directly impact her decision to apply, what she has learned during her time at Wake Forest is useful for her 27 months serving.
"The programs that I was a part of at Wake Forest have helped me to continue my love for social service and they have helped me build capacity as a future Peace Corps volunteer," Howson said.
Additionally, Returned Peace Corps Volunteers (RPCVs) have the opportunity to apply for the Paul D. Coverdell Fellows Program, a graduate program with the School of Business. The fellowship awards 50 percent tuition to two RPCVs with high merit and consider one RPCV with extreme merit for a full tuition scholarship each year for the MA in Management program.
The School of Business Paul D. Coverdell Fellows Program website states, "Peace Corps volunteers return with outstanding project management and adaptability skills. When you combine these skills with the technical business acumen, professional development and hands-on learning opportunities that you'll gain in the MA program, you'll be a strong candidate for rewarding jobs in the business, nonprofit and government sectors."