Wake Forest Honors Arnold Palmer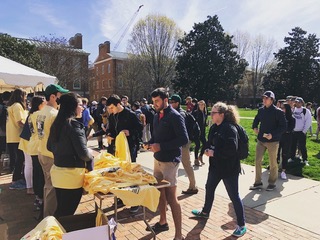 This past week, the Wake Forest community participated in annual celebrations of distinguished alumnus, Arnold Palmer. The celebrations included Arnold Palmer Day and a lecture by James Dodson, author of Arnold Palmer's autobiography A Golfer's Life as part of the ZSR's Library Lecture Series.
April 5, known on campus as Arnold Palmer Day, is a way for Wake Forest students, faculty, and staff to celebrate Palmer's legacy and impact on the Wake Forest community. This year marked the 7th-annual Arnold Palmer Day organized by the Traditions Council. On Arnold Palmer Day, students could watch a live streaming of one of golf's most prestigious tournaments, The Masters, hang out with the Arnold Palmer cardboard cutout, and of course, enjoy free Arnold Palmer drinks donated to Wake Forest by Arizona. There was also cake to commemorate the occasion and Arnold Palmer Day shirts were for sale.
"Today is a day where we can remember Arnold's legacy. He is one of Wake Forest's most beloved alumnus and Arnold Palmer Day is one of the most highly-anticipated events of the year by the Wake Forest community," Chelsea Klein said, a member of the Traditions Counsel, told the Old Gold & Black about the importance of Arnold Palmer Day.
Freshman Sam Bott was spotted at Arnold Palmer day enjoying his free drink.  "It's a beautiful day to celebrate Arnold Palmer." Bott said "Everyone's out here in the sunshine sipping on Arnold Palmers and celebrating a true legend."
While the tent on Machester Plaza marked the primary event space, the celebration continued in the Pit. Freshmen Annie Cohen and Anabel Cordano enjoyed the many treats and activities the Pit offered.
"The Pit made sweet tea cupcakes and provided free Arnold Palmer drinks." Cohen said. "There were also games such as a mini putting green and the winners of the  games were given prizes like more food dollars."
Additionally, on Wendesday, April 4, Wake Forest students, faculty, staff and community members attended the lecture held by Dodson and had the opportunity to buy copies of his book as well as to get them personally signed by him.
Dodson grew up in Greensboro, NC as an avid player and fan of golf and a follower of Palmer. He began his career as a journalist and worked for many different newspapers, writing mostly gothic stories centering on local murders, racial inequalities in the American South and occasionally presidential election pieces.
Later in his career, he interviewed for a position at The Washington Post, but realized that he no longer wanted to pursue journalism, but his real passion of golf. He turned down the offer from the Post to work instead at Yankee Magazine to pursue golf writing. He then proceeded to work at Golf Magazine and became Departure Magazine's Golf Editor. However, when Dodson's father developed a serious illness, Dodson wanted to spend more time with him. The two golf lovers embarked on a trip to Europe to play the renowned golf courses of the British Open. Their experiences playing the courses and down-to-Earth discussions in local pubs prior to his father's death later became the content of Dodson's first book Final Rounds, which put him on the map as a golf writer.
The book landed a spot on the extended New York Times Best Sellers List and lead to a multi-city book tour. It was ultimately the publication of Final Rounds that led Dodson to the Palmers after Winnie Palmer (Palmer's wife) called Dodson and asked if he would write Arnold's autobiography. Dodson was initially hesitant to accept the project because Palmer was his greatest hero, and he had been told not to get too close to your heroes as they may disappoint you. Dodson accepted the offer on the condition that Palmer tell him the true, raw version of his life story. Dodson felt strongly about publishing an autobiography that highlighted Palmer's greatest moments as well as his worst ones, so readers could better understand the positive and negative life events that shaped him as a person. Though Dodson experienced pushback from IMG to publish some of Arnold's life struggles, he stood his ground.
Dodson developed an extremely close connection with Palmer through the writing of the autobiography, and the two remained great friends even years after the book was published. Palmer even called Dodson "Shakespeare" as a testament to his writing skills. The two men spent three years together as Dodson tracked Arnold's golf and personal life events. Dodson expressed that Palmer was very comfortable in his own skin and genuinely loved people. He loved people so much, in fact, that he would walk down the fairway during tournaments while shaking hands with audience members in an effort to get to know them better.
The publication of the book was a huge hit and was voted Best Golf Book of the Year, in addition to remaining on the New York Times Best Sellers List for many weeks. The public seemed to love the autobiography and appreciated the authentic nature of it. Some even noted that Dodson achieved replicating Palmer's voice in the writing of the book. The success Dodson achieved from A Golfer's Life led to future endeavours. He received calls from Ben Hogan and Sam Snead asking him to write their autobiographies as well. He ultimately wrote four Golf Books of the Year and became known as one of the most prestigious golf writers in the field.
Dodson was with Palmer up until the day he passed away. Golf was Palmer's true love, and when he was no longer able to play, he didn't last much longer. Palmer left a note to Dodson that read, "I could not have had a better friend. Always, Arnold." At the lecture series, Dodson told the audience of their many personal encounters and of Palmer's fondness for life. He stated, "Arnold loved life, had a great sense of humor, and especially loved Wake Forest." Palmer enjoyed frequent visits to Greensboro and was followed by millions of locals when he would play in the Greensboro Open during the peak of his career. He is one of the world's best and most well-known golfers, which is why the students of Wake Forest celebrate his legacy every year.
Between the ZSR lecture given by James Dodson and the school-wide celebration on the quad and in the Pit, Wake Forest students were eager to celebrate the legend that was Arnold Palmer.