Deacon Spotlight: Hannah Betfort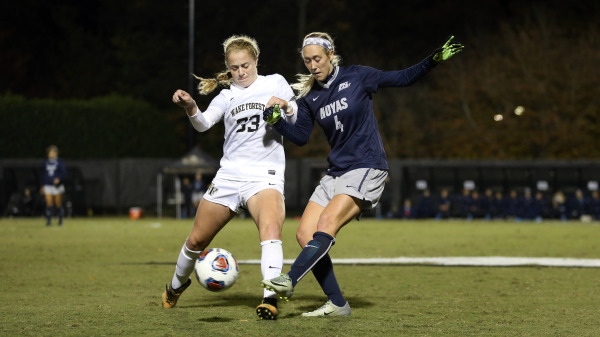 Hannah Betfort is a freshman soccer player at Wake Forest, who recently finished  her first season of collegiate soccer. Betfort was recorded playing many strong games, especially for a freshman. She was an immediate impact, playing as forward last season, and started in 17 of 20 regular season games. Betfort was one of 10 Deacon soccer players to record over 1,000 minutes of playing time, with 1,160 total. Last season she scored five goals, three of them game-winning.
This spring, Betfort was recruited by U.S. Soccer to represent the country on the U-18 women's national team. She first played at a U-18 training camp in Florida in February and was later invited to play in an international tournament. Betfort competed in the La Manga 12 Nations tournament in Spain this March and had to turn down later tournaments for academic reasons. Still a young player, she hopes to see her soccer career continue to flourish on the Wake Forest and national soccer teams.
Heather Hartel: What has been a highlight of your freshman year, soccer-wise?
Hannah Betfort: The main things have just been getting to play, but also getting to know the team. My teammates are the most important thing to me now and I honestly didn't expect that going into the year. I also wasn't expecting to play that much, which has been amazing because who isn't going to want to play their freshman year?
A specific moment that was special would probably be our South Carolina game where we beat a really good (#3 in the nation) team. It was a really good game for us and it put us back on the map and showed people what we were all about. Another great game was against Georgetown, which led us to the second round of the NCAA tournament for the first time in a couple of years. That was also special.
HH: What have been some of the challenges?
HB: Mentally it's really hard to prepare yourself for ACC soccer. It's the hardest conference in the country and I'll fight anybody who says any different.
The hardest thing for me has been a mental shift in the game and my team has helped me a lot with that because they're always there to bring me back up and tell me what I need to do to to change or improve my game.
Coming from high school, soccer is barely the same sport; it's actually completely different. You come in and are playing against the best athletes in the country and a lot of them will go professional later in their lives, so you're playing a much higher caliber of player. Every team is awesome in the ACC — even the bad ones are better than other conferences.
HH: What was it like being recruited and eventually playing for the National team?
HB: I didn't even know I was being recruited for the National team — I had no idea. It's always been a dream of mine, but growing up in South Carolina we don't have the best soccer in the country, so it was something I knew I'd have to work really hard to get.
When I found out I was even getting an invite to a domestic camp, just to have a chance at a tryout, was an unreal experience. My jaw dropped and I couldn't believe it was happening. It has been one of the craziest, most unexpected things that has ever happened, but it's something that pretty much everyone who plays in college wants to do.
HH: Where do you see yourself growing in your soccer career?
HB: I see myself developing more of the mental side I've talked about. Just being mentally better in my game and more of a leader on and off the field, maybe even moving into a leadership role at Wake Forest would be awesome.
Also I just hope to go as far as I can with the national team, but if that were to stop next week it was still a great experience. I just hope I can get invited to more events later in my career, but really just being a key player and figure on the team is where I hope to end up.