Deacon Spotlight: Coach Jen Averill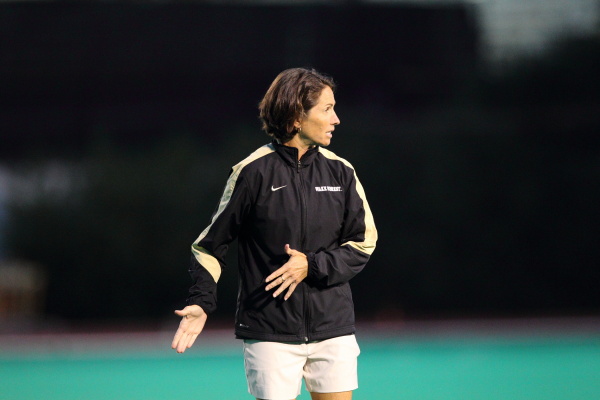 Jen Averill is one of the most successful field hockey coaches in America, earning a combined total of 11 national and conference Coach of the Year titles and a combined seven championship trophies (four ACC and three NCAA). Averill's accomplishments have propelled her to become one of the most winningest coaches of all-time.
Despite her myriad of accolades, Averill attributes her success to the loses and tragedies, both professional and personal, that she has experienced over the years. She claims that overcoming adversity has had the biggest impact in shaping her coaching philosophy, her purpose and her desire to continually learn and grow. 
Cat O'Connor: You've been described by your players and colleges as charismatic, boisterous and passionate. Many would be surprised to learn that the Jen they too often hear coaching at Kentner has faced a great deal of tragedy and loss between the passing of your former player and your brother. In what way do you think those losses have shaped you as a person?
Jen Averill: I think it inspires me to find the positives in life. While others look for escape and thrills, I look to constantly educate myself and grow, as well as develop those around me. I'm always searching for my own why. Why am I here? Why do I do what I do?  It gives me a sense of purpose and orientates me. It's really easy to get caught up in the society's pressures, the wins the losses, to be critiqued, to be generalized, classified as great because you win. To me, having those losses and seeing life from life has been so helpful in self-examination and making sure I never deter from fundamental values and philosophies.
CO: What are those philosophies and values you mentioned?
JA: For me, it's using sport to help develop people. You are a manager of people. Sport is supposed to be about playing and so I'm here wondering how I can teach these guys healthy habits that won't just happen in four years but will be life-long habits.
CO: In what ways does your philosophy about life and adversity translate to your coaching style?
JA: I feel that the harder the fall, the greater the gains. If someone's adversity is the lack of playing minutes in a big game as opposed to someone who blows an ACL or loses a loved one, it pales in comparison. I don't want to downgrade it because it's their reality, but I think that … though unfortunate, grief, tragedy and adversity can propel people's will. 
CO: During the 2017 preseason you enlisted the help of two marines to take the team through intensive exercises both physically and psychologically. Was this a way of exposing the team to adversity?
JA: It was a threefold process. Number one, I felt this group out of any group I have coached over the past decade needed difficult shared adversity for them to find themselves. I wanted them to lead themselves, not us to lead them. Secondly, we have a communication problem. Whether that's listening or actually verbalizing the words, what a great application to understand and appreciate the value of communication. And third, our ability to disagree, our ability to have conflict not be viewed with negative connotations but as a way to find a solution.
CO: Megan Anderson, the current captain of the team, characterized you as a "weed that grows through the concrete", inferring that you can thrive in conditions in which others would fail. What are your thoughts on being portrayed as such?
JA: I think that's awesome, I think it's completely unique. It strips me down to the rawness of my existence. I feel like I am incredibly blessed, like I was born with some intangibles. I innately believe in people and I truly think I can move them or lead them to places where they may not even believe they can go. I feel like my grittiness has been a byproduct of my environment. I have never accepted no. I am solution-orientated. The more you say no, the more I want to prove you that it should be yes.
CO: Why do you feel the need to prove something?
JA: I find it challenging. I try to strip the ego away. I also believe that you have to be careful that you don't throw your will upon somebody and I never try to do that. I see it as a way in, to open people's eyes, ears, hearts and ability. If I were to inherit Wake Forest, a successful program that's made it to the championships, I'm not comfortable there, I want to be the one that builds it, that breaks down those barriers. I love to build, and I love to grow and its hard as hell to bloom every year.
CO: So, is that why you seem to take an underdog mentality even though you have been so successful?
JA: I think humility is at the foundation and you can always grow and you can always be better.
You can be a better teammate, you can be a better coach. I'm always growing and the day I don't I have to watch out. It's actually a void I don't look forward to hitting.
CO: Are you afraid of getting to that point, and what does that mean for the future?
JA: Yeah … but I'll probably get there when I'm around 80. Jeez, what a lonely place to be. At the same time though I think back to the adversity I've faced and just think you've got to have fight. You have to have a direction, you have to have your why. Your why has to constantly evolve. It can't be sedentary or obsolete, or absolute. I'm always figuring out my why.