Campus Prepares For The 2018 Flu Season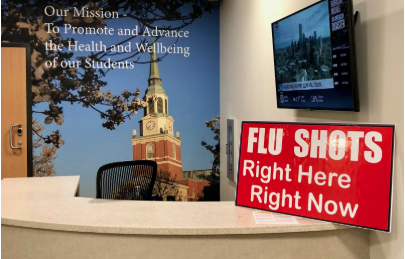 Midterm exam season is a busy time for students, causing them to spend more time studying and less time practicing healthy habits, thus increasing their risk of contracting illnesses.
Exam season coincides with the beginning of flu season — except the flu season typically lasts from October through February. Because it is a respiratory illness, the flu is easily transmitted by coughing and sneezing.
"We highly encourage flu vaccines and good hand hygiene as the best preventative measures against the flu," said Kathy Carstens, director of Nursing in Student Health Service.
However, many students choose to not receive the flu vaccine, especially if they believe it will give them the flu, if they did not get it growing up, if they do not have time to get it or if they think it will be ineffective.
"I didn't get the flu shot very much before college," said sophomore Lilly Parker. "I had heard that it's a toss-up of whether or not the vaccine will be the right strain."
Parker is right about the unpredictable effectiveness of the flu vaccine. Last year's flu season was one of the worst in decades. The Centers for Disease Control and Prevention (CDC) estimated 710,000 flu hospitalizations and 80,000 flu-related deaths last year.
What the CDC referred to as an "epidemic" was due to the more aggressive flu strain H3N2, an influenza A virus. Typically, H3 strains cause more hospitalizations and deaths. Because the flu vaccine is based on a prediction of that year's flu season, it is not guaranteed complete effectiveness. Last year's vaccine was only 40 percent effective.
"I felt very weak, tired and shaky," said sophomore Samantha Fortner, regarding her flu diagnosis last year. "All of a sudden my fever escalated to 104 degrees, so I called my mom to take me to the hospital."
While student health administered 30 percent more flu vaccines last year than the year before, they still treated 122 flu patients and 232 patients with flu-like illnesses. Receiving the flu vaccine does not completely prevent the flu, but rather it can reduce the severity if contracted.
"It felt busier than the years past," Carstens said, regarding the number of flu patients treated. "There were some patients who the flu vaccine did not cover, but hopefully those students were less sick or were not sick for as long versus those who did not get the flu shot."
This year, student health partnered with Maxim Healthcare, a home healthcare service, and administered 291 flu vaccines on Oct. 3 in the Wellbeing Center, making this the highest attended student flu shot clinic in years.
"I would like to think they came because they got sick last year and they're thinking, 'Well I don't want that to happen again this year'," Carstens said.
Getting the flu vaccine is not only for one's own health benefit, but also for the health benefit of all those in the community.
"I feel more comfortable knowing I got the vaccine," said sophomore Evan Youshock, knowing he is better protected from contracting and spreading the flu.
Student Health is being proactive by scheduling meetings with Residence Life and Housing and Aramark next week to discuss how to inform students on ways they can help prevent the spread of flu on campus.
"We're living in close proximity to people and everyone seems to be getting sick all the time so it's easier to get different illnesses," said Parker, who lives in the suite-style Kitchin.
Student Health has not diagnosed any students yet with the flu this school year, but they have treated 43 patients with flu-like illnesses.
"Some students may think they don't have time to mess with getting a flu shot right now," said Carstens, "so we want to make it more convenient for students to get their flu vaccines."
Student Health offers flu shots Monday through Friday with no appointment necessary. Additionally, flu shots will be administered in ZSR Library three evenings in the upcoming weeks. The vaccines cost $30 and most insurance cards are accepted.
"It will just be a matter of time before we start to see the flu on campus," Carstens said.