Deacons to host Cardinals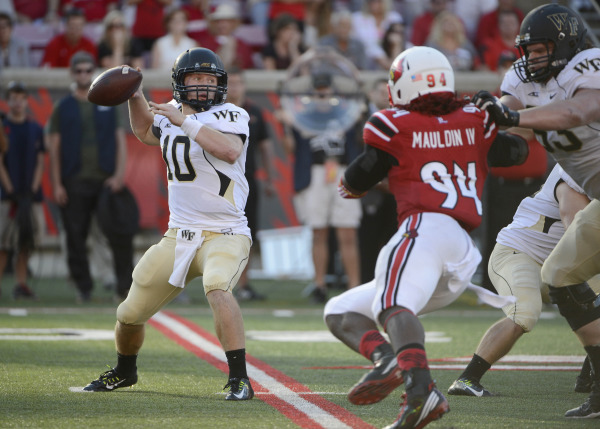 Earlier this week, I spoke with Sam Draut of the University of Louisville student newspaper, The Louisville Cardinal, to learn about how each team may fare in this weekend's game between the Cardinals and Demon Deacons.
KYLE TATICH: With a record of 3-4, Louisville finds itself ranked third in the ACC's Atlantic Division behind Clemson and Florida State. Some believed the Cardinals could be a dark horse in the Atlantic this year, but after losses to the Tigers and Seminoles their chances of finishing better than third seem slim. What is the general perception of where the program is and how the season has gone to this point?
SAM DRAUT: The best way to describe the state of the Louisville football program is young. The offense has started seven freshmen this season and last week against Boston College, only three seniors started on offense and defense.  After an 0-3 start to the season, some frustration set in for the coaches and players.
The Cardinals lost the first three games by a combined score of 13 points, so Louisville was in every game. Along with this, Auburn was ranked eighth when Louisville opened the season against them in the Chic-Fil-A Kickoff game. Houston is now 6-0 and ranked in the top 20 and Clemson has climbed up to sixth in the polls.  Needless to say, the opening block of games for the Cardinals was brutal.
Louisville followed up the three losses with two wins against Samford and NC State.  Louisville played nationally ranked Florida State close in the first half, leading 7-6 at halftime, but the wheels fell off in the second half and Florida State cruised to a 41-21 victory.  Louisville bounced back with a hard fought victory over Boston College last Saturday and sits at 3-4.
With a tough early schedule, I think a majority of media outlets and pundits would have predicted Louisville to be 4-3 at this point in the season, so it hasn't been as bad as it seems.
The most concerning part of the slow start is the inconsistent offensive and inability to run the football.  So, the Louisville team feels like it is a few plays away from being 5-2 or 6-1, but after a few close victories as well, the young team could also be a few plays away from being 2-5 or 1-6.
KT: Freshman quarterback Lamar Jackson has appeared to struggle with his decision- making at times this season, throwing more interceptions than touchdowns. How do you access his play this season? Has he met expectations?
SD: Lamar Jackson arrived on campus in June and appeared well behind the three other quarterbacks who were competing for the starting job.
The only quarterback without collegiate experience, Jackson debuted in the season opener against Auburn and has showed flashes of brilliance along the way, but he has struggled to grasp some parts of the offense and has had a few costly turnovers.  Five of his seven interceptions have been thrown into double or triple coverage, so decision making has been a problem for Jackson.
The freshman has the best upside and athleticism of any of the quarterbacks on the roster, so head coach Bobby Petrino has to live with the youthful mistakes, knowing that Jackson will continue to develop.
I don't think there were expectations for him going into the season. In fall camp, he opened players' and coaches' eyes alike with his arm strength and speed. It became evident right away that he had to find a way onto the field.  Game by game, he continues to improve, but the Cardinals are still waiting for him to take that next step as a quarterback.
KT: Louisville held Boston College to just 79 total yards last Saturday yet allowed 510 total yards the week before against Florida State. Sure, the Eagles' and Seminoles' offenses are undeniably of different calibers, but a 431-yard difference in yards allowed is significant. What worked for the Cardinals against the Eagles? And what did Florida State do offensively to exploit the Cardinals defense?
SD: After playing a strong first half against Florida State, effort and intensity came into question in the second half as the Louisville defense gave up five touchdowns and struggled to tackle Seminole ball carriers.  The defense came out refocused against Boston College and carried the team to a 17-14 victory.
Talent isn't an issue for Louisville's defense with future NFL draft picks Sheldon Rankins, James Burgess, Keith Kelsey and Josh Harvey-Clemons flying around the ball, but coming together as a collective unit is critical.
Against Boston College, Louisville's defense was able to stuff the box and attack the backfield. Florida State was patient, did not make mistakes and waited for the field to open up.  Everett Golson was able to handle the pressure and find receivers when the blitz heavy Cardinals sent the house.
KT: Louisville's offense struggled against Boston College, running 20 offensive plays that resulted in a loss of yards. What was Boston College doing to make the offense struggle?
SD: Boston College has a tremendous defense, but Louisville's offensive line has struggled the entire season. The five positions have been shuffled up front game after game, and the group has never developed any consistency.  Two freshmen have started on the line and another newcomer as well.
The Cardinals offensive line has not shown the ability to running block or pass protect all year.
KT: Tell me about two play makers on both offense and defense that could have significant impacts on Saturday's game.
SD: Beginning with the offense — Reggie Bonnafon. The sophomore started at quarterback for the season opener, but has since been moved to tailback, but also lines up as a wide receiver and under center.  He is a versatile athlete with good speed.
He can be a tough player to scout for since he can play quarterback, running back and wide receiver, so it will be interesting to see how Petrino uses him.
Another offensive weapon is Jamari Staples. He had a big game against Boston College and Louisville will continue to focus in on him against Wake Forest. He is a big, physical receiver with good speed, so Jackson tries to key in on him when Staples is in single coverage.
Defensively, Sheldon Rankins has the ability to make an impact. He scored his first collegiate touchdown with a scoop and score last week against Boston College.  Rankins is one of
the best defensive ends in the country and can be found in the first round on most NFL Draft big boards.  Listed at 6-foot-2, 303 pounds, the senior has mastered his craft over the years and is always a presence up front for an opposing team's offensive line.
James Burgess also has star power. The senior linebacker leads the team in tackles and is usually all over the field.  He is strong, fast and physical, so he can make plays all over the field.
KT: As it stands on Monday, Oct. 26, Louisville is a 12-point favorite over Wake Forest. Does this line seem about right?
SD: As the game gets closer, I think the line will drop to under a touchdown. Louisville struggles scoring the ball, so I don't see the Cardinals distancing themselves enough to get up to a 12-point differential.
KT: What are your three keys to success for a Louisville victory on Saturday?
SD: Defensive consistency — Louisville's defense played great against NC State, but followed it with an embarrassing performance in the second half against Florida State.
A week later against Boston College, the defense played their best game of the season. Louisville's defense has to play consistent for the Cardinals to have a chance.
Limit turnovers — Louisville moved the ball against Boston College, 365 yards, but only scored 10 points. Two fumbles and two interceptions will do that for an offense. With so many freshmen on offense, Louisville can't expect to play a clean game, but taking care of the football matters most.
Lamar Jackson — If he plays well, Louisville wins. Without the ability to run the football, Louisville needs Jackson's playmaking ability to spark a sporadic offense.  Whether it is with his arm or legs, Jackson will need to get the offense going.
KT: What is your score prediction?
SD: Louisville 20—Wake Forest 17