Finding Community In Spaces On Campus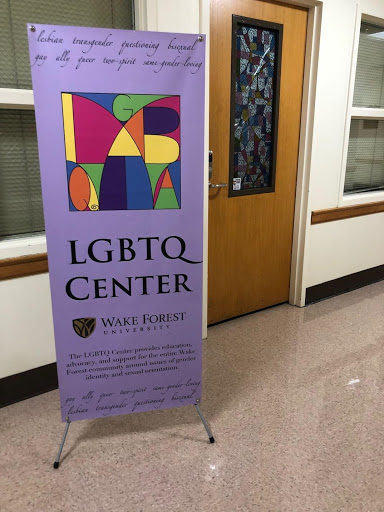 It took Valdes a lot of courage to walk into the LGBTQ Center her freshman year. She spent a lot of time asking herself, "Is today the day I go?"
After many days of saying "No, I'll go tomorrow," one day finally came where she entered the center, and that moment shaped her Wake Forest experience. 
Natalie Valdes, who prefers to go by Valdes, is a senior and has been involved with the LGBTQ Center since her freshmen year. 
For students like Valdes, the center is a place that made Wake Forest comfortable and safe. There is a particular value for groups on campus to have their own space. Whether that is a lounge or an office to gather, these are the places where groups of students can find a community.
The LGBTQ Center serves as a safe place for many students on Wake Forest's campus. It's an open and beautiful space that welcomes a hundred students every week and it stands in stark contrast with simmering prejudices that often plague the campus. 
Last week, for example, seven faculty and staff members in a variety of departments and offices including the Department of Sociology, the Office of Diversity and Inclusion, the LGBTQ Center and the Intercultural Center, received threatening emails that contained racist, homophobic, anti-semitic and discriminatory language. Events and actions like these leave students feeling unsafe and uneasy on campus. 
The Office of Communications and External Relations emailed the campus community on Sept. 19: "We hear the questions posed by some of our students: can you see us, can you hear us, do you understand our lived experiences? Yes, we see you. Yes, we hear you. And, no, we cannot fully understand what some of you are enduring." 
Demands for spaces of safety, community and similar-thinking have become apparent over the past several years, especially for minority students. Like the rest of the nation, Wake Forest can often reflect the worst elements of society: majority privilege, racism and intolerance. Students are demanding to have a home base to retreat to for comfort and safety, like that of the LGBTQ Center. 
After a list of demands from the student group, the Anti-Racism Coalition, and ongoing conversations between the Black Student Alliance (BSA) and President Nathan Hatch last March, Hatch announced a new spot for the BSA lounge in Kitchin Residence Hall.
"It's vital [that] the university provides spaces and events for minority students to bring forward their concerns and issues [that] endure on campus and that the university actively listens and creates resolutions for these problems," said senior Kai Jordan, the BSA president, to the Old Gold & Black last March.  
Now with a larger lounge space in Kitchin, BSA has more room for meetings, social events and just spending time together. 
"Especially with everything happening with the emails," said BSA sophomore Mariama Jallow, "I feel like with that place it's a lot easier to have more intimate conversations and have a proper lounge with a door where half the people aren't in and then half the people aren't outside."  
Having a home base, like the LGBTQ Center, is a great opportunity for every student to find their community on campus. The LGBTQ Center could not have gained its success without the work of Director Angela Mazaris, who eight years ago was recruited by Wake Forest to come to begin the center. 
"It's really amazing to me that we've gone from being this tiny little secretive space in the basement to this big bustling center that is already sort of outgrowing its space," Mazaris said. "And to me that says that we're a place where people feel comfortable being themselves. It's a really amazing thing."
For Leilani Fletcher, a sophomore, her first introduction to the LGBTQ center was as part of her work-study. Then she got involved with the center's Change Agent program, and now the LGBTQ Center is where she found her community and her home on campus. 
"Having a physical space where you can just come and be with your people is great because it's just like walking in and being like, 'Oh yeah, I'm friends with everyone here,' it's just good vibes always," Fletcher said. "I would say definitely, even for me, the center is where I found my community, but I know definitely for other students on campus who identify in the LGBTQ community, this is their home."