Greek life is hard to miss on campus, with a student body that is 49% affiliated by the spring semester. More specifically, 60% of female students are in a Greek organization.
This year, 94 women out of over 500 women originally registered had withdrawn from formal recruitment by bid day. Since then, that number has only increased.
There are women who withdraw from recruitment every year for numerous reasons. For example, some women attend bid day and participate in the first few days of their new sorority's activities before ultimately deciding that Greek life is not for them. In other cases, women receive their schedules on the second or third days of recruitment to find out that only one or two sororities invited them to return. This can cause anxiety among potential new members who witness other women being invited back to the maximum number of parties each day.
According to a 2012 Q&A on the Wake Forest parents website, withdrawing from recruitment before it is completed is often because "[the women] have their heart set on a particular sorority, and if they don't get invited back to the next event, they choose to not pursue any other groups."
Story continues below advertisement
Simply put, women slip through the cracks of recruitment every year. That's why, in 2019, a group of then-sophomore women decided to band together to help out students struggling with similar problems to the ones that they had grappled with just the previous year.
Juniors Maddie Porter, Kaley Vontz, Bridget Ring, Megan Roddenbery and Amanda Cummins all opted out of recruitment in 2018 at varying stages of the process. Each woman has a unique story, but they all shared the same struggle exactly two years ago. Their experiences are not anomalies by any means.
Last year, the friends were discussing the ways in which they had formed such wonderful friendships from a situation that had seemed so isolating and lonely at first. Porter had the idea to start a program to help guide first-year students who withdrew from recruitment and show them that they are not alone. She wanted to introduce them to other women who had experienced similar struggles to find a sense of belonging.
"I realized that there are so many women who were all going through the same thing and how helpful it is to make connections and form relationships with those people," Porter said. "In my experience, the best way to lift my spirit in hard times is having a support system of other people who can truly empathize with what you are going through. That's what I wanted to create for these women on campus."
The first event they organized was a pizza party in Zick's. Last winter was the inaugural meet-up, and the group was able to connect with first-year women who were struggling after recruitment. After success in 2019, the group put on another meet-up on Jan. 23. Ninety-four women who withdrew from the recruitment process were emailed about this meet-up, and 18 attended.
"We didn't want another 'formal' event after they had already been through so many in the previous week," Vontz said. "We answered questions about our lives at Wake Forest if they had them. We also helped them create a GroupMe so they could plan to do things together, and invited others who couldn't get to go."
The administration has taken notice of these informal meetings and the connections the women can make from the creation of a space to talk about shared challenges and fears about finding community and fitting in.
"At the event, I noticed a great deal of authenticity and vulnerability in what the upper-level students were sharing with the first- and second-year women in the room," Stephanie Trilling, director of the Women's Center, said. "They shared their stories — both their struggles during and after recruitment — as well as the positive parts of finding friendship and happiness outside of Greek life."
In addition, Porter, Vontz, Ring, Roddenberry, Cummins and junior Logan Cioffi spent bid day in the Women's Center answering phone calls from parents of women who withdrew. They also held open office hours for anyone who needed a safe space to talk.
"I really was happy to offer support on bid day in the Women's Center, but was very disheartened to know that I, along with all of the wonderful people who volunteered to help me out, were the only people available for the 90-plus women to speak to post-bid day, because all other offices were closed, as it was a Sunday," Porter said.
When asked about her goals for the future of the group, Porter explained that she plans to continue putting on events for the remainder of her time at the university.
"Since we will all be seniors, I'm hoping that some of the women who benefited from the meet-ups and feel a similar passion for the goals of the group will take it over so it can become a part of Wake Forest's campus in years to come," Porter said.
Megan Roddenberry

"Withdrawing from recruitment and thinking you don't belong anywhere can be really hard to go through. But we have all had such great experiences and made great friends in and out of Greek life so we wanted to make these girls feel like they can do the same. We created a non-affiliate meet-up to let these girls meet each other and realize they are not alone. Wake Forest has so much to offer besides Greek life and you can find girls you'd call 'sisters' no matter if you're affiliated or not."
Amanda Cummins

"I'm really happy we are able to help these girls connect with one another so that they can find community, the same way a pledge class does and the way my friends have. After recruitment, I felt alone and left out, and it's nice to know you are a part of something. Going into this, I thought that if we could help one girl know she's not alone that's enough. I'm very pleased to see how the event has grown and expanded over the past few years.

Maddie Porter

"I decided to talk to administration about the problems I, and many other women like myself, experienced. I realized that there are so many women who were all going through the same thing and how helpful it is to make connections and form relationships with those people."

Kaley Vontz

"When I first withdrew, it seemed like the end of the world. I wished I had a group of girls who showed me that social life existed past Greek life. Now, I have an amazing group of friends all throughout campus and an amazing experience at Wake Forest, and I want everyone to have that, no matter if they are affiliated or not."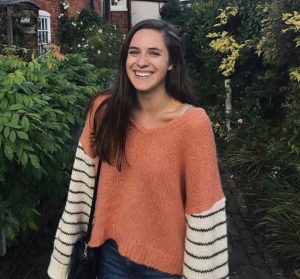 Bridget Ring

"This event means a lot to me because I found my best friends after withdrawing from recruitment and I think it's really important that we facilitate a space where other girls are able to have close relationships fostered as well."