Sorority Focuses On Multicultural Awareness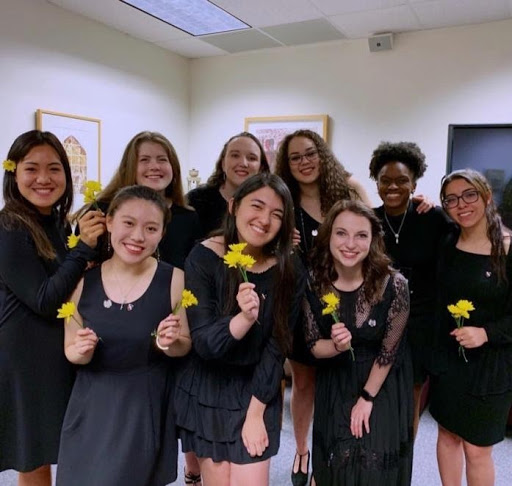 As the only nationally recognized multicultural sorority on campus, Delta Xi Phi (DXP) is celebrating its 10th year with its largest group of new sisters, or "crossing line," in its history. Adding to the 11 active members, 15 women are currently undergoing the process to join the organization. 
DXP orients itself around five pillars: sisterhood, the advancement of women through higher education, community service, friendship and increasing multicultural awareness. Part of what distinguishes DXP as a sorority is the combination of its smaller size and supportive atmosphere, which emphasizes the celebration of individual identity over an essentializing group identity. 
Junior Madeline Barnes, the president of Wake Forest's chapter of the DXP, joined the sorority during her sophomore spring. Barnes explained that she did not necessarily subscribe to the traditional, more dominant Greek culture on campus. 
"I wanted to find a group of girls that I felt I could be my authentic self with and express my values and my beliefs and who I was [as] an individual," Barnes said. "I felt that safety and that inclusivity when I was with DXP sisters." 
The process of joining the sorority, called "crossing," is a six-week process that involves learning about the history and values of Delta Xi Phi, facilitating connections between all members and the completion of 15 service hours. 
Senior Kamryn King, the associate member educator for the chapter, spoke on the learning curve experienced by new members.
"Being a woman at a university can be difficult and challenging in its own way, especially being multicultural women," King said. "DXP has been a big learning process for me."
 To support an educational goal, DXP hosts group study hours and attends career-building events as a chapter, such as resume building with the Office of Personal & Career Development (OPCD). This emphasis creates a network of support among members in navigating the university landscape and pursuing their dreams, which is especially important for sisters who are first-generation college students. 
The sorority's largest annual event, Big Tent, takes place in the fall semester in the form of an art gallery created to break down stereotypes and highlight different identities through performances and paintings created by members and other groups on campus. 
"[We] try to partner with organizations that share similar values, such as the Women's Center, or events like LatinX month and Wellbeing Wednesday," Barnes said. 
DXP's members represent a wide variety of majors, regions, countries of origin, socioeconomic backgrounds and extracurricular involvements. Such a blend manifests itself in a unique form of connection, according to sophomore Chloe Baker, the vice president of the chapter.
 "There's not a lot of like-mindedness besides our morals and our character," Baker said. "It's a group where it's hard for the conversation to stop because there are so many things to learn about each other. The focus on multiculturalism really opens that to be the forefront of our conversation." 
Being a smaller organization comes with advantages, as well as challenges. King, whose "crossing line" was composed of three sisters, has been able to witness an exponential change in the size and the involvement of DXP. She commented positively on the chapter's growth, reflecting on the addition of ten new members last spring.
"It was the proudest I'd ever been," King said. 
While maintaining an intimate community, more sisters translates to greater probability of accomplishing more, with fewer burdens on individual members. 
In terms of representation, DXP falls within the National Pan-Hellenic Council (NPHC), along with four historically black fraternities and sororities. If other multicultural sororities or fraternities, such as groups designated for Asian or Hispanic students, were to be introduced to campus, they would meet under the National Multicultural Greek Council. 
All five of the organizations categorized under the NPHC meet with representatives from the Interfraternity Council (IFC) and the Panhellenic Council (PC), as well as with directors from various departments such as the Office of Student Involvement, the Intercultural Center, the Women's Center and with Fraternity and Sorority Life. These meetings are crucial in discussing issues within the NPHC, as well as the IFC and PC, and in allowing representatives to advocate for different groups' interests. 
While King acknowledges that DXP doesn't "really fit in anywhere at the moment," the members look forward to claiming a physical space of their own on campus — a sentiment shared by many smaller organizations. 
"All we want is a closet," Baker joked.
Right now, the sisters collectively look forward to the possibility of storing decorations for future events, as they consider expansion and work towards greater visibility on campus.