Kaitlin Derry: Finance
Kaitlin Derry, who grew up in Fair Oaks, California, was sure of just one thing when she arrived at Wake Forest; she wanted to run. As a member of Wake Forest's highly decorated Track and Field program, Derry has excelled inside and outside the classroom. As she progressed through her academic and athletic career, she became interested in the School of Business's finance department.
"What really has drawn me to Finance is that it's all logistical and analytical math. I like to solve problems and then see their application in the real world," Derry said. "Prior to Wake [Forest] I had never taken any class like this before, so it seems that every time I go to class, I learn something new. I think that's one of the best parts."
In particular, she thoroughly enjoyed her Private Equity class co-taught by professors Peter Brockway and Bill Marcum. Brockway, who runs his own private equity firm, kept the class interesting and dynamic while emphasizing the course load's real-world parallels.
"We went over the deal-making process in private equity and current events such as WeWork's [a commercial real estate company] financial evaluation. I didn't really know that much about private equity beforehand, so it was really eye-opening and helped me find what I was interested in," Derry said.  
Marcum noted that Derry's academic excellence is even more impressive considering her extensive involvement in Track and Field.
"As an athlete, Kaitlin exemplifies an amazing combination of hard work, determination and discipline," Marcum said. "She is a person to whom the Latin proverb 'still waters run deep' definitely applies.  Although quiet and unassuming, Kaitlin is extremely capable with a sharp mind and quick wit."
         Professor Cynthia Tessien echoed Marcum's high praise and account.
         "Kaitlin is quietly excellent. She doesn't call attention to herself inside or outside of class. She does her work and aces her assignments. She goes quietly about her business, and gets it done," Tessien said.
         While her last semester was cut short, Derry will be forever appreciative of the friendships and experiences she had at Wake Forest. In particular, her passion for the Demon Deacons spilled over in the stands of Spry Stadium.
         "I think my favorite memory is going to soccer games at Spry [Stadium]. All of the soccer games are super hype and I love standing on the hill, cheering (and sometimes heckling) with my friends," Derry said. "There's nothing more exciting than when we win, and all of the players jump up on the wall."
         And win, they did. In Derry's four years at Wake Forest, the Men's Soccer Team was an outstanding 52-7 in home contests. Derry notes that this sense of community — across athletic and academic bounds — is what makes Wake Forest so special.
         "Really put yourself out there freshman year. It's not easy but try to meet as many people as possible," Derry said. "The people are really what make this place so great. The classes are engaging don't get me wrong, but you can take great classes at a lot of places. My favorite part has been meeting people from all over the place, and I think that's something unique about Wake Forest."
Next year, Derry will be an Investment Analyst at Financial Technology Partners in New York, an investment bank specializing in the financial technology sector. While graduating and leaving behind so many great people will be tough, Derry knows that her Wake Forest experiences, and alumni connections will serve her well down the line.  
"I've really loved my time at Wake [Forest] and I'm sad to leave, especially because I didn't get to say goodbye to everyone after spring break," Derry said. "But I'm going to New York to work next year, and a lot of my friends from Wake [Forest] are doing the same, so it'll be nice to still have that support system. I'll miss all the people from Wake Forest, but it'll be easy to stay in contact so in a way it's okay."
About the Contributor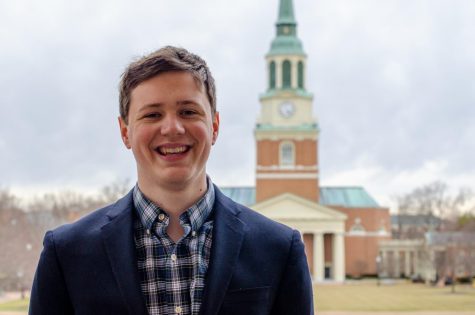 Charlie Benedict, Business Manager
Charlie is a sophomore from Atlanta, GA majoring in Accountancy. Outside of school, he likes playing and watching most sports, soft blankets, and poptarts.