Mojito Latin Soul Food opens restaurant
Bringing delicious Latin flavors to Winston-Salem, Mojito Latin Soul Food expands their food truck into a brand new restaurant featuring a menu of well-priced and delicious items
Mojito Latin Soul Food, located at 723 N. Trade Street, brings new and authentic Latin flavors to Winston-Salem, adding to the increasingly diverse mix of culinary offerings downtown.
The restaurant is an expansion of the food truck by the similar name Mojito Mobile Kitchen that Michelle and Michael Millan have operated since 2017. According to Michelle Millan, Mojito Latin Soul Food is their food truck "on steroids."
While Michelle Millan was born and raised in Miami, her husband is Cuban and is a first-generation American. The couple knew they wanted to open a Latin restaurant, though not in Miami, which they compared to opening another barbecue joint in the South. But when they moved to Winston-Salem 12 years ago, they weren't quite ready to open one here either.
"Five years ago, downtown was not ready for a place like this," Michelle Millan said. "But Winston has become more of a multicultural place."
In 2018, the Millans went into business with Mary Haglund, the owner of Mary's Gourmet Diner, where Michael Millan worked as a chef. When the coronavirus pandemic hit, Haglund, who was already considering retirement, decided that her made-to-order brunch dishes were not conducive to take-out or other COVID-19 measures, and decided to close after 20 years.
Many were left to wonder what could possibly replace this legendary Winston- Salem establishment, but soon enough, the Millans bought Haglund out of the partnership and opened Mojito Latin Soul Food. While the layout and interior design of the restaurant have not changed much, Latin-style art and murals by local artists have helped to shift the ambiance.
While Mary's became known as one of many popular brunch spots downtown before its closing, Mojito Latin Soul Food brings something completely new to the Winston-Salem food scene. The restaurant has been lauded as a success, not only because of the flavorful food it serves, but because of its COVID-friendly layout. It has a large outdoor patio, which can seat approximately 50 people while maintaining social distancing.
"People are telling us that they haven't been out to eat at all since the pandemic started, but that this is the first place they are coming to," Michelle Millan said. She also attributes some of the restaurant's success to the business it has garnered from students at local universities, including Wake Forest.
Between the stellar service and signature items from the Mojito Mobile Kitchen menu, customers have not been disappointed. According to senior Courtney Whiting, a waitress at local Southern restaurant Mama Zoe's, Mojito is sure to become a new favorite among Wake Forest students.
"I've eaten their food twice and I know it's going to become a staple in my rotation of restaurants," she said. Whiting, who ordered a Mojito Bowl, said that "it had a lot of favor and seems authentic, especially for being in North Carolina." As a waitress herself, she said she could tell the restaurant took pride in its service and said her waiter was sweet and considerate.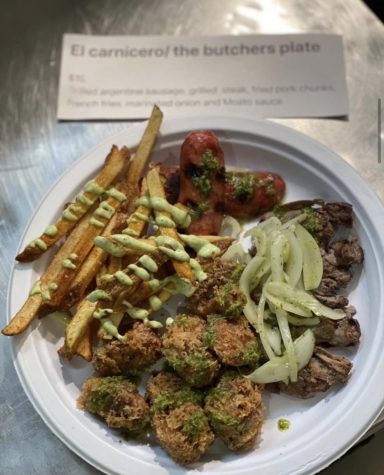 Highlights from the menu include the Mojito Tacos, served on house-made tortillas with a choice of braised pork, crispy pork belly or chicken. The Authentic Cuban Sandwich, a best-seller from the Millans' food truck that combines Cuban bread, ham, slow-cooked pork swiss cheese, yellow mustard and pickles, is featured prominently on the menu as well. Mojito also brings in notes from other cuisines, namely Mexican and Spanish. In addition to their Cuban specialities, the menu boasts items like croquetas, street corn, empanadas, tamales and ceviche. Their Fried Chicken Sandwich is a Latin twist on a Southern classic, a nod to the region the Millans have called home for more than a decade. Many dishes are served with the Millans' famous Mojito sauce, a creamy green sauce that packs flavor.
Diners would be remiss, however, not to indulge in some of the restaurant's signature side dishes. The Yucca fries, served with Mojito aioli and chipotle lime ketchup are a must-have, as are the sweet plantains, served with a cilantro lime cream sauce.
Not to mention, the menu is extremely well priced, with sandwiches, burgers and tacos pricing at around $10 apiece and sides coming in at less than $5. For customers who miraculously find themselves wanting more after this satiating meal, Mojito offers five dessert items, including churro bites, rice pudding and flan, all of which are $5. Although the restaurant does not yet have its liquor license, customers can choose between a variety of wines from the Spanish region, as well as beers.
The restaurant also offers take-out and curbside pick-up, critical for those who do not yet feel comfortable dining at restaurants. Whiting, who has both ordered take-out and dined at the restaurant, said the food lends itself well to either option. Better yet, for hungry customers at the neighboring brewery Fiddlin' Fish, Mojito Latin Soul Food delivers right to your table at the brewing company. All you have to do is scan a QR code on your table to place an order.
While the Mojito food truck will continue to operate long term, the Millans have dedicated most of their energy to ensuring the success of Mojito Latin Soul Food. For Winston-Salem residents and students who crave a memorable meal that won't break the bank, Mojito Latin Soul Food is your new go-to. Though opening a restaurant in the middle of a pandemic undoubtedly comes with challenges, it seems as though the Millans' risk has paid off.