Deacon Profile: Nathan Hatch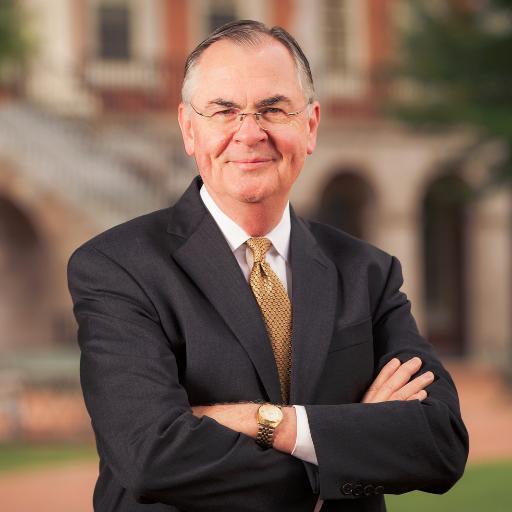 Dr. Nathan Hatch is the 13th President of Wake Forest and joined the university in July 2005 after nine years as provost of Notre Dame University in South Bend, Ind. As president, Hatch has overseen the construction of Wake Downtown, Farrell Hall and new residence halls, among other projects. Hatch has also helped clarify the university's overall strategic plan and was president in 2013, the year Wake Forest received its highest ranking in history, 23rd nationally. He received his Ph.D. at Washington University in St. Louis.
You have been at Wake Forest for 15 years and you're calling it the end after this semester. Which of your additions to the Wake Forest legacy are you most proud of, looking back?
I think there are several things. I think I am most proud of defining what Wake Forest is, its core mission, and being able to spread that word and then build on that. So a place of excellence, a place of personal attention and community, a place of service, a place where we take character seriously, educating the whole person in both intellect and character. It seems to me that we have unpacked that in a lot of ways.
We have expanded: expanded the student body, expanded the availability of a Wake Forest education and we have expanded campus through construction. Not only with Farrell Hall and Reynolds Gym, a new admissions building and several new residence halls and dining halls, but also just trying to make Wake Forest stronger on its core mission. I think what we did in the business school is significant. We had two small, underfunded schools, undergraduate and graduate — completely separate. There were separate faculties and we put those together which has made them both stronger. Now, we house them in the newly built Farrell Hall.
Our medical school has made great advances, as well. The most recent combination with Atrium Health gives it a long-term financial future. What we have done in the Office of Personal and Career Development sets a national standard under Andy Chan's leadership. That was something we took on. We recruited Andy from Stanford and he's built the model program to help young people discern not only "how do you get a good job" but "what kind of job should you have," "what are your gifts" and "what are your commitments." The whole Leadership and Character program under Michael Lamb is fantastic, as well. It's one of the most outstanding programs in the country.
You mention these programs that help new alumni. Do you feel graduates are bringing the Pro Humanitate spirit of Wake Forest into their new communities?
After 4 years on this campus, I hope so. We are a living-learning community, which COVID-19 hurts. I think we are very faithful to our history. I have talked in the past about being radically traditional and radically innovative. There are certain core things about how we teach, how we build communities that are the same, but you always have to be thinking of new ways of how you can be innovative. Our new programs in engineering, new programs in biomedical science, Wake Washington, Wake West, and Wake Forest's program in Copenhagen expand opportunities for our students.
How much say do you have in picking your successor, or is that fully up to the board of trustees?
That's up to the trustees, so I have no say. That's just the way things need to be, and this is a broad committee. It includes a student, it includes faculty and they need to do that. They obviously asked my opinion and I've had briefings on where I thought Wake Forest was and what it needed, but once they began the search and started looking at people, that's not my responsibility.
What is the actual transition process from you to the next president? How much time are you devoting to making sure everything will go smoothly?
We work very hard. Our cabinet had a retreat last week and we did a lot of talking about how to best do this transition and to keep everything stable. I think this is the strongest leadership team that Wake Forest has ever had. This is a collegial team and I think the strains and stress of COVID-19 have made us even stronger. We have had to act very collaboratively, we have had to share resources, we have teams that are in the university that could have never been imagined before, many people are doing different things. So in that sense, the stresses of COVID-19 make the university stronger moving forward
You have had many positive impacts on Wake Forest, but there are some projects that you probably had planned out that didn't come to fruition. Is there anything that comes to mind?
Yeah, we had teed up, and we had hoped to begin by now what's called the College Academic Commons, a major new academic building. It'd be right there on Davis Field across from the library. It'd be home for the humanities, home for the Center of Leadership and Character. So when COVID-19 came, that just stopped that building in its tracks. Hopefully, that can continue, but that's the reality of what we face.
What are you going to miss most about being here?
It's the people. We are staying in the community so there are many deep friendships that we can sustain but it will not be the same kind of regular day-to-day contact with a lot of people. That's why I've loved being in higher education and its relation to students, faculty, administrators, trustees, alumni. It will still be some of that but it won't be my day-to-day 16 hours a day, and that'll be good (laughs).
Any advice on how to finish this semester out strong?
I think the danger for all of us is to let our guard down a bit. We are all tired of COVID-19, but it's as dangerous or more dangerous than ever. Because of new strains and the cold weather, we have to buy into what it means to be safe, and that's hard. We love to be together. We have to, until the vaccine becomes really prevalent, live a more disciplined life. But we did it successfully the first term so I'm confident that we can do it again. We have to keep reminding each other.
Editorial Note: This interview was conducted before the 14th president was announced and was edited for clarity and brevity.