Deacon Profile: Charles Iacovou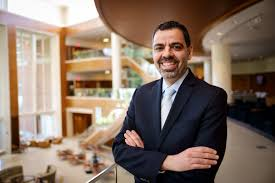 Dr. Charles Iacovou was recently named the Vice Provost of Wake Forest's Charlotte programs and the Dean of the School of Professional Studies. He previously served as the Dean of the Business School. As the Professional School's inaugural dean, Iacovou has been integral in Wake Forest's expansion. He has been at Wake Forest since 2001 and received his doctorate from the University of British Columbia.
The first thing I want to talk about is your path to Wake Forest. How did you get here?
Back in 2000, the year before my wife and I arrived in Winston-Salem, two good friends reached out to me and [asked if I would be interested in joining them at Wake Forest] to help establish a faculty group that focused on information technology. That was my background. Those two friends, one of them was my undergraduate mentor, Professor Ron Thompson, and the other was a professor who hired me at Georgetown and had since moved to Wake Forest. Both of them were here and they were looking for a third colleague to join them as they were forming the new faculty group on information technology, so they invited me to join them. So, as you can tell, friendships, connections and relationships matter, and this is a good example of where I was fortunate enough to have friends and mentors to consider me for this opportunity.
You've spent your last seven years as the Dean of the Business School. What is the accomplishment that you are most proud of during your time there?
First off, let me just say that while the role of the dean is to act as a figurehead of the school, the real work of the dean is to work with the team of faculty and staff and help shape the path, the trajectory and the future of the school. So, while there is great work that happened during those years, I certainly don't deserve much of the credit for it. We always had a strong business school at Wake Forest over the years. I felt that in the past seven years, we furthered the academic excellence that we had at the school by evolving our programs to reflect the changes in the rapidly changing business world.
You are transitioning to a new school, the School of Professional Studies. How has that transition been for you?
In some ways my prior work at the business school and in the broader university [has helped] because my administrative leadership roles have given me the opportunity to work on initiatives that truly were university-wide. Beyond the walls of Farrell Hall, if you will. So those experiences really helped me get a better appreciation of the strengths that we have as a university, not just as a business school. Those experiences and those relationships will help me shape the future of the School of Professional Studies because we want to build it as an integrative unit that represents the best of Wake Forest. And that's true across all of our schools. Having said that, the business school has had a presence in Charlotte for 20 years. We have had direct experience in delivering progress to the Charlotte community. We offer two degree programs there and several non-degree programs. That will be very helpful as we launch our new school.
What is the School of Professional Studies? Who is it targeted towards?
Basically, schools of professional studies focus on adult learners and working professionals typically. As they progress through their careers or pivot careers, they may need additional education experiences and credentials that they had not secured. It could be certificates, single courses, bootcamps or whole degrees that enable them to progress as they advance in their professions. We are one of a few top universities that didn't have a school of professional studies until now. In fact, by my count we were one of four schools in the top 30 that didn't have a program or a school like the one that we are about to launch. These schools focus on adult learners so they offer short, flexible, innovative and affordable programs to those learners to help them continue to progress. The beauty of focusing our school in Charlotte is that we can create offerings that really speak to the specific learning needs of that community.
In addition to receiving the title of dean, you have been named as Vice Provost of the Charlotte programs. What do you hope the future is going to look like for the school as a whole?
That's a great question. The School of Professional Studies is a piece of a much larger puzzle that speaks to the expanded vision about the presence of Wake Forest in the [Charlotte] community. What we hope to achieve in the next five or ten years really has to do with the needs of the community. Charlotte is a thriving city, growing every day with an unbelievable business and professional base of amazing organizations and thought leaders. It also, like many other cities, has [challenges]. If you look at statistics of social upward mobility, you quickly will discover that there are groups in Charlotte that are left behind and don't get access to a great education like the one that we can offer, which can help them move forward in their careers. Marginalized communities are left behind despite the amazing growth and potential of Charlotte. It is our hope that through the establishment of the medical school, the establishment of the School of Professional Studies and the addition of new programs by other academic units, we will speak to that need and help lift up the community across the whole Charlotte area and beyond.
Is there anything else you would like to add?
One thing I want to emphasize is that [our] presence in Charlotte is meant to represent the whole university. We hope that our expansion there will provide opportunities for students like you to be able to benefit from the richness of that community and expand educational opportunities while bringing the best of Winston-Salem, our great faculty and our great staff expertise into the Charlotte community. We view this Charlotte expansion as an integrative part of the whole university umbrella we've been working on to make sure that Wake Forest is well-positioned for a brighter future.
Editorial Note: This interview has been edited for clarity and brevity.