Deacon Profile: Mark Sucoloski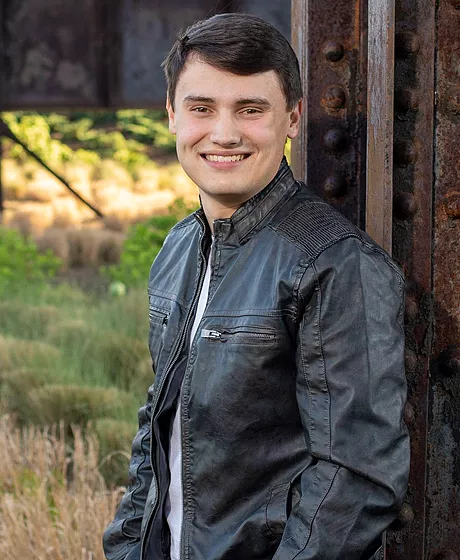 Mark Sucoloski (stage name Mark Taylor) is a senior communication major from Baltimore, Maryland with minors in sociology and entrepreneurship & social enterprise. He is the music director for Chi Rho, an all-male a capella group on campus, and a member of the Alpha Phi Omega service fraternity. Sucoloski is also a country musician who just released his Spotify-charting debut album, "ONE". Between classes, Chi Rho and his dreams of becoming a household name in music, Mark has a busy schedule. True to form, the night before we spoke, he drove to Lexington, North Carolina and back to perform at a local bar.
You've been around a pretty musical family your whole life, but how did that translate to this love for performing and wanting to get out on stage?
My dad really encouraged me to pursue music from a young age, so I had a guitar in my hand since I was a year-and-a-half or two years old. At the time, I was just strumming along, playing nonsense. Then, by the time I was 13, I was playing professional shows. I got up on stage with my dad for the first time when I was five or six years old, just playing rhythm guitar with his band.
I started on my own when I was super young — 13 years old — and he would help me carry all of this stuff into the venue. I would lie about my age and play the earlier set at the bar, and then people started to kind of figure me out. Then I became a little bit older, and I would get to play the later set at the bar. Then all of a sudden it turned into 1,000 shows from the time I was 13 to now, when I'm 21. It was all thanks to that encouragement from a young age to keep going forward and keep trying — that positivity was invaluable.
I listened to your debut album, "ONE", last night. It could be just because I'm close-minded in the country genre but it didn't really seem to have that "traditional country" sound. What influences your music?
My goal, especially with that record, was to take a lot of different influences and bring them into the same album. In addition to country music, I grew up listening to a ton of old Eagles records and Led Zeppelin. I was also in an old rock cover band in high school. My music style is a mix of everything that I like to listen to, which is why I think people are more drawn to it. It provides that not-super-country, not-super-rock yet not-super-pop blend of genres which I really enjoy.
How did that record come about?
I conceived it during quarantine. I just got extremely sick and tired of listening to my family complain about what we were doing all day, every day. One day I said, 'I need to get away from you people for a couple of days, I'm going to go write a record.' And those couple days turned into a couple of months and then about a year. Some of the songs are four or five years old and some of them are far more recent.
It kind of just came about from having a ton of downtime during COVID-19 and wanting to do something productive to show folks in Nashville — I'm moving down there full time as soon as I graduate to do country music — that I'm ready to roll. In my mind, the way to show that was through putting out a record, so that's what we did. It took about a year-and-a-half to fully produce and record and write.
You've been building up quite a following in the country music world. What does that mean for you and your career?
It means that, hopefully, I'll be able to go down to Nashville in seven months when I graduate and be able to work or tour, play, record and meet a lot of these folks, too. A lot of the folks that I'm working with down there have some pretty cool resumés, and I would like to get one myself. So, it's just awesome to see that, with the support of some of my friends and colleagues down in Nashville. It means that all the hard work and money that I've been putting into this is finally starting to pay off, which I love seeing.
So, you are a Nashville recording artist but also an independent artist. What do those two labels mean to you, since they are so different?
We are in the process of chatting with some folks to see what the future is going to hold for those things. I'm definitely going to be in Nashville. I don't know how long I'm going to be independent for, but we are in conversations right now trying to figure things out going forward.
What it means to me is I'm not necessarily tied down right now to something; — I'm free to put out what I want and do what I want. That is a really cool aspect which not a lot of folks in my position get to experience. So until I'm not independent anymore, it will be me calling the shots and running the show. I have a phenomenal team right now that has already helped me along this journey and propelled me into the music industry. It's a really unique and cool opportunity that a lot of college students don't get to have.
What is the most memorable musical experience you have had in the last few years?
A few years ago, I was playing bass for some buddies of mine in a band in Baltimore, and we were playing for probably 7-8,000 people at this massive Army-Navy football game tailgate. It was really fun, and then we were on the Allman Brothers tour bus just kind of hanging out. That was my first taste of what professional music really was, and it was super cool. Then about a year ago, I got to open up for Big & Rich in Baltimore, which is a big country band, and that was super fun. Just having the opportunities to work with some really big names in the industry and just hang out in those circles and be able to play for thousands of people at the same time is really, really cool. It gave me a really awesome taste for what I want to be doing in the future.
So, what's next?
Just writing. I'm writing a ton right now. We are actively marketing the record, and that's been going really well, but we're also already on to what is next. So I've been writing a ton, both here in Winston-Salem and then down in Nashville and then back home in Baltimore. Trying to see where the next thing is going to fall is exciting, because I don't really know what's necessarily going to happen. We have a lot of conversations happening right now, which are hopefully going to be fruitful. For right now, though, I am just writing as much as I can or playing as much as I can so I can try to connect with folks down in Nashville.
Editor's Note: This interview was edited for brevity and clarity.