Deacon Profile: Mason Goodwyn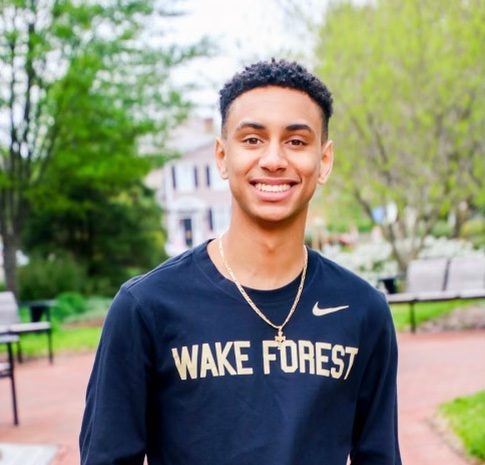 Mason Goodwyn is a freshman from Leesburg, Va. who intends to major in mathematical business. He is a member of the Reformed University Fellowship (RUF) on campus, the Leadership and Character Scholars and Student Government. After gaining popularity on the social media app Tik Tok, he decided to launch his own YouTube channel, where he shares the Wake Forest experience on the internet. He has since earned over 3,700 subscribers, and he hopes to continue growing his channel.
Tell me a little about your Tik Tok experience, and how it started your interest in becoming an influencer.
In the summer of 2019, my sister began showing me how funny people on Tik Tok were and how they were going viral. I always thought I had the potential to become an influencer one day, so I did my research on how to go viral on Tik Tok. I used all the strategies I found to gain around 15,000 followers in about 10 days. Throughout the first semester of my junior year of high school, I grew my account to around 45,000 followers. I made funny content that was relevant, and I did my research on how to keep promoting my videos to a wider audience.
So, essentially, your Tik Tok fame inspired you to start your YouTube channel. Could you tell me more about that?
Over time, I started thinking about starting a YouTube channel, because Tik Tok isn't as profitable as YouTube is in the long-term. I thought that if I wanted to do something long-term, YouTube would probably be the best medium and a better form of passive income. I saw how other college YouTubers made great videos for their schools. When I was applying to colleges, I was looking through "Day in the Life" videos. So I thought that whatever school I ended up deciding on, I would start a YouTube channel and make "Day in the Life" videos for that school.
I thought it would be a great opportunity to expose Wake Forest to a wide audience while building my own brand. Because there were no videos before, now when people look up Wake Forest, I'll actually be the face of Wake Forest online. High schoolers who are applying are going to know me before they even get to campus. I have kids that are touring now coming up to me and new people on campus noticing me every day.
Where do you find the confidence to openly share your college experience for everyone to see?
I think my confidence has definitely grown, especially after I started using Tik Tok. I wasn't really talking on Tik Tok, but I was still showing my face, trying new things and making funny content. People can still joke about me and critique me, and that gave me the confidence to move over to YouTube. If I wanted to achieve my dreams and try to be an influencer, I had to take small risks — one at a time ​​— to put myself out there and try new things. I learned that your first video is never going to be perfect.
When it came time to actually film my first video on campus, I didn't want to think about what other people thought of me. I just thought of my goal, what I wanted to achieve and where I wanted to be in 4 years. I took out my camera and just started vlogging on campus. It was a bit awkward, walking around campus with a camera, but I just had to keep going. Over time, more people started noticing the channel, and more people would come up to me during the videos. I think it's God who is giving me the confidence to keep pushing on and trying new things.
How do you come up with content for your channel?
A lot of the time, I will look at what's happening in my niche and what's working for other curators. I'll look at the top college YouTubers and their most popular videos — such as "Day in the Life" videos or other videos surrounding college topics, and I'll replicate it and add things that would be popular at Wake Forest. For other ideas, I'll brainstorm what's currently popular, what is attracting people online or I'll go around on campus asking what people would like to see in a new video. I'm planning on hopefully making content in the future with athletes, hopefully football, basketball or soccer, or I'll make videos with different people in general, maybe across colleges. I want to just keep expanding my brand as fast as possible.
What are your ultimate goals when it comes to your channel? In other words, what do you hope to get out of creating content on YouTube?
One goal is that I would like to share my Christian faith, what God has blessed me with and what God can bless others with. I want to share that he has given me this platform and that I wouldn't have this platform or be at Wake Forest without him. Other than that, I would like to have at least 100,000 subscribers on YouTube by the end of my four years, and for Instagram, I would like to be verified with at least 10,000 followers. I also truly want to make an impact on Wake Forest overall and on their online social media presence.
Clearly, you have had a lot of successes as an influencer thus far. However, what are the biggest challenges you face when creating content and trying to make it as a YouTuber?
You can't be a perfectionist, and that's one thing I had to learn. You can't always perfect things to the best of your ability or to the level of other top creators. It took everybody time and a process to get to where they are, and 1 million subscribers do not come overnight. You have to realize that you have to put in the time and effort of learning how to edit, create thumbnails, contact new people and buy camera equipment. I'm just trying to trust God and work hard every day to see how far I can take this dream of hopefully becoming an influencer.
So, what's next for your channel?
I'm definitely looking to hit 5,000 subscribers by the end of this year, which is the next small milestone, and I might get back on Tik Tok. I recently took a hiatus from Tik Tok, so I'm looking to hopefully make Tik Tok content again. I don't know what, but it might be relevant to what I was doing in the past — relatable, funny content ​​— or it might be new college content.
Editor's Note: This interview was edited for brevity and clarity.