NCA composting program expands waste-reduction initiatives
The program seeks to gauge student interest in composting on campus
The three R's: Reduce, Reuse, Recycle are commonly used when dealing with the issue of managing waste. However, while these three methods are more beneficial for the environment than throwing trash into a landfill, they still generate a significant amount of waste. In the face of increasing waste in landfills, environmentalists turn to a more efficient method of reduction: composting.
To increase students' engagement with composting, Wake Forest University's Office of Sustainability launched a pilot composting program in the fall of 2019 at the North Campus Apartment complex (NCA), offering residents the opportunity to compost their waste. The program is the first composting service offered for a student dormitory on Wake Forest's campus.
According to the Office of Sustainability's Waste Reduction & Recycling site, "composting is the biological decomposition of organic waste (e.g. food or plant matter) by bacteria, fungi, worms and other organisms under controlled conditions." 
The primary purpose of composting is to redirect organic waste from the fated destination of all garbage — the landfill. The resulting compost is often added in soil to provide nutrients for crops. Redirecting organic waste reduces the overall accumulation of trash in the environment while providing eco-friendly, practical uses for farming and agriculture. 
At Wake Forest, the Office of Sustainability has worked throughout the years to expand composting facilities on campus. In 2018, the department launched the Office Organics Collection Program to provide access to composting bins and facilities around campus. As advertised on the Office of Sustainability's website, the Pit, North Campus Dining Hall, Camino Bakery and Zick's all have composting facilities for pre-consumer food waste. North Campus Dining Hall also provides composting facilities for post-consumer food waste. 
Sophomore Aidan Norris is the Athletics Waste Reduction and Diversion Intern at the Office of Sustainability. In the fall of 2022, Norris helped organize the NCA composting program to get it started for the school year. 
According to Norris, the Office of Sustainability is continuously working to expand composting services, including at Wake Forest football games and athletic events. At the end of the process, "[most of the compost] goes to Gallin's Family Farms — that's who we partner with for composting." 
Junior Brighid Biehl is a resident at NCA and an avid user of the composting program. 
"I definitely think it's a great program because it's super easy to do," Biehl said. "In NCA, you're in charge of taking out your own trash and recycling, and they already have you separate your recycling by paper and plastic. I think it's a super easy step to compost alongside that."
Biehl explained that students can find more information about composting online, including what can or cannot be composted. In her residence, Biehl composts food waste like egg shells and scraps of fruits and vegetables, as well as biodegradable paper towels and tissues.
Biehl utilizes her own in-apartment composting bin, but Norris explained that those living in NCA can sign up for the program to receive bins for their rooms that are provided for free. Residents can use the bins to collect organic and compostable waste, which can then be disposed of in larger compost bins outside of the buildings. To get started with the program, NCA residents can submit a Google form to receive a bin and find additional information.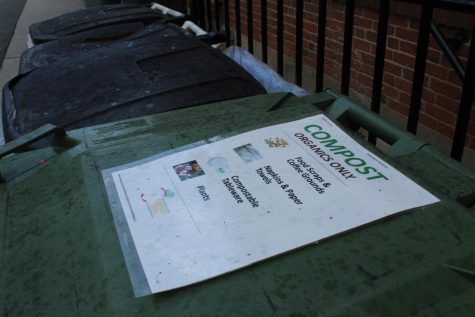 For the Office of Sustainability, the NCA composting program serves to gauge students' interest in composting.
"If we can show that there's enough student interest in composting, we can justify expanding composting to other dorms," Norris said. 
In terms of student engagement, Biehl has noticed meager participation during her experience composting. 
"Every time we go out and compost … there's almost nothing in [the bin], which is really sad because it's an easy thing to make sure you're giving back to the environment," she said. 
Biehl believes that many students on campus do not have a complete understanding or awareness of composting, which may lower student participation. When describing her experience, Biehl shared her initial hesitation to participate. 
 "At the beginning of the semester when my roommate brought up composting, I was like, 'Composting? That's too much work.' But in reality, it's super easy and simple."
Wake Forest students may have a similar outlook. Without proper education on the subject, many people might perceive the concept of composting to be complex and unattainable. This myth regarding composting's complexity may inhibit student interest and participation.
"I'm hopeful because I think that times are changing and people are becoming more and more interested in composting and being sustainable," Norris said, "But I think there needs to be more work done on creating a sustainable culture on campus."
As a university, Wake Forest has made great strides in increasing its sustainability both on and off campus. However, Norris says that more work could be done to increase student involvement on campus. 
"I think what we need alongside this program is a change in the culture of the university that promotes more sustainability and promotes more responsible waste management," Norris said.
With the combination of administrative efforts and active student participation in initiatives such as composting, Wake Forest could continue to achieve new levels of sustainability, keeping the Forest green.