Engineering lab studies responses to extreme weather
The lab, led by Dr. Lauren Lowman, examines how extreme conditions impact vegetation and water quantity
It's a cloudy day outside Wake Downtown. On the fourth floor, Wake Forest engineering professor and researcher Dr. Lauren Lowman sits surrounded by open windows and clouds.   
Lowman leads the Environmental Dynamics Lab at Wake Forest University, a lab that focuses on how extreme events and the spatial and temporal quantity of water impact vegetation. 
"What drew me to study water was, I think, initially my interest in clouds — I just love looking at the sky and seeing clouds," Lowman said. 
While getting her PhD and Master's Degree in Civil & Environmental Engineering at Duke University, Lowman gained an interest in studying how clouds are represented in climate models. 
"They are a big source of uncertainty because depending on where you have clouds and for how long and how thick they are, they can completely change the temperature of the surface of the Earth, which can change air flow and how vegetation grows," Lowman said.
From there, she realized the importance of water cycles and became interested in their interaction between the atmosphere and the Earth's surface. Studying how water cycles and land/plant surfaces interact and connect with each other led to Lowman's interest in how water quantity can impact vegetation on land. 
"I'm really interested in [understanding] how to navigate the balance of the good and the bad impacts of extreme events on our natural ecosystems," Lowman said. 
Under Lowman, the Environmental Dynamic Lab currently has two physics graduate students, a postdoctoral fellow and six undergraduate students at work. Various students from physics, engineering, environmental science, biology and math are represented in the lab. 
According to the Environmental Dynamics Lab's website, their goal is "to explain how physical water, energy and carbon exchange pathways modulate ecosystem responses under different hydroclimatic scenarios (e.g., hurricanes, droughts, fires, etc.)."
According to Lowman, the lab is currently working on five projects: drought and changes in vegetation, understanding how changes in microclimate will influence epiphyte abundance and water cycling in Costa Rica, climate change in tropical forests, vegetation responses to fire and flooding in urban environments. 
With drought and vegetation, the Environmental Dynamics Lab is interested to see how plants use water during a drought — a phenomenon they're tracking by observing various plants' water intake.
"We're interested in the role that plants play in how they could make drought worse or mitigate it and make it not so bad. We're interested in seeing how plants have different strategies during droughts and how that could actually worsen a drought," Lowman said. 
Regarding vegetation's response to fire, the lab explores how vegetation regrows after fire events and if these events can help facilitate plant growth. The lab collaborates with local land owners and managers around North Carolina to collect data through participating in controlled burns, measuring meteorological conditions, conducting field experiments and testing sensors on fire temperature. After a controlled burn, the team collects data on the density of vegetation after a fire to understand the regrowth of each plant.
"It's important to study the relationship between plants and fire because if you have a really destructive fire that could completely eliminate some of the potential you have to draw down [carbon dioxide] from the atmosphere," Lowman said. "[This is because] old growth forests are some of the most effective ways to get rid of [carbon dioxide] from the atmosphere."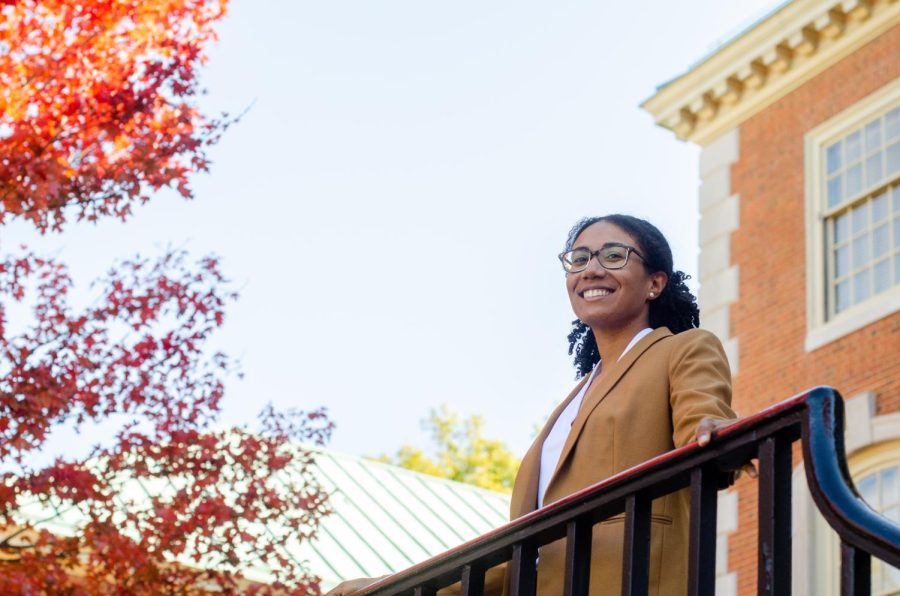 Lowman continued: "Low intensity burns are good — they help kill off bad understory but with the really intense ones [fires] that do damage to the crown, leaves and the branches [of a tree], you're not gonna get life back into those trees. When you have an area that's been deforested to make wind for homes or for agriculture, that potential to draw down [carbon dioxide] is not as strong. Then if you go back and plant trees, just [by] eliminating the old growth trees and planting the new ones, the new ones aren't as effective at drawing [carbon dioxide] together." 
When it comes to climate change, the lab curators are interested in how different plants are both susceptible and tolerant to the impacts of climate change. Additionally, they are interested in studying how flooding can impact urban environments, specifically in Winston-Salem. 
Another one of the Environmental Dynamics Lab's main focuses is observing and collecting data on Montane Cloud Forests, specifically in Costa Rica. According to Lowman, Montane Cloud Forests are mountain forests that are 60% immersed in clouds. The group observes how plants, specifically epiphytes, respond to the environment in cloud forests. Epiphytes do not root into the ground or rely on nutrients from trees — but store water instead. Lowman and her team are investigating if these epiphytes are being lost due to climate change and how their loss will influence water cycles, water retention and the moisture of forest ecosystems.
The lab works with colleges across the country to install and collect data on epiphytes and the water quantities within these cloud forests. The study conducts two trips a year — Lowman and a student will be making a trip in early March to help conduct the data and field experiments.
Paul David Carchipulla Morales, a physics graduate student at Wake Forest, joined the lab in spring 2022. From Quito, Ecuador, and born into a family of civil engineers, Carchipulla Morales said he had an early interest and passion in studying environmental measures.
"So their [civil engineers] jobs are actually exploding, exploiting the environment and reshaping it," he said. "I just found it nice to study [different ecosystem environments] before they were affected by human activities."
In the lab, Carchipulla Morales helps with three different areas of research: observing climate and vegetation density in California (drought and vegetation), studying epiphytes in Costa Rica and building fog gauges.
Carchipulla Morales finds the diversity and mentorship within the lab the most meaningful, as he specifically mentors two undergraduate students. 
"Having these mentorship experiences keeps science communicating among people, so it doesn't keep for yourself," he said. "It's passed on to someone else. Even if you talk to that person about a single thing, that single thing [fact or information] will pass [on] to another person."
Carchipulla Morales is working alongside sophomore Kirstin Murr, whose motivation behind joining the lab stemmed from a desire to experience research.
"I've never done research before," Murr said. "I am an environmental science major and an engineering minor. And I thought this would be a good way to merge the two. I thought it'd be kind of an introduction to environmental engineering."
Murr joined the lab this semester and is working to understand and build 3D models of fog gauges to test and measure water quantities in fog. Using a humidifier alongside a mist chamber, Murr is testing and hoping to create a 3D-printed fog gauge that measures the amount of condensation from fog. Carchipulla Morales said that understanding the water from fog relates to their study on epiphytes and the cloud forests in Costa Rica.
"It's fog that we're interested in, but measuring fog is really challenging because you can't measure it directly like rain….For fog, you have this challenge that it comes horizontally," Carchipulla Morales said. "The material that you use to collect [data on fog] does not allow the water to adhere to the surface. So wherever you measure, it is not representative of the actual power in the region."
This is just one aspect of the varied and dedicated work of the Environmental Dynamics Lab. Within the research, Lowman values people and mentoring relationships like that between Murr and Carchipulla Morales. From faculty to community members to students and property owners, Lowman said she's inspired by learning the stories from those with whom she interacts. 
"In Costa Rica, what I really love about that project is that it feels like the community that we work in is really engaged from helping us [with everything from doing] the research and collecting the data, to building sensors with us to helping us communicate our science to other people in the community," Lowman said. "I like the people aspect of [research]…I really enjoy communicating to everyone why what we're doing is important, and why they should care about the vegetation around them."
For more information on the lab, visit its website.