Men's soccer releases 2016 conference schedule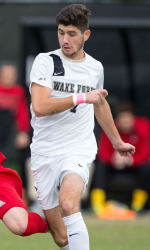 The Wake Forest Demon Deacons men's soccer team will look to build off one of the best seasons in school history this coming fall.
After winning the ACC last season and earning the top overall seed in the NCAA tournament the Deacs lost two of their best players to the MLS SuperDraft in Michael Gamble and Jack Harrison.
It will be interesting to see how these losses affect the team going forward.
On Wednesday, the ACC released the Deacs' ACC schedule for the fall, and it will once again be an extremely difficult road for the Demon Deacons.
The ACC is one of, if not the toughest conferences in the country when it comes to soccer and repeating as ACC champions will not be easy for this group of Demon Deacons.
While the Deacs do avoid playing in-state rival North Carolina during the regular season, they will have extremely tough matches against Syracuse, Notre  Dame and Boston College — teams that all finished ranked in the top fifteen at the end of last season.
The Deacs will certainly face a difficult schedule in the fall, and despite the losses of Gamble and Harrison the team is still extremely talented and will certianly be up for the task.
The Deacs have the best home field advantage in the country, and they will certainly need all the help they can get this season.