Biology class takes spring break trip to Belize's coral reefs
The four-credit-hour course is taught by Dr. Miles Silman
Nose-to-nose with a reef shark, Wake Forest students got to experience biology textbook material in the wild during a spring break trip to Belize with their biology class. 
BIO 311: Ecology and Conservation of Coral Reefs, is a four-hour spring course taught by Dr. Miles Silman, a Wake Forest biology professor, ecologist and avid researcher of Amazonian Andean trees and coral ecology in Belize. 
"This is a capstone class, so it pulls together all the threads you have learned — everything from molecular biology to earth science," Silman said. 
The course focuses on biotic (living) as well as abiotic (nonliving) components of the coral reef ecosystem. Throughout the course, students learned how these productive and diverse ecosystems are at risk from the various anthropogenic (human impact on the environment) effects. During the semester, students read and discussed research papers weekly leading up to the lab component: a one-week trip to Lighthouse Reef in Belize.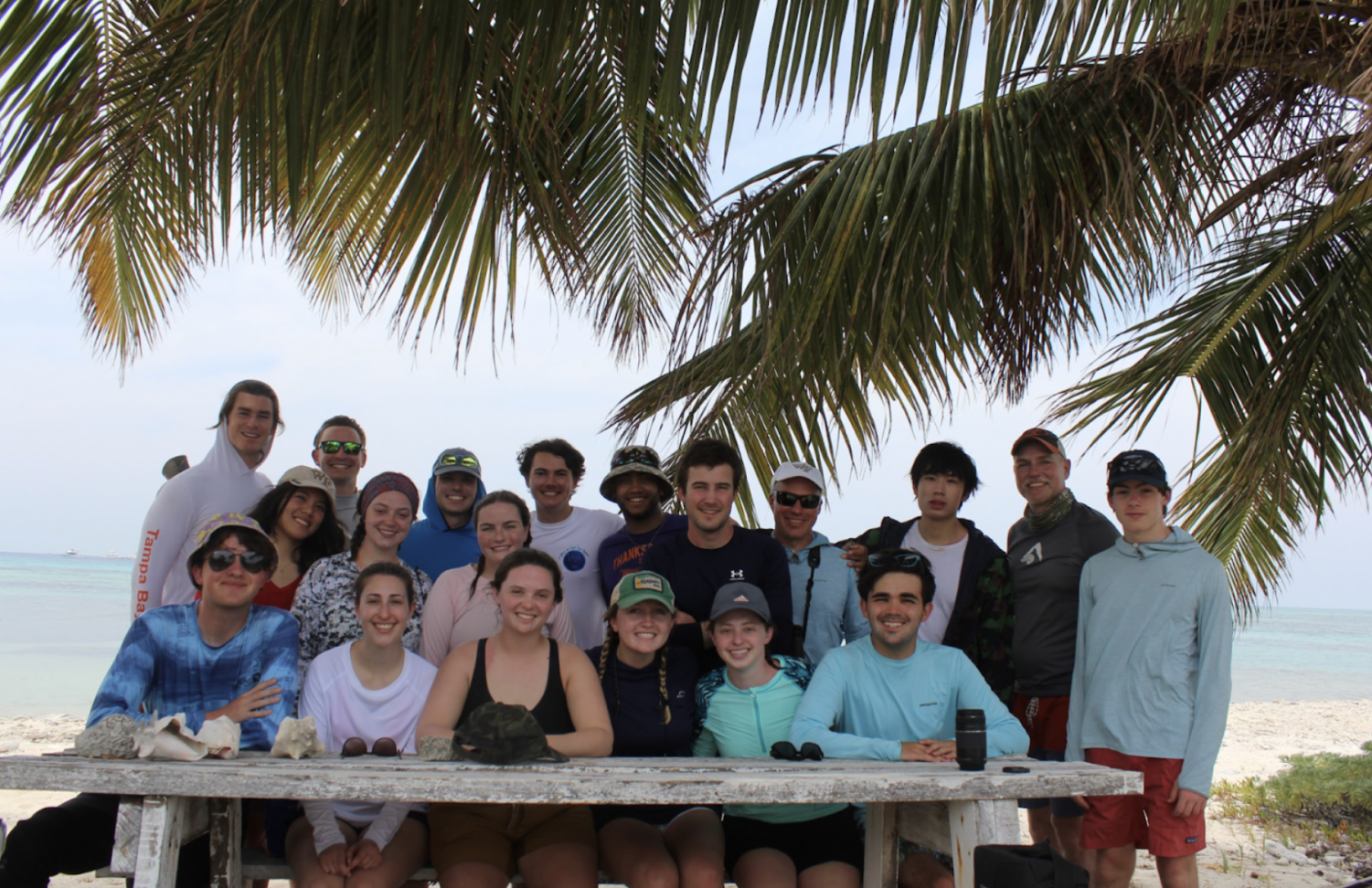 In preparation, students were encouraged to become scuba certified — a task that can be completed at Wake Forest's campus pool. In the classroom, students memorize all the different fish, sponge, and coral species living at Lighthouse Reef. The week before leaving, they had a final mock-dive test in the pool where they identified various floating images of fish. 
Before heading out on their daily dives, students needed flippers, shorties, a snorkel, a mask, a regulator, and fish survey materials such as a pencil and clipboard. Silman describes how students were in the water somewhere between 14-16 hours a day. 
Senior Meredith Power described getting up with the sun and, if there was downtime, getting to kayak or play cards with peers. One of her particularly fond memories was from their first day when a pod of dolphins swam near their boat.
"We boated to where the dolphins were, jumped off the boat, and began to swim with the wild dolphins….and after I was in the middle of a swarm of sardines," Power said.
Senior Mac Grosscup, another trip attendee, detailed the group's various activities and surveying during their time at Lighthouse Reef.   
"We studied the dynamics of coral reef systems. This includes understanding nutrient cycling, trophic systems and animal interactions," he said. "We did things such as plankton tows in the day versus the night to see how the composition of zooplankton and phytoplankton changes.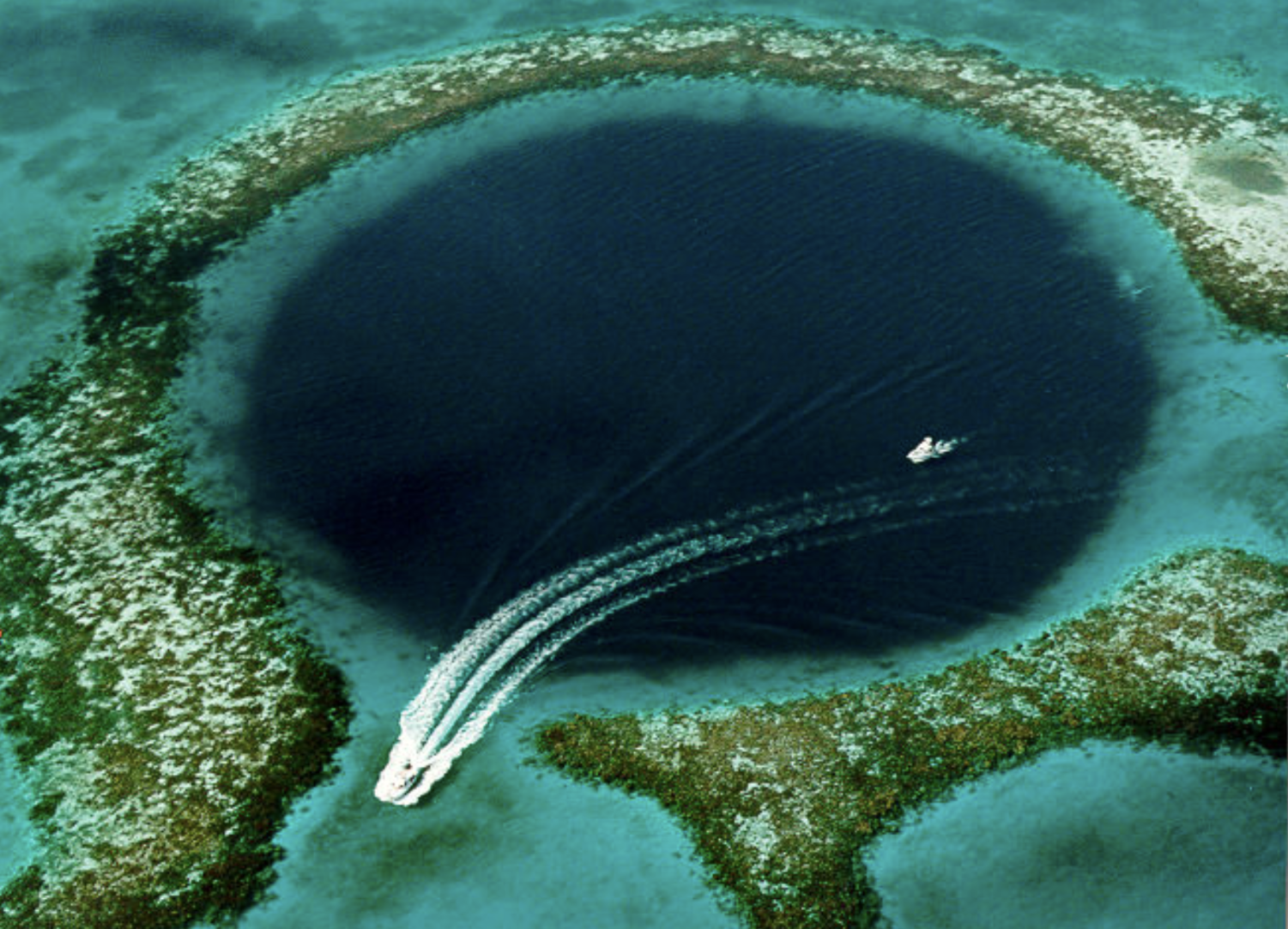 For one of the dives, students got to go to the famous Great Blue Hole, an enormous sinkhole off the coast of Belize.
"The amount of life and biodiversity concentrated in one place was amazing," Power recounted. 
However, this biodiversity isn't all picture-perfect. Humans have been impacting coral reefs for ages, and students observed these effects firsthand underwater. 
"You can see them really strongly, and getting back you can see large-scale anthropogenic effects, such as the effects of bleaching and temperature change — these diseases that spread all throughout the Caribbean and from one year to the next, you watch stuff disappear," Silman described. 
According to the World Wildlife Fund, coral gets this "bleached" anemic-looking color after undergoing stress and having expelled their symbiotic algae. This stress can be caused by a rise in ocean temperature. As climate change leads to a warmer ocean, coral bleaching continues to rise. 
The National Oceanic and Atmospheric Administration identifies coral reefs as an environmental necessity, as they protect our shorelines and support most of our marine environment. 
"Human impacts on the reefs are incredibly profound — not just human implications on a local level, but climate change and ocean acidification influences the entire ocean as a very integrated system," Espen Oswald, a teaching assistant for BIO311, said. "Oceans connect everything as water flows constantly."
Power emphasized her biggest takeaway from the course was the extent to which humans impact coral reefs and how policies and regulations must be put in place. 
Now, as students have returned back to campus, the course will begin discussing conservation. 
Silman stated there are both challenges and opportunities with conservation, so the students will be discussing these at length about the Lighthouse Reef. 
"I think [studying the coral reefs] is empowering. It makes you see there are actually conservation efforts you can do," Silman said. 
Correction March 29, 2023: Two typographical errors present in an earlier version of this story were corrected.